Wordpress Basics - Websites for Business and Blogging (LLBUS 204) / Lifelong Learning
Whether you are writing for family, sharing recipes, creating a portfolio, or marketing a business the internet can be and is your friend. Wordpress is a free platform that can catapult you simply and easily in to a whole new world where sharing becomes easy and marketing becomes nearly free. In this class you will start by learning about wordpress and end with a fully functioning website that you can manage yourself.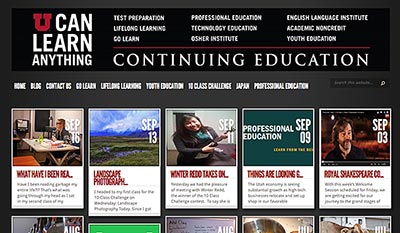 Spring 2014 Section 1
Days
Date(s)
Time
Location
Price
M
03/03/14 - 03/24/14
6:00 pm - 8:00 pm
ANNEX 2214
Tuition: $199
Instructor: JENNIFER BLUM

ONLY 5 SEATS LEFT!
You might also like:
Questions? Call Lifelong Learning at 801-587-5433 or use our online form.