Traditional Hand Pieced Quiltmaking (LLCFT 239) / Lifelong Learning
Start a new hobby or hone existing skills in quiltmaking as you learn about fabric selection, drafting and cutting a pattern, hand stitching the pieces, setting blocks, hand quilting and binding. All done the old-fashioned way, by hand. This class revives the art of traditional hand piecing while allowing artistic expression through geometric forms, color, texture and pattern. All the instruction necessary to complete a hand pieced quilt will be given. Special fee covers fabric for first class, C-thru ruler, needles, betweens, pins, and gridded template sheets.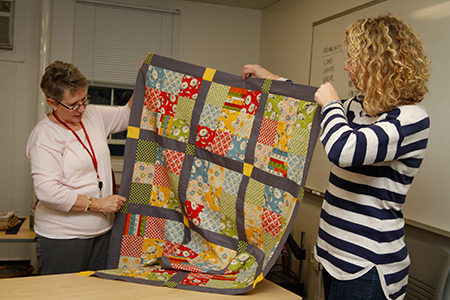 Spring 2014 Section 1
Days
Date(s)
Time
Location
Price
W
04/09/14 - 04/30/14
6:00 pm - 9:00 pm
ANNEX 2186
Tuition: $145 + Special Fee: $25.00 = $170.00

Note: See Annex entrance doors for classroom location.
Instructor: SHAWN MORGAN

ONLY 4 SEATS LEFT!
You might also like:
Questions? Call Lifelong Learning at 801-587-5433 or use our online form.