Craft Classes / Lifelong Learning
Upcoming Classes
CAN'T FIND WHAT YOU'RE LOOKING FOR?
This list of our past classes includes a form you can fill out to be notified when the class runs again.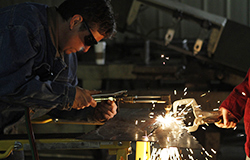 Some people relax in their free time. Some people like to try new things. Others get crafty and go the do-it-yourself route. Then there are those that do all three; that is where we come in at Lifelong Learning.
With our craft classes you can relax, try new things, and get crafty in DIY subjects like Linoleum Cutting, Letterpress, Welding, Fused Glass, Screen Printing, Metal Clay and MORE! The possibilities are endless and your Etsy shop will be overflowing with your handmade inventory. Best of all, we made it easy for you.
I learned a lot about screen printing, felt artistically inspired, and my teachers were very dedicated in and outside of class time—they were quick to answer questions and provided extra assistance to each student. I highly recommend this class—the instructors and content were excellent, and the location was really fun and a great place for learning too!"
—Sophia E., Screen Printing