Upcoming Classes
The Osher Lifelong Learning Institute Is..
The Osher Lifelong Learning Institute at the University of Utah offers:
A rich and evolving array of courses, lectures, and special activities
Instructors who are distinguished emeritus faculty, scholars, and community experts
Members from all walks of life who bring a lifetime of experience to the classroom
Not only will you make discoveries that may change your life, but you'll meet many a life-loving friend.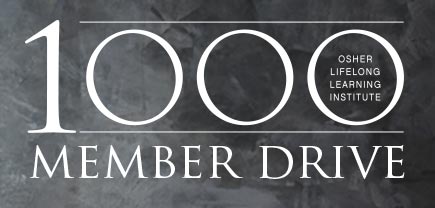 Strength In Numbers
Join Osher Lifelong Learning as we challenge ourselves to exceed 1,000 members by Spring 2014. Reaching this goal meets one of the criteria needed to be considered for a $1 million endowment, which would go a long way towards ensuring the future of this valuable community resource.
Help us reach our goal by spreading the word, asking a friend to take a class with you, hosting a reception in your home, or becoming a member buddy to welcome new members.
Upcoming Term Dates
Winter 2014: Jan 21–Mar 3, 2014
Spring 2014: March 31–May 9, 2014
Fall 2014: Sept 22–Nov 7, 2014
(fall break Oct 12-19)
Open House Keynote
If you were unable to attend Osher's Open House lecture featuring Speaker Dr. Edward Y. Zamrini, M.D.of the Center for Alzheimer's Care, Imaging and Research (CACIR) you can watch a video of the keynote: The Case for Building Brain Reserve here.