Upcoming Classes
Fall classes start September 23. Watch your email and mail around the first of August for news about fall classes. Stay connected with Osher friends this summer by attending some special events.
The Osher Lifelong Learning Institute Is...
A place to feed your intellectual hunger, meet interesting people, and become involved with an organization that is making a difference in the lives of people age 50 and better!
The Osher Lifelong Learning Institute at the University of Utah offers a rich and evolving array of courses, lectures, and special activities to enhance the lives of its members. Our instructors are distinguished emeritus faculty, scholars, and experts from the community. Our members come from all walks of life and bring a lifetime of experience to the classroom. Not only will you make discoveries that may change your life, but you'll meet many a life-loving friend.
The People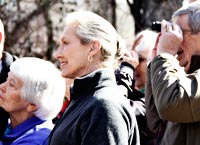 Osher members are Interesting, life-loving, great people. Join us start sharing new experiences with your new community.
Osher members get together in courses, special events, or lunch and learn lectures,to learn something new and interesting, and have a great time.

Upcoming Special Events
Special events are for current Osher members. RSVP required. Not a member yet? Join now!
Lunch & Learn Lectures
No upcoming events found.
Get a taste of what Osher is all about, or if you're already a member, introduce a friend! Bring a brown bag lunch and join us for a free Lunch and Learn lecture. Speakers start promptly at noon so arrive early to visit and enjoy your lunch. No RSVP required. All lectures are at the Commander's House, Fort Douglas, Salt Lake City.
Upcoming Term Dates
Fall 2013 Term:
Sept 23–Nov 8, 2013
(fall break Oct 13-20)