LSAT Preparatory Class
LSAT Prep Classes
Our preparatory program offers a class designed to help you do your best on the Law School Admission Test. Each section of the LSAT is covered in depth, including how to assess your strengths and weaknesses, improve performance, increase test sophistication, and reduce test anxiety.
Our Guarantee
Once you've paid for a preparatory class with us, you can come back any time within the next 3 years and retake the class free of charge (extra material costs not included), depending upon available space.
Featured Instructor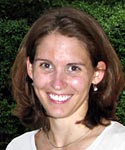 Julie Jensen
Julie Jensen teaches preparatory courses in LSAT, GMAT and GRE and has been doing so for twelve years. She taught test prep at Kaplan for several years before coming to Continuing Education. Julie earned both a JD and an Honors BA from the University of Utah. Since graduating from law school, Julie has been a law clerk for four judges at the Utah Supreme Court and/or the Utah Court of Appeals.