Club U's 2017 Program Offerings
On break? Take a break and go to camp! We offer Club U Break Camps for ages 5-11. Check 'em out on this page!
Join the Parents Club before January 31st for priority registration on February 6th – one week ahead of the general public! Online registration will open on February 10th.
Pricing for Club U Camp Weeks:
$174 Tuition + $60 Special Fee
*short weeks offer pro-rated tuition.
Pricing for Club U Lounge (After Camp)
5 Day: $45 Tuition + $10 Special Fee
2 Day: $25 Tuition + $5 Special Fee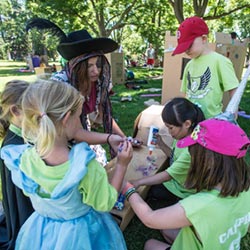 Week 1: Pirates Of The Club U-Abian
June 5-9
Aaarrggg! It's that time of year again! Slather on 'yer sunscreen, fill up 'yer water bottles and walk the plank on down to join the Pirates of the Club U-Abian! Prepare your crew by creating your own Jolly-Roger and build up your teamwork skills during Monday's Pirate boot camp! Load up your summer ship with some harty-har-har electives, see how peg-legs are being replaced with 3D printed prosthetics, or craft a companion bird to rest upon yer shoulder! Get nautical and set a course for some Pirate Polo or another elective sure to shiver yer timbers! Does X mark the spot at Club U? Find out as you search for Scibo's missing treasure during a confounding campus treasure hunt. Reward yourself as you sail this week into retirement when Club U navigates its way to the beaches of Cherry Hill! It is a week filled with adventure that you'll want to remember, so avast me hardy, come join the party!
Week 2: Fun-tastic Beasts Of The Wild Wasatch
June 12-16
Answer the call of the wild and unleash the beast in this wild week featuring all sorts of amazing animals... including yourself! It all starts when you and your pack parooze the Zoo in an all-out summer safari! Spend the rest of the week learning all about the critters in our back yard, where you ponder pellets and wonder what owls eat, or learn all about birds of prey when Hawk Watch comes to play. Then see what slithers as Scales and Tails comes hither! They have packed their van with all of Utah's creepy crawlers and are waiting to share them with you! Not enough excitement for ya? Send this week off with a tremendous trip up to majestic Lake Mary to see the homes of the beasts of the wild Wasatch. Can you spot a salamander at the water's edge? Unleash yourself from summer boredom and join the Club U pride!
All of the camp counselors have been amazing and the days have been packed full of fun!! We are so grateful for such a quality summer camp option. — F. Davenport
Week 3: Exploring The Final Frontiers (*this week has been altered from previously released printed material)
June 19-23
Set the coordinates to President's Circle, engage thrusters and blast off! Get ready to go where no camper has gone before in this terrific week of explorations across time and space! Prepare yourself for a very important mission outside of Earth's orbit when we blast off into space with the Christa McAuliffe Space Education Center! Learn how to make miniature rockets, investigate the work of leather making, or explore the cutting edge of technology with University of Utah STEM departments! End the week by forgoing the future and return to a simpler time- where the work was tough but always rewarding. How would you pan out as a pioneer? Find out when we visit This Is The Place State Park for a fun foray into the frontier way of life. Whether you prefer exploring the past or the future, this camp is definitely worth trying!
Week 4: Water You Wading For? (*this week has been altered from previously released printed material)
June 26-30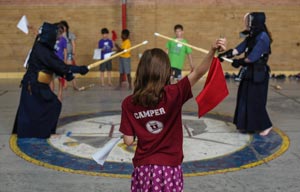 Take a dive down deep to see what creeps in this week all about water! Start the week off with a super splash-down at Kearns Oquirrih pool where you can plummet off the platforms or get bombarded by the bucket! Surf through the next couple of days with some electives to drench you in new knowledge! Hike the foothills and understand the importance of the watershed, or construct a boat and hope you float! Feeling inspired by all this wonderful water? Capture your memories with a watercolor painting! This all leads up to the most epic beach bash in Club U history when we take to the waters of the Jordanelle Reservoir to enter the floating playground known as the Aqua Zone! So grab a towel and your thirst for adventure – the fun of 20,000 leagues of learning is beyond measure!
NOTE: 5 years old campers cannot play on the Aqua Zone, but there will be other fun activities for them on shore.
Donovan's counselor Hunter was terrific! loved having a male counselor and he was great with kids, really good energy. My kids wanted another week, but we only signed up for 1 -- that's great feedback from kids when they want another week! — D. Smith
Week 5: Such Great Heights
July 3-7 *NO CAMP JULY 4
Come get a view from the top as Club U takes you to new heights! On Monday, travel to Park City, put on your harness, and conquer a ropes course. Remember to take a breath of the mountain air as you climb, swing, and zip your way across. After taking the 4th of July holiday off to watch fireworks go KABOOM, come back to camp where you can keep reaching for the stars as you go hiking or rock climbing! Looking to reach the next apex of awesomeness? Perch on the peaks of scientific discovery as you learn about solar energy or nanotechnology to see how science is shaping the future! End the week on a high note by bouncing as high as you can at Get Air Trampoline Park. What heights can you reach? This week the sky really is the limit!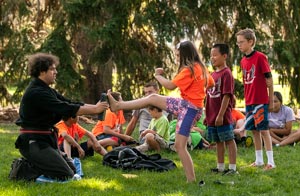 Week 6: Space, Time, And Outdoor Adventures
July 10-14
Join Club U this week as we step into the space-time continuum and explore the outdoors. Learn the ancient ways of dinosaurs, the art of wizarding spells, and the methods of the mountain masters as you conquer the magnificent Mount Timp! In preparation for your journey, go back in time to walk with the dinosaurs at Ogden's Dinosaur Park. Practice your bow and arrow skills, perfect your quidditch score, and dress up as the finest wizard or witch in the land, as you prepare for the great annual castle day build-off. Bring your friends along as we travel in the great Utah outdoors. Discover what once was along the foothills of our city and inspect the unique traditions of ancient life surrounding us. Top off the week as we trek Mount Timp with the finest campers in the valley! Get ready for an adventurous week, 'cause this is one you do not want to miss!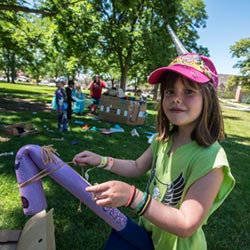 Week 7: Innovations In Sensational Science
July 17-21
The Singularity is near. Soon man and machine may become one, but before that happens, let's have some FUN! Check out all of the amazing innovation that is happening right here at the University of Utah! Start the week off by igniting your imagination at the Discovery Gateway where you can interact with all sorts of sciencey stuff! Be sure to bring your brain the rest of the week when you participate in electives sure to make your neurons fire! Scale down to see what matter is made of in the Nano Fabrication lab and see the new technology that is revolutionizing the future. Or if all this tech is too real for you, see what's behind the veil at the Marriott Library as you enter virtual reality! Cultivate your coding competence or build a bot from your own brilliance. On our final day, go find a muse... a museum that is—the Museum of Natural Curiosity! Get hands on with all sorts enchanting exhibits that will stimulate your synapses! It's gonna be great and we just can't wait to innovate with you and the rest of Club U!
Emmett LOVED the space simulator activity. He took over our dinner and dishes hour by talking non-stop for 90 minutes about every aspect of the event. He then got a blanket and balls of different sizes and weights and explained how stars and supernovas have different densities and gravitational pulls. It was so great to see his enthusiasm. — E. Majersik
Week 8: Mr. E: A Case For Curious Campers
July 25-28 *NO CAMP July 24
Who is Mr. E and what does he have in store for thee? This looks like a case for Club U's curious campers! The Club U Clue Crew is on the prowl and will explore some of history's most tantalizing mysteries! Ponder the power of the abyss on a trip not to miss as you go below the surface and explore our Living Planet (aquarium). Then head off to see if science has a solution to things that have been perplexing people for eons – What makes the Earth Shake? How big is the universe? How does a garden grow? Where have the bees gone? After uncovering some of these incredible answers, you may want to cover your tracks, so pick up a couple of stealthy secrets that secrete agents use to follow the clues! Mr. E has been up to his clever tricks again, and he has carved out quite the perplexing puzzle – will you have what it takes to crack the code, follow the clues and make Mr. E old news? Perhaps then you can uncover our secret destination for the end of the week... shushhhh... its Cecret Lake!
Week 9: The Club U Factor
July 31- August 4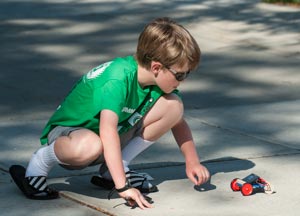 Take center stage in a week all about letting your inner star burn bright. Go behind the scenes at one of Utah's premier theaters to see how the magic of the stage comes to life. This camp will have plenty of tricks up its sleeves as we show you the ropes of magical self-expression. Be funny on the fly and learn to be side-splittingly funny during practice improv sessions. See life through a new lens while you sharpen your shutter skills in photography. Lay down some tracks in the studio as you learn about the world of sound or just dance your heart out. This week is all about showcasing the incredible individuals that make Club U such a special place to be, and you know you don't want miss the best show around... the Club U Talent Show! Let loose at the end of the week with a Rock and Roll inspired party at Classic Fun Center! All the magic is ready and the stage is set for a great week of friends and fun, all we are missing is the star of the show......YOU!!!
Week 10: The Club U Games
August 7-11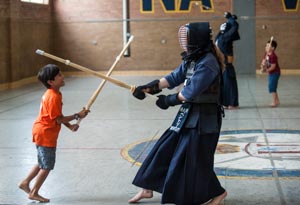 The stage is set for the competition of the year, but this is no ordinary Olympics... THIS is the Club U Games! Throughout the week campers will have the opportunity to display their dominance on land and in the water when they compete in sports not officially recognized by the IOC—games such as the Water Balloon decathlon, beach towel volleyball, wacky raft races, GAGA, and many more zany games guaranteed to make you giggle! Represent your group to the fullest in our unusual opening ceremony and then it's off to Tracy Aviary for a high flying good time with our feathered friends. Explore some entertaining elective choices that will help encourage sportsmanship and team play. Fancy yourself a fencer? Then "en gard"! Go for a hike in the foothills or make a splash in the pool as you try to navigate the gates in the Club U kayak challenge! Say farewell to this fun filled week with a relaxing trip to Pineview reservoir to soak up the sun and sculpt some sand castles! Campers unite! Join the friendly fight, and bring home the gold for your group in this week of creative competition!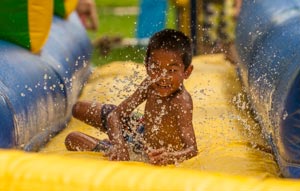 Week 11: Club U's Annual Splish Splash Bash
August 14-18
Come say sayonara to summer with the best sendoff imaginable! This week begins with one last stop at Club U's favorite watering hole, Kearns Oquirrh pool, for some water-bucket bombardment and daredevil dives off the platforms! Bond with your buddies with the final installment of some of the summer's most amazing elective activities. Inflate your accomplishments when you conquer an amazing obstacle course while paying some zany carnival games – and don't forget to cool off with a slurp-a-licious snow cone! The week ends in a rip-roarin' way when you and your mates hit the slides of Cowabunga Bay! Lounge in the lazy river and the pizza we deliver – so come splash down one last time before this summer dries out – this is the camp you'll be talking about!
The Club U experience is great, on many levels. The staff is organized, the counselors know how to engage kids, the day goes as scheduled...my kid is hay at the end of the day and the week! — A. Rosen