Welcome to another exciting and educational summer with Club U Camps! We are ready and raring to deliver an unforgettable 11 weeks of exploration, wonder and whimsy. Each week our campers will make strides meeting new friends, discovering new talents and having a blast with unique and energized activities! Whether enrolling in Club U or Club U Varsity, your child is sure to have a magically memorable experience.
Important Camp Necessities
Club U Parents Manual (PDF) (or read about the necessities below)
So your camper can get the most out of their Club U experience it is important to make sure that the following guidelines are followed.
Make sure your child gets a nutritious breakfast each morning before camp
Send your child with a nutritious lunch
Send your child with a refillable water bottle or hydration backpack
Send your child with a sensible backpack - they will travel with all of their belongings
Please send your child with comfortable closed toed shoes - NO FLIP FLOPS or OPEN TOED SHOES
Morning drop off will take place at Presidents Circle each morning from 8:00-8:15. Please be prompt so that your camper can join their group and get the fun underway.
Afternoon pick up will take place at Presidents Circle every afternoon from 3:00-3:15 pm.
Club U Lounge will be held in the Life Sciences Building, room 107. Parents will be able to pick up their child anytime from 3:15-6:00 pm.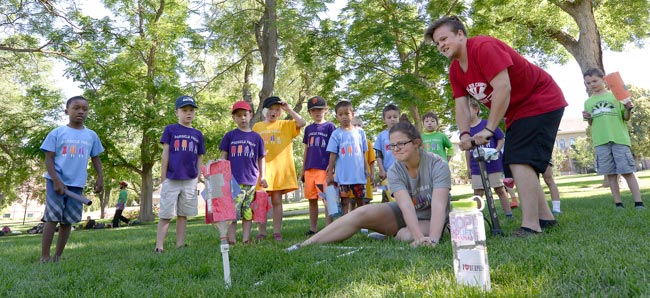 Elective Information
Each week, students will have the opportunity to take their pick from a variety of elective classes. Elective classes are usually held Tuesday through Thursday in the morning. Students sign up for one elective group that they will participate in for the duration of the week. Please note that all paperwork needs to be turned in prior to signing up for electives. Electives are first come, first served. New electives will be posted on Thursdays prior to the start of any camp week.