At the English Language Institute, you'll belong to a great group of classmates at a top-notch institute with interesting and active classes, you'll belong to the University of Utah's huge campus with the latest technology and modern facilities, and you'll belong to the growing international family connected by the study of English.
Utah! ELI! The Place Where You Belong!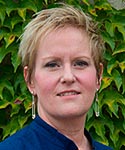 I am Korrin Ebira, the current director of ELI. I want to personally welcome you to the University of Utah's English Language Institute. Please take a moment to find out more about our program and what we have to offer you.
The English Language Institute is an Intensive English Program offering eight levels of English proficiency covering all skills needed for successful communication in academic and non-academic environments. ELI students who complete the Bridge Course (levels 7 and 8) with a "B" average or higher can be admitted to the University of Utah's undergraduate program without a TOEFL or IELTS score.
ELI is well known in Utah for the high caliber of its instructors who are creative, experienced, and dedicated to their students' achievements. Our teachers have experience teaching in the U.S. and in other countries. This means they understand the experience ELI students go through while studying in our program and can offer better advice about how to improve and achieve success.
Utah is world famous for skiing and snowboarding, but there are many other kinds of adventures to be experienced here. River rafting, hiking, horseback riding, mountain biking, and animal watching are also popular. Some of the most famous national parks in the world are close by: Yellowstone, the Grand Canyon, Bryce Canyon, Zion Canyon, Canyonlands, and Arches National Park are incredibly beautiful and within a half-day drive from Salt Lake City.
Review the courses we offer, read the messages from our instructors, scan the picture gallery illustrating various student activities, and admire the breathtaking scenery of Utah. Don't forget to check out our Facebook page to see what exciting things are taking place right now.
If you are looking for a beautiful and safe place to study American English and have a wonderful cultural and educational experience among friendly Salt Lakers, I encourage you to apply. You will have a chance to meet others like you and learn English in a fun, supportive, and totally unique environment. I am eager to personally welcome you to the University of Utah's English Language Institute.
Korrin Ebira
ELI Director
Phone: 801-581-4600
FAX: 801-585-9449
Mission Statement
The English Language Institute (ELI) is committed to helping further the internationalization goals of the University of Utah by delivering a quality preparatory intensive English language program. ELI provides an academically-based curriculum and cultural orientation for international students, visitors, and members of the local community while adding diversity to the educational experience for domestic students.
This school is authorized under Federal law to enroll nonimmigrant alien students.
Students By Nationality
Average percentages from August 2011 - October 2015