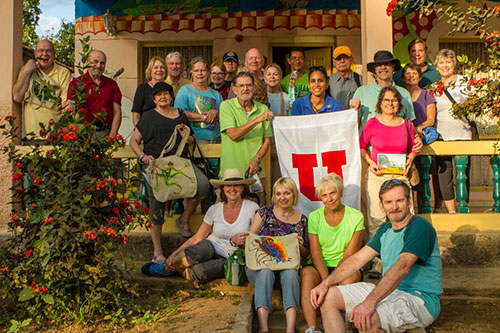 Al Campbell, U Professor Emeritus in Economics, will lead an incredible Go Learn journey to Cuba, where he has researched, lived and played for the past twenty years. The trip starts in Miami, where the group will meet before boarding a flight to Havana the following morning. While in Cuba, we have included all ground transportation, entrances and local guides, and some of the most amazing hotels and scrumptious meals Cuba has to offer.
This meticulously planned and executed trip was created in partnership with Cuba Educational Travel, who holds a license from the U.S. Treasury Department (CT-2013-303986-1) to arrange educational trips to the island, meaning your memorable visit to Cuba is fully sanctioned by the U.S. government. We hope you join us on this trip of a lifetime!
Tour Highlights Include:
Guest speakers such as Miquel Coyula - architect and urban planner, Frank Delgado - renowned Cuban songwriter, and Nancy Benítez - architect, historian and restoration specialist
Guided visits to important sites in Havana: art museums, plazas, working farms, and cigar factories
Visit Ciénega de Zapata National Park, Playa Girón and the Bay of Pigs Museum, plus spend nights in easy-going Playa Larga and picturesque Trinidad
Round-trip airfare from Miami to Havana, and Havana to Atlanta
Hotel in Miami, all ground transportation, 4-5 star accommodations, guides, speaker fees, entrances, daily breakfasts and eleven hand-picked culinary highlights included – a packed and diverse itinerary with countless learning experiences
Cuban Visa and compliance with the U.S. Treasury Department regulations
Comprehensive trip insurance, including sickness/or emergency evacuation insurance

Cuba is known world-wide for its distinctive socio-political-economic system, but as any of the 2 million non-American tourists who go there every year would confirm, it's fascinating for many reasons in addition to that. Cuba has its art, music, and dance, its architecture and natural attractions, its history and culture. Cuba has, above all, its people. Come sample a bit of all of these in the most remote and unknown of our next-door neighbors.
I Hear the Rules Are Changing
In the past few years the US has been relaxing the rules on travel to Cuba. Under the Trump administration, this openness may be reversed. In that case, Go Learn's tour will still be legal and licensable. Because this is an educational, people-to-people tour, it is permitted under the guidelines outlined by the Treasury Department and the Office of Foreign Assets Control.
Will Americans Be Able to Travel to Cuba at all?
A total ban on travel to Cuba is very unlikely, but if that became the case, Go Learn would issue a full refund to all enrolled travelers. Again, this scenario is unlikely—if things do change, they will probably revert to the old rules, which this tour abides by.
Still not convinced? Read reports on our blog about our tours.