Daily Itinerary
Saturday, February 1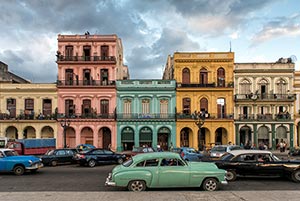 Travel to Miami today. Because each guest will arrive at different times, we will have our first get-together in Havana tomorrow. Today, check into the hotel, explore Miami, and get ready for Cuba in the morning.
Hotel: Crowne Plaza Miami Airport
Meals: On your own
Sunday, February 2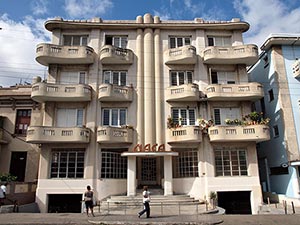 Depart Miami and arrive in Havana around noon. Today we'll explore Havana Vieja—old town Havana—with its fabulous architecture, packed cafés, and entertaining musicians. Our local guide will help us understand how Havana was built and why it looks the way it does. After lunch at a local paladar, we'll continue our tour. This evening, check into the Hotel Capri, and enjoy a free evening. Check out a local jazz club, stroll along the malecon (Havana's sea wall and social hot spot), or just lounge at the Capri's rooftop pool.
Hotel: Hotel Capri
Meals: B, L
Monday, February 3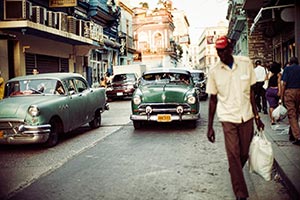 This morning we'll hear from urban planner Miguel Coyula, whose presentation will touch on housing, infrastructure, investment, and restoration programs in Havana. His talk will help you understand why Havana looks the way it does today, and possibilities moving forward. Later on we'll visit the Museum of Cuban Art with a local art historian. After lunch at the beautiful Hotel Nacional, we'll meet with Carlos Alzugaray, a former Cuban diplomat and expert on US-Cuba relations. Take the afternoon off—revisit Havana Vieja, check out the Christopher Colon Cemetery, or walk the ramparts of the Morro Castle.
Hotel: Hotel Capri
Meals: B, L
Tuesday, February 4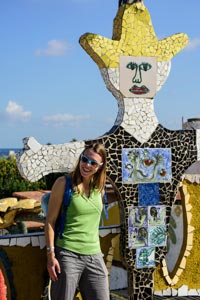 This morning will hop on the bus to visit the home and studio of mosaic tile artist Jose Fuster, who has converted his neighborhood into a whimsical art project. We'll then tour a cigar factory in Havana to learn about cigars and the growing, curing, rolling, and cutting behind this important export. If you wish, this afternoon would be a good time to visit the home of Ernest Hemingway, which is just outside of Havana. It was here that Hemingway wrote For Whom the Bell Tolls and The Old Man and the Sea. This evening we'll gather together at the stunning Café Madrigal for a discussion and private concert with Frank Delgado, renowned Cuban songwriter, and Yriban Rivero, and up-and-coming guitarist.
Hotel: Hotel Capri
Meals: B
Wednesday, February 5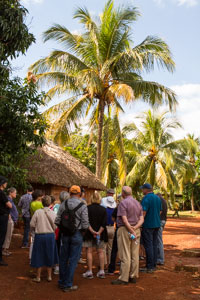 This morning we will check out of the Capri, and make our way to Playa Larga. On the way, we will stop at the Organoponico Vivero Farming Cooperative, in the Alamar neighborhood of Havana. Gardeners will show us around the 4-hectare farm and explain the history of the project, growing techniques, and the distribution of their produce. Once in Playa Larga, we will check into our casas particulares, or private homes. These are small bed-and-breakfast-style lodgings, where you'll get to meet and stay with a Cuban family. This evening, stroll along the beach before having a home-cooked meal prepared for you by your host families.
Hotel: Casas Particulares
Meals: B, L, D
Thursday, February 6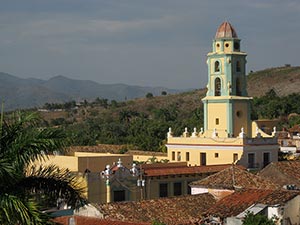 The Ciénaga de Zapata swamp is home to countless species of birds, plants, and wildlife, and we will visit this morning looking for flamingos, bromeliads, deer, and ibises. This afternoon, we'll stop at Play Girón, where the Bay of Pigs invasion took place in 1961, and we'll visit the Bay of Pigs Museum. From there, we'll make our way to Trinidad. Trinidad is a UNESCO world heritage site known for its cobblestoned streets, its pastel painted buildings, and its small-town feel. This evening, check into casas particulares, and then explore at your own pace.
Hotel: Casas Particulares
Meals: B, L
Friday, February 7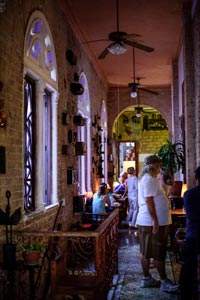 Nancy Benítez will show us around Trinidad this morning. She is a local architect and restoration specialist who will provide an overview of the city's history from an architectural, economic, and infrastructural point of view. Take the afternoon to explore some of Trinidad's gems—Ancon Beach, Sugar Mills Valley, Museum or Colonial Architecture, and Museum of the City; or just stroll town, shop, have a coffee, and listen to street musicians. This evening we'll gather at Los Conspiradores paladar for our farewell dinner. If you're up for it, dance the night away at Casa de la Musica next door, on your last night in Cuba.
Hotel: Casas Particulares
Meals: B, D
Saturday, February 8
This morning, we bid farewell to Cuba. Check out of casas, and spend the bus ride looking out over rolling hills and green fields on our way back to Havana.
Meals: B