Details and What to Expect
Pre-Departure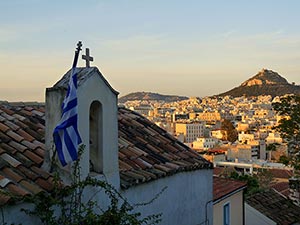 Like all Go Learn journeys, the adventure begins before you ever leave home. Go Learn will supply you with all the information, tips, and documents you'll need to have an enjoyable tour. We're always available to answer questions, too—let us know how we can make your journey a smooth one!
About Greece
Greece is a country of delightful contrasts, where bustling cities with vibrant commercial districts and ubiquitous wifi are bordered by tiny villages in which (if you take away the electricity and running water) you might as well be back in the Greece of Socrates; where many country lanes are lined, on one side, by state-of-the-art electricity generating wind turbines and, on the other side, by herds of goats, grazing in the same way that Greek goatherds have free-ranged their herds for millennia. In some towns, you'll find elderly locals sipping Greek coffee at a traditional taverna, which happens to be situated next to a Starbucks store in which younger Greeks are swigging caramel Frappucinos and surfing the Web.
Throughout the tour, you'll marvel at the beautiful Greek countryside, the pristine beaches, and the crystal clear sea, which is never far from you, regardless of your whereabouts in the country. And you'll often be tempted to look over your shoulder to disprove your strong, but unrealistic, impression that Theseus or Hercules or Jason or even Apollo must be right behind you.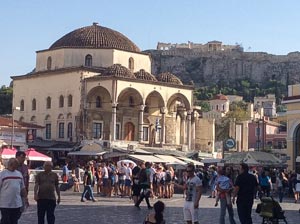 Weather: We chose mid-October, not only for warm temperatures and pleasant beach days (average daytime temperature of 68, sea temperature of 65), but also to avoid the crush of northern European tourists who descend on Greece in July and August. Expect warm days and cool nights.
We'll probably see a bit of rain, but most days will be sunny. A warm sweater or lined windbreaker will be sufficient.
Activity levels and restrictions
We'll walk every day, since that's the best way to see Greece! Sometimes we'll walk because pedestrians can move along Greece's crowded streets faster than small tourist buses. Much of this variety of walking will be on relatively flat, paved surfaces, but we will spend time in a few towns with hills, stairs, and uneven surfaces. Our visits to archaeological sites and museums will entail quite a bit of walking, often on rocky, dusty surfaces. Sturdy walking shoes are recommended. And, of course, walking is the most pleasant way to move up and down the islands' beautiful beaches, but this kind of walking is best done barefoot!
We'll have very few early mornings, but on most days we won't let much of the morning slip away before we begin our exploring adventures. By late afternoon, you'll be ready to sit, pleasantly fatigued, in a picturesque café for a refreshing Greek beverage before replenishing yourself with a mouthwatering meal.
Dates
October 1-14, 2017
Size
Trip is limited to 20 participants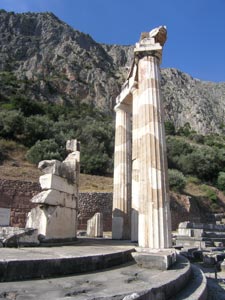 Cost
Double Occupancy: $4900 per person
Single Supplement: $550
See Terms for payment and cancellation details.
Included
Pre-departure courses in mythology, history, language, culture, and tour logistics
Small group size to maximize learning, comfort, and flexibility
Two lead guides for the entire classroom experience and tour
12 nights accommodation at comfortable and centrally-located hotels
8 hand-picked culinary highlights for lunch or dinner, as well as all breakfasts included
Entrance fees for scheduled sightseeing and activities
Local guides and experts, including their fees and tips
Transportation to and from daily destinations and activities, including conveyance from each tour location to the next one
Comprehensive tour insurance, which includes coverage for sickness, accidents, emergency evacuation. (For tour cancellation insurance, please see a travel agent immediately after booking with Go Learn.)
Not included
Airfare to and from Greece
Meals that are not specifically noted in itinerary
Cancellation and lost luggage insurance
Any costs outside of the itinerary
Greece: Islands of the Gods Bibliography
Gates of Fire, Steven Pressfield: ISBN-13: 9780553580532
The Colossus of Maroussi, Henry Miller: ISBN-13: 9780811218573
My Family and Other Animals, Gerald Durrell: ISBN-13: 9780142004418
The Alexandria Quartet, Lawrence Durrell: ISBN-13: 9780571283934
The Iliad, Homer: ISBN-13: 9780140275360
The Odyssey, Homer: ISBN-13: 9780553213997
The Last of the Wine, Mary Renault: ISBN-13: 9780375726811
Zorba the Greek, Nikos Kazantzakis: ISBN-13: 9780684825540
Movies set in Greece
Before Midnight
The Big Blue
Captain Morelli's Mandolin
A Dream of Passion
The Guns of Navarone
Iphigenia
Mamma Mia
Mediterraneo
My Life in Ruins
Never on Sunday
Phaedra
Shirley Valentine
The Sisterhood of the Traveling Pants, I and II
Trojan Women
Zorba the Greek
Photos courtesy stanjourdan (Creative Commons), Katina Sifantonakis, Randall Stewart
September 29-October 12, 2018
Double Occupancy: $4900 per person
Single Supplement: $5450 per person
Airfare is not included.

Reserve your spot!