Daily Itinerary
Saturday, September 29: Arrive in Athens
Our journey begins in the shadow of the Athenian Acropolis. We'll gather in our hotel lobby around 3:45 pm for a brief reception, before making the short stroll to the award-winning new Acropolis Museum. After taking in the museum's many artifacts, we'll enjoy our first group dinner, at the Strofi Athenian Restaurant, with its splendid view of the Parthenon.
Hotel: Hermes Hotel
Meals: D
Activity Level: Moderate
Sunday, September 30: A Journey through Greece's Finest Museum
Today we'll walk for twenty-five minutes or so through one of Athens' most vibrant neighborhoods to visit the premier collection of Greek antiquities—the National Archaeological Museum. This museum, which houses a rich collection of Greek artifacts, is considered one of the greatest museums in the world! We'll see awe-inspiring statuary, epigraphs, jewelry, and pottery from all corners of the ancient Greek world. After this feast for the eyes and mind, you'll have the afternoon free for shopping, sightseeing, or even a nap. In the evening, we'll convene for our first Mythical Happy Hour, where Randy's stories will give new life to the artifacts we saw earlier in the day.
Hotel: Hermes Hotel
Meals: B
Activity Level: Moderate
Monday, October 1: Appointment with the Parthenon
This morning and early afternoon, we'll trace the footsteps of the philosopher Socrates and the legendary king Theseus as we scale the Acropolis, the religious center of ancient Athens, where we'll marvel at the Parthenon, perhaps the world's most iconic building. In the mid-afternoon, our private bus will take us to Apollo's playground—Delphi.
Hotel: Pitho Hotel
Meals: B
Activity Level: Moderate (with a short stretch of steep incline)
Tuesday, October 2: Walking in the World's Bellybutton
The ancient Greeks considered Delphi the navel of the world, and today we'll learn why. The hillside, once sacred to Gaia (Mother Earth), became the most famous of Apollo's oracles. Spend the morning exploring the site and the nearby archaeological museum, where some of Greece's best-known antiquities are on display. In the early afternoon, we'll drive to Olympia and settle into the wonderful Arty Grand Hotel. This evening, we'll convene for our second Mythical Happy Hour, and we'll put into the context of ancient myth what we saw at Delphi.
Hotel: Arty Grand Hotel
Meals: B
Activity Level: Moderate (with some steep uphill walking)
Wednesday, October 3: Winning Olympic Glory
Olympia, the site of the ancient Olympics, is a beautiful sanctuary with temples to Hera and Zeus as well as a shrine to Phillip II, father of Alexander the Great. We'll gaze also at the workshop of classical Greece's most renowned sculptor and the home in which Nero, the infamous Roman emperor, lived when he competed in the Olympic Games. Oh, yes, we won't forget to run on the dirt track in the ancient stadium! In the evening, you'll be free to enjoy the charming town of Olympia.
Hotel: Arty Grand Hotel
Meals: B
Activity Level: Moderate
Thursday, October 4: Seaside Ecstasy
After our morning drive to Nafplion, you'll have a free afternoon and evening to wander that charming seaport village with its street cafes, flowering plants, and quiet alleys. If you've got the stamina, climb the 1000 steps to the hilltop Venetian fortress (or take a taxi directly to the back entrance) and marvel at the breathtaking views of the Aegean Sea. The evening will find us sipping wine on the hotel's veranda at our third Mythical Happy Hour.
Hotel: Marianna Hotel
Meals: B
Activity Level: Light
Friday, October 5: Heal Thyself!
This will be a busy archaeological day—three important ancient sites, each with its own museum! Our first stop will be at Epidaurus, home to the most celebrated sanctuary of the healing god Aesclepius, son of Apollo. If you happen to be under the weather, sacrifice to the god, and receive a dream that will tell you what to do to be healed; you'll walk away a new person! But the real draw at Epidaurus is the well-preserved theater with its astounding acoustics. You can almost hear a pin drop! Then it's on to Mycenae, a city founded by the hero Perseus and made famous by Agamemnon, its ill-fated king. Finally, after a short drive, we'll walk the hallowed grounds of Nemea, where Greeks gathered to honor Zeus and compete in athletic contests.
Hotel: Marianna Hotel
Meals: B
Activity Level: Moderate (with some uphill walking)
Saturday, October 6: On to the Islands!
Today we'll say yah sou ("goodbye") to the Greek mainland, but not before visiting ancient Corinth, a city that was completely destroyed by the Romans and then completely rebuilt by them. In the late afternoon, we'll fly to Heraklion, on Crete, to begin our island-hopping. The evening will be yours; visit the Venetian waterfront front, stroll the pedestrian-only 25th of August Street, with its many shops, and select one of Heraklion's many fine restaurants for your twilight culinary indulgence.
Hotel: Lato Boutique Hotel
Meals: B
Activity Level: Light
Sunday, October 7: Mythological Fodder and Real(ly Good) Food
In the late morning, we'll walk to the recently remodeled Heraklion Archaeological Museum, famous for its artifacts of ancient Minoan culture, the Bronze Age people who gave us the stories of King Minos, the Labyrinth, and the Minotaur. Then we'll make the 30-minute drive to Knossos where we'll marvel at the city that was the home of Minos, the Labyrinth, and the Minotaur! Their stories will provide ample fodder for our evening Mythical Happy Hour. And then we'll eat, not fodder, but savory seafood at our group dinner next to the sea!
Hotel: Lato Boutique Hotel
Meals: B,D
Activity Level: Light

Monday, October 8: Santorini: The Jewel of the Aegean
A two-hour ferry ride will take us from Greece's largest island to Santorini, its most unique. Once on the island, we'll make two stops before settling into our hotel in Fira, Santorini's chief city. Our first stop will be at the huge warehouse-like building that houses and protects the highly unusual ruins of Minoan Akrotiri. Then, at our second stop, we'll saunter across the beaches of Kamari, where we'll have a group lunch. At our hotel, in the late afternoon, the poolside, with its lounge chairs, will beckon us. After an early evening Mythical Happy Hour, we'll walk to the nearby caldera to gaze at the azure sea and the volcano that almost obliterated the island nearly 4,000 years ago. Choose any restaurant along the caldera for your dinner and the unbelievable scenery!
Hotel: Majestic Hotel
Meals: B,L
Activity Level: Light
Tuesday, October 9: The Sea
You'll have a free morning to meander through Fira's captivating walkways, where you'll find any number of unique shops, cafes, and sea views. In the early afternoon, at a local winery, we'll be treated to a self-guided audio tour of a museum that features winemaking equipment from nearly all eras of wine production on the island. And what would a visit to any winery be without a sampling of the product? Of course, we'll taste the wines! We'll spend the evening in the beautiful town of Oia, at the northern end of Santorini, to relax and watch the sun set into deep blue waters.
Hotel: Majestic Hotel
Meals: B
Activity Level: Light
Wednesday, October 10: Little Venice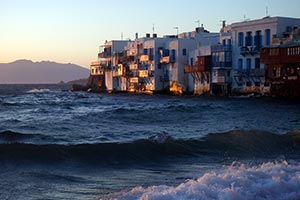 Another ferry ride northward (watch for dolphins and sea turtles) will take us to Mykonos, a trendy island famous for its innumerable shopping opportunities, Greece's most-photographed old windmills, wave-lapped buildings called "Little Venice," and fantastic food. The late afternoon and early evening will be free for exploration. Then we'll gather for our next Mythical Happy Hour. Afterwards, if you're young—or feeling young at heart—you may want to dance and party the night away at one of the island's famous beach parties.
Hotel: Harmony Hotel
Meals: B
Activity Level: Light
Thursday, October 11: Commune with Apollo
This day's excursion is a half-day trip to Delos, which is a 40-minute ferry ride from Mykonos. The uninhabited island is home to Greece's most extensive archaeological ruins. We'll stand at the base of the palm tree under which Apollo was born, walk in the ruins of what were once lavish homes, sit in the remains of the ancient theater, and take pictures in a grotto said to have been built by Heracles. At every turn, we'll learn about the isle's multi-layered history. In the early afternoon, we'll return to Mykonos Town, where, after some down time, we'll convene for our final Mythical Happy Hour and a farewell dinner, at which we'll reminisce and plan for our next trip to Greece!
Hotel: Harmony Hotel
Meals: B,D
Activity Level: Moderate
Friday, October 12: Our Last Day
Our journey comes to an end after we breakfast together and compare notes about our favorite parts of the tour. From Mykonos you can fly or ferry to Athens for a flight back home, or, if you'll want to continue your own journey, you could go on to other adventures in Greece or other, nearby countries. But, when you leave, don't say goodbye to Greece; instead say tha se tho syntoma ("I'll see you soon")!
Meals: B
Photos courtesy Katina Sifantonakis, yeowatzup (Creative Commons), uniccus (Creative Commons), Dottie Day (Creative Commons), Bill (Creative Commons), Randall Stewart
September 29-October 12, 2018
Double Occupancy: $4900 per person
Single Supplement: $5450 per person
Airfare is not included.

Reserve your spot!