Tour Leader: Randall Stewart, Ph.D.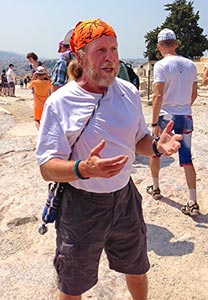 Associate Professor of Classics, Department of Languages and Literature, University of Utah
Randy Stewart, having taught classical mythology for more than 25 years, is a renowned storyteller, who believes that stories—ancient or modern—are the best way to explain reality. Randy would rather be on the site of ancient ruins than almost anywhere else on the planet, though he does enjoy getting up into the mountains and canyons around Salt Lake City regularly for scenic hikes.
He visits ancient ruins annually on his University of Utah study abroad tour to Greece, where he leads students on a 4-week excursion of the major archaeological sites and museums on the mainland as well as on several islands. An Associate Professor of Classics, Randy has been at the University of Utah since 1987.
Photo courtesy Randall Stewart
September 29-October 12, 2018
Double Occupancy: $4900 per person
Single Supplement: $5450 per person
Airfare is not included.

Reserve your spot!