Join us on an Icelandic adventure to explore the island's iconic volcanoes, rivers, waterfalls, glaciers and beaches. We'll take in the natural beauty of the island, and learn about the formation of these features from Holly Godsey, University of Utah geologist. Holly's enthusiasm is infectious, and you'll soon find yourself excited by diverging tectonic plates, active geysers, and glacial lagoons. We'll also explore the history and culture of Iceland, and discuss its modern energy production and farming techniques. Join us on this unique, focused tour, and learn about why Iceland is the land of fire and ice.
Tour Highlights Include: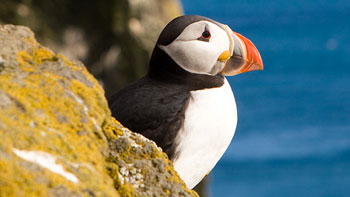 Visits to all three of Iceland's national parks
Thirteen hand-picked culinary highlights for lunch or dinner, as well as all breakfasts included
All on-island transportation, including tour bus and ferry to Heimaey Island
All lodging
Visits to waterfalls, beaches, volcanoes and fault lines; all accompanied by your resident geologist
Spectacular hikes to waterfalls, hidden canyons and hot springs
Visits to national parks, historical and cultural sites, and working agriculture farms
A free day on Heimaey Island to watch puffins, hike a newly formed volcano, explore breathtaking views, and learn about the island's unique history of battles with nature and many
Photos courtesy Marco Bellucci, Bragl Thor
July 21-28, 2019
Double Occupancy: $5900 per person
Single Supplement: $6650 per person
Airfare is not included.

Reserve your spot!