Tour Leader: Holly Godsey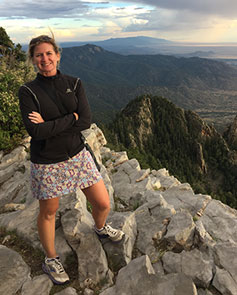 Holly Godsey is an Associate Professor (Lecturer) in the Department of Geology and Geophysics, and the Director of Student Success in the Center for Science and Mathematics Education at the University of Utah. Holly has been sharing her love of geology with students, scientists, teachers and travelers for 20 years. She first became interested in geology when she realized that she could combine her love of the outdoors with her love of science and still make a living! As a former river guide, she's led geology-focused trips down the Yampa, Green, Colorado, and San Juan rivers. She's also guided excursions on the Colorado Plateau for Native Americans, and led trips for college students to western Wyoming and New Zealand. More recently, her interest in Iceland has been spiked by a connection to her research on ancient Lake Bonneville in Utah! Holly believes that the best experiences come from interacting with people, discovering new landscapes, and of course, enjoying good food.
July 21-28, 2019
Double Occupancy: $5900 per person
Single Supplement: $6650 per person
Airfare is not included.

Reserve your spot!