This trip is sold out. Join our WAITLIST to be notified if there is an opening.
London on Stage: Overview
I like the spirit of this great London which I feel around me. Who but a coward would pass his whole life in hamlets; and for ever abandon his faculties to the eating rust of obscurity? — Charlotte Brontë
Travel with us to the world's most exciting and prolific theatre city, London. We'll see remarkable plays from great seats and talk about them before and afterwards. We'll also visit great sights together – Westminster Abbey, the Tower of London, the Tate Art Gallery, and the Royal Botanic Gardens Kew, to name but a few. And we'll take a day trip to the ancient university town of Oxford. You'll be able to shop the wares of Portobello Road, sample the gourmet food at Borough Market and gaze at the mercantile splendors of Harrods. What a jolly good time!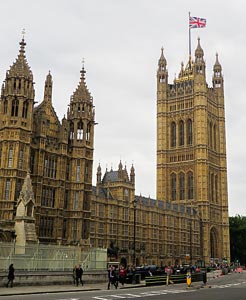 Tour Overview
Experience ten days in London that you will cherish for the rest of your life. London is not just the capital of the United Kingdom; it is the beating heart of world culture. The most cosmopolitan city on earth, London offers dazzling displays of art, theatre, cuisine, and commerce from all over the globe, and you will sample it all. But London is also steeped in its own fascinating history, its own unique charm and glorious pageantry, and you'll dive headfirst into that, too. From the gastronomic glories of high tea in Oxford to the gothic splendor of Westminster Abbey, from a privately arranged tour of Middle Temple Hall by day to the sophistication of cutting edge British theatre by night, you will have a truly unforgettable time.
Your guides are Professor Tim Slover (PhD, Modern British Drama) and Jane England (MSc, London School of Economics), both of the University of Utah Dept. of Theatre. They have been opening people's minds to London for twenty years and are thrilled to team up with Go Learn to create this trip which will focus on the crown jewel of London: its world class theatre. Drama is Jane's and Tim's area of professional expertise, but this dynamic duo also knows both the greatest hits of London and its hidden secrets. So whether it will be your first time in the city they call their second home or your fiftieth, get ready to discover afresh major attractions—and some special, out-of-the-way places, too.
Your London on Stage experience begins before you pack your bags. Tim and Jane will present specially prepared pre-trip sessions on the history and culture of England, British Theatre, and Shakespeare. Don't worry: they know how to make it fun (sometimes maybe even a little silly!).
Know Before You Go:
Filled with one-of-a-kind visits and many sites barred to the general public, this trip will leave you happily exhausted. It includes long days exploring London and Oxford as a group and late nights of theatre performances, and the pace is brisk. We average 7 miles of walking and 200 stairs per day. Travel is by public transportation (included in the price of the trip), and participants should be able to board Tube trains and buses independently. The group comes first, so participants who wish to travel by taxi (not recommended) must make their own independent arrangements and expect to pay about $600 extra.
London on Stage is considered Level Two out of three physical ability levels Go Learn journeys can reach. For more information regarding physical ability levels click HERE.
Tour Highlights Include:
7 plays at the epicenter of great performances: the Royal National Theatre and West End and off-West End theatres—with chats before and after
Meals at memorably mouthwatering restaurants
Personally guided tour of Westminster Abbey—including the newly opened Jubilee Galleries
The Ceremony of the Keys at the Tower of London
A visit to Roman London archaeological sites, including the Temple of Mithras
A discovery walk through London's historic and international East End
A special exhibition of Leonardo Da Vinci drawings at the Queen's Gallery, Buckingham Palace
A cheese-sampling event at Neal's Yard Dairy
Chihuly Nights, an evening adventure at World Heritage Site Royal Botanical Gardens, Kew
A daytrip to Cambridge's famous sites, including Kettle's Yard, the Wren Library at Trinity College, and an Evensong service at King's College Chapel
Visits to Borough (a foodie's dream),and Spitalfields (one of England's oldest) Markets
Free time, with plenty of suggestions, to find your own remarkable London