Welcome to GoLearn's London on Stage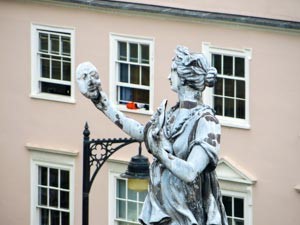 You have signed up for a treat that starts even before we board any airplanes! Travel with Go Learn means you'll receive pre-journey support and information, and a tour reunion when your travels are over.
Before your tour, Go Learn will be in touch with information about London, its theatre scene, packing lists, and detailed transit instructions from Heathrow right to our hotel's doorstep. Tim and Jane will keep you apprised of each play we'll see and its significance, and will let you know the play schedule so that you can plan your free time accordingly.
Feel free to contact us with questions. We're happy to point you to a travel agent who can help you find a flight, or put you in touch with Tim and Jane in case you need the trip leaders' expert opinions. At Go Learn, we want you to hit the ground running, and will provide you with the right information to do just that!
Our faculty trip leaders, Professor Tim Slover and Jane England, have been taking travelers to London for fifteen years—and can't wait to share this magnificent city with you in 2022.
Walking: Please be advised that the London on Stage trip takes full advantage of the city's excellent public transportation—the Tube (subway), trains, and buses. Getting to and from transportation and program venues adds up to 5+ miles of walking per day. Participants who find walking difficult should budget extra expenses for taxis.
Please note that the itinerary below is a work in progress. We'll be filling in the blank spaces with more play and event details as event times and dates become available.
Daily Itinerary
Please note that this itinerary is a work in progress. The stars of the trip are the six fascinating, provoking, entertainingly absorbing plays in world-class productions and theatres. It's still a little too soon to meet them just now, but worry not: we pride ourselves on getting TBSATBP (The Best Seats At The Best Plays), and we guarantee you'll be thrilled! Another highlight of the trip is the series of Theatre & Culture Chats: we'll introduce you to the plays and daytime activities before we go and then—best of all—talk about them together afterwards. What follows is a model itinerary—the sorts of things we've done and loved on previous trips. More details will be shared as they become available. Watch this space!
Thursday, July 7: Arrive in London
We'll meet you at Heathrow Airport and take you to our charming boutique hotel in South Kensington, The Rockwell—where complimentary breakfast is served every morning. After you're settled in, we'll shake off the trans-Atlantic flight on a short London walk—capped by a delicious welcome dinner. Bed by 10 pm—to slay the jetlag monster in one night!
Meals: D
Friday, July 8: Westminster Abbey
We begin our day in a private upstairs room at a nearby pub, The King's Head, for our first Theatre & Culture Chat.
Then it's on to Westminster Abbey—900 years of English history in one radiantly beautifully cathedral. We'll explore its architecture, art, and memorials to many of England's great and good—from Queen Elizabeth I to C.S. Lewis. Then we'll climb the winding turret stairs to the recently opened Queen's Diamond Jubilee Gallery for amazing views inside and out.
After dinner at a toothsome London restaurant, we'll see our first play. (Remember: TBSATBP!)
Meals: B, D
The Four Touchstones of London on Stage
The play's the thing. The heart of our trip is seeing plays specially chosen for maximum mental stimulation. We'll pick six plays guaranteed to delight and inspire. These will all be new on the London theatre scene, putting you on the cutting edge!
Let's talk. We love best what we understand, and understanding comes through learning and discussion. So we'll have Theatre Chats about the plays we're seeing.
Relax. We'll plan and take care of all logistics so you can spend every minute experiencing the cultural and historical riches of London.
Be together, be free. We'll take you personally to places where having your own tour guide enhances the experience, and we'll also give you plenty of suggestions for how to spend your free time.
Saturday, July 9: Tate Britain & Turner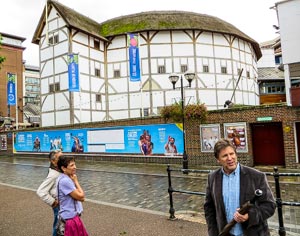 A Theatre & Culture Chat in the morning to talk about what we saw last night and get us ready for one of the most anticipated 2021 London art exhibitions.But first, for us early birds, a trip to Portobello Road Market—the place for antique treasures, second-hand gems—or just a way-too-early bratwurst!The afternoon will see us at the Tate Britain Gallery for Turner's Modern World, a landmark exhibition by Britain's genius painter. Dinner and a play to follow.
Meals: B, D
Sunday, July 10: A Very English Tradition at the Tower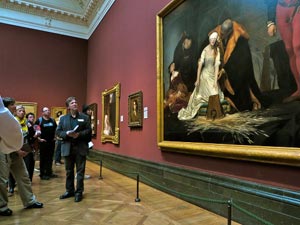 A.M. Theatre & Culture Chat

The finest medieval fortress in all Britain is right in London. But the Tower of London is so much more than a fortress: it's also a palace; two churches; a former prison, mint, and zoo; and the place where they keep the Crown Jewels. But we'll start with a Choral Matins Service at St. Peter ad Vincula Church on Tower Green, taking part in the most traditionally English way to spend an hour on a Sunday morning (since the pubs are closed). After we've had our fill of medieval strength and royal sparklers, Jane will take us on a tour of East London, culminating at fabulous Spitalfields Market, home to arts & crafts and a great lunch!
Those still in the mood for architectural splendor can gaze at Nicholas Hawksmoor's ecclesiastical masterpiece, Christchurch Spitalfields. And then that night, we'll be among just 40 to witness the centuries-old Ceremony of the Keys at the Tower of London.
Meals: B, L
Monday, July 11: Spencer House
Theatre & Culture Chat in the morning.

Afterwards, we'll visit, by special arrangement, one of the last grand aristocratic townhouses of London, Spencer House, urban seat of the late Princess Diana's family—her brother, Charles Spencer, the 9th Earl, owns it now. Scene of many a glittering party throughout the years since it was finished by James "Athenian" Stuart in 1758, we'll celebrate high society in a private tour.
Dinner and a play to follow. And what a play! We've secured superb seats for Henrik Ibsen's late classic, John Gabriel Borkman at the new, innovative Bridge Theatre, with Simon Russell Beale playing the title role, one of British theatre's biggest—and most talented—stars.
Meals: B, D
Tuesday, July 12: The Dreaming Spires of Oxford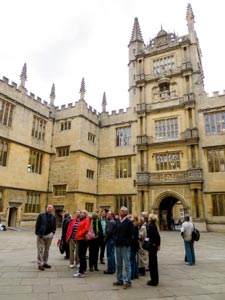 Time for a day trip. We'll travel by rail—it's just an hour away—to Britain's ultimate university town (sorry, Cambridge), beautiful Oxford. We'll visit the Sheldonian Theatre, home to Oxford commencements and the Encaenia; explore an Oxford college; and visit one of the greatest bookstores in the world: Blackwell (it's bigger on the inside than the outside). And by special arrangement, we'll view some original manuscripts (Shakespeare's First Folio, anyone?) germane to the plays we're seeing in London. And since more than just the brain needs food, we'll indulge in High Tea at the Old Parsonage.
Meals: B, L
Wednesday, July 13: Buckingham Palace's Queen's Gallery
After our Theatre & Culture Chat, we'll head to Queen Elizabeth's house—well, one of them—for a private view in the Queen's Gallery of a very special art exhibition, Masterpieces from Buckingham Palace. These are the Old Masters from the Royal Collection: Rembrandt, Van Dyck, Vermeer, and that crowd—usually only on view in the summer, but, lucky for us, available for our ogling in March!
Free time and then, dinner and a play in the evening.
Meals: B, D
Thursday, July 14: Shakespeare and…Cheese!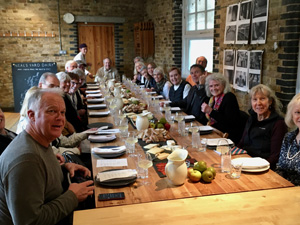 Although Will's hometown was Stratford, his artistic life was in London. We'll visit, by special arrangement, some of the places most associated with his life and work. Middle Temple Hall, completed in 1573, became a model for the commercial indoor theatres that began to spring up in London soon thereafter. Shakespeare, himself, and his company, performed Twelfth Night in this very room. We'll also see the original site of the Globe Theatre as well as its modern reconstruction (where we may also see a play!) Then it's on to Southwark Cathedral, where Shakespeare's younger brother is buried, to gaze on the fabulous Shakespeare stained glass window. How many characters from the plays can you identify?
Culture builds an appetite, to be satisfied by a Market Lunch—featuring cheese tasting—at nearby Neal's Yard Dairy. Need to fill up the corners? Borough Market, the renowned foodie paradise, is right next door.
Another fabulous play in the evening!
Meals: B, L
Friday, July 15: Kew Gardens
Theatre & Culture Chat in the morning at the King's Head. Then:
If Mother Nature decided to settle down and live in one place, it would definitely be the Royal Botanical Gardens, Kew. A UNESCO World Heritage Site, it is home to 30,000 species of plants from all over the world, stately 300-year-old trees, the world's largest glass house, woodland glades, two breathtaking art galleries, its own resident parrot population, and on this day—us! We'll get there just in time for all the early spring bulbs. Relax and renew your spirits, bathed in all that green oxygen!
We'll meet for a final thrilling play, and then assemble for a farewell party back at the Rockwell, our London home.
Meals: B
Saturday, July 16: Departures
Try to catch one more delicious Rockwell breakfast before you leave—and start planning your next trip to fabulous, inexhaustible London!
Meals: B
Photos courtesy Christoph Dressler, Tim Slover/Jane England