Tour Leader Rick Paine
Associate Professor of Anthropology, University of Utah
Rick Paine has been introducing University of Utah students to the wonders of Mesoamerican archaeology since 1995. He has led several learning abroad trips to Costa Rica, teaching tropical forest ecology and land use, as well as GoLearn's trip to Guatemala and Honduras, and the Oaxaca Mexico trip. Rick is an experienced Maya scholar and has conducted fieldwork at several Maya sites, as well as excavations in Turkey, and the United States. Rick is currently a member of the Mirador Basin archaeological project. El Mirador is a colossal pre-Classic Maya site in the Peten rainforest of northern Guatemala; it is a key to understanding the rise of Maya civilization.
Tour Leader Valerie Gates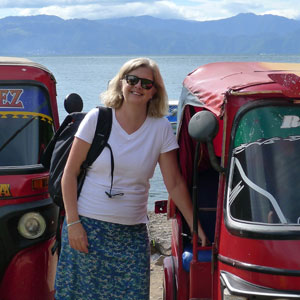 Valerie Gates is a teacher and the English as a Second Language coordinator at West High School in Salt Lake City. Valerie was the 2016 Salt Lake District Teacher of the Year, and the 2017 Utah Teacher of the Year. The same warmth, dedication, and attention to every detail that make her an exceptional teacher make Valerie an amazing tour leader.
Valerie has a great love of Mexican and Central American culture, which she loves to share. Valerie and her husband, Rick Paine, have led the GoLearn Maya trip to Guatemala and Honduras, as well as the Oaxaca trip. She has also done extensive archeological fieldwork at El Mirador, Guatemala. Valerie grew up in Montreal and Toronto, and has travelled extensively in Europe, Turkey, Mexico and Central America. She has worked on two archaeological projects in Honduras, and several in the United States, and considers herself "a qualified digger." Valerie and Rick have lived in Denmark and Honduras, as well as the US and Canada. Valerie and Rick have driven from Pennsylvania to Honduras and back.
Replay webinar with Rick Paine