The trip to Oaxaca was very well organized, varied, interesting and educational. Trip leaders Rick and Valerie were knowledgeable, hospitable and welcoming. They made sure that each member of the group had what they needed for safety and comfort...and they were very flexible and attentive to the desires of the group.
— Lynne N. Oaxaca 2018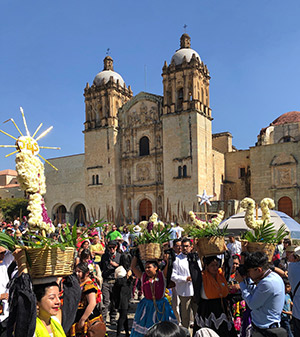 Ring in the New Year in Oaxaca! This enchanting colonial city, dubbed "the land of the seven moles," is famous for its indigenous cultures, its archaeological sites, its European architecture, and of course its incredible cuisine.
Food is central to life in Oaxaca, and this tour is no exception! We'll spend a day with a local chef, learning to cook traditional specialties. This day begins with a shopping trip to the marketplace to find ingredients, and ends when we eat our handmade meal. We'll enjoy fine restaurants and some of the best street food anywhere. Oaxaca's was the first cuisine to receive UNESCO culinary heritage status, and you'll have plenty of opportunities throughout the tour to sample local delights.
Not a foodie? Not a problem! Your guide is University of Utah Associate Professor of Anthropology, and Mesoamerican archaeologist, Rick Paine. Rick will guide you through the history of the area, starting with the Zapotec ruins of Monte Albán and of Mitla, the Zapotec religious center. You'll also explore art in nearby craft villages, learn the secrets of making Mezcal, and have plenty of free time to relax and recharge.
Tour Highlights Include:
A guided tour of the ruins of Monte Albán, where Rick will explain the history and mythology of the Zapotec people
A day-long cooking class where you'll learn to make traditional Mexican specialties, then feast upon your creations
Visits to craft villages nearby, where you can find beautiful weavings and ceramic arts
Visits to rural palenques, where small batches of Mezcal, Mexico's most traditional liquor, are handcrafted by experts
Seven nights' accommodation in the Xtilu Hotel in old Oaxaca
Eight hand-picked culinary delights for lunch or dinner, as well as daily breakfast
Private bus for day trips, with local driver and English-speaking guide
Ample free time so you can find your own unique Oaxaca
Photo courtesy Rick Paine