Daily Itinerary
Sunday, May 28: Bonjour, Paris!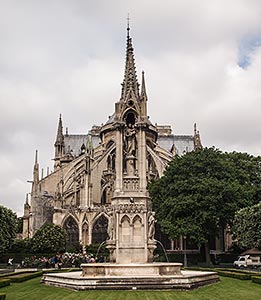 Arrive in Paris, and make your way to our charming boutique hotel, Mercure Notre Dame. We'll gather in the hotel lobby around 6:00 pm for a walking tour along the Seine. We'll have dinner together on the I'lle de France, and, if anyone is still standing, cap off the evening with an ice cream.
Hotel: The Hôtel des Nations St-Germain will be our base for the duration of this tour.
Meals: D
Monday, May 29: The Left Bank and Literary Paris
We'll begin our journey back in time at the epicenter of modern literary Paris—the Paris of Hemingway, Fitzgerald and Stein, not to mention Ezra Pound and James Joyce—at the legendary Shakespeare and Company Bookstore. We'll then cross the street to see the stunning Notre Dame Cathedral. After a delicious lunch, we'll walk through the Latin Quarter with its shops and bistros, relive the jazz age in St. Germain-des-Prés, and take in the statuary and quiet of the Jardin du Luxembourg. Find dinner on your own this evening, and if you wish, join us afterward for a magnificent evening boat ride on the Seine.
Meals: B,L
Tuesday, May 30: Left Bank and Vie Boheme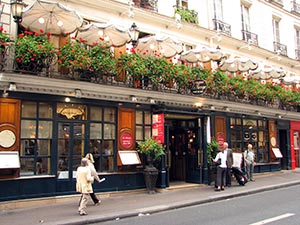 In the morning, we'll experience Monet's breathtaking waterlilies and the other stunning art that presaged the modernist movement at the Musee d' Orsay. We'll have lunch and recharge our batteries with coffee and tea at La Procope, which is the oldest continually running café in France. The afternoon will include a highlight of the trip: the Black Paris tour, which will show us the great contributions black Parisians have made to the city's illustrious history and take us to the fantastic Montmarte and today's intriguing Pigalle neighborhoods. After dinner, we'll have an optional jazz concert to help transport us back to the Jazz Age.
Meals: B,Snack
Wednesday, May 31: Paris is your oyster!

Whether a day-trip to Versailles or exploring the catacombs and Paris's sewer system, what would you do with a full day in Paris? This free day will allow you to choose from any of the many iconic Parisian sights available to you. Sainte Chapelle and Sacre Coeur will be a feast in architecture and history, Napoleon's tomb will let you ponder Europe's fate. Cluny, Marmottan, Jacquemart-Andre, and the Picasso Museums will satisfy the art-lover's hunger for even more. Maybe you are that traveler who needs to relax for a day, enjoying watching locals going about their day, maybe wandering Rue Cler in the shadow of the Eiffel Tower? With endless options at hand, Jeremy will be delighted to help you making this a perfect date with Paris!
Meals: B
Thursday, June 1: Feasting on Paris!
We'll begin a memorable day of viewing art and iconic Paris sights Centre Pompidou. In the trendy Marais, we'll sample some of Paris's best bakeries and feast on the delights for the eyes and nose that are Paris's gorgeous food markets—collecting goodies for a picnic lunch in Place des Vosges. We'll then head to the Eiffel Tower, without which any Paris visit would be incomplete. Iconic photo-ops aplenty! In the evening, we'll practice replicating the delicious tastes of the week's feast with a cooking class from a local chef de cuisine.
Meals: B,L,D
Friday, June 2: A Walkable Feast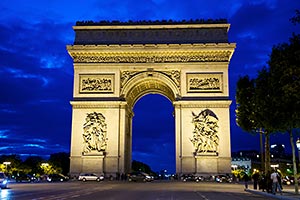 This morning we'll visit the gorgeous Musee Rodin, taking in the gardens among the master's iconic sculptures. Then we'll stroll and shop along Les Champs Elysées, and visit the Arc de Triomphe. Take the afternoon for some free time to explore, find lunch, and maybe do more shopping in Le Madeleine. In the evening, we'll gather for our final group dinner.
Meals: B,D
Saturday, June 3: Say Au Revoir
Our journey ends after breakfast this morning. Make your way to the airport, or to your next destination. We'll get together in about a month for a tour reunion! Until then, bonne rentrée!
Meals: B
Photos courtesy Francesco Dazzi, Christoph Dressler, Panoramas, Chad Goddard, Oliver Mallich, Tony Banh, Didier Deveze