Details and What to Expect
Pre-Departure
Go Learn is a unique travel program. For those who can join us, we like to offer pre-departure meetings to prepare travelers about the learning we will experience as well as logistics. We'll make sure you have all the information you need before you arrive in Sicily. Meet your trip leader, and meet your group! We will share this information in writing with those who might not be able to attend as Go Learn increasingly attracts people from the entire USA.
Our journey does not end with the day we leave Sicily! A trip reunion a month after return is a wonderful capstone to an unforgettable and enriching edu-vacation, as we like to call our journeys!
About Sicily and the Aeolian Sea
We deliberately picked June as the month of travel. The weather and sea in Sicily are consistently warm enough in June to entice travelers to the beach, with an average daily high of 74*F and a low of 60*F. Even better: June is the ideal month to avoid summer crowds, enjoy calm seas for our boat excursions, and pleasant temperatures for those amazing sunsets we are in for.
Activity levels and restrictions
In order to fully explore the sights on our itinerary, we will be walking every day. We may walk between 5-7 miles daily. Some walking could be on uneven surfaces and we will encounter stairs, and occasional hills. We may stand on our feet for prolonged periods. Be sure to pack comfortable shoes! We will rely on the private buses for most of our transportation.
Dates
June 16-27, 2023
Size
Tour is limited to 20 participants
Cost
Double Occupancy: $5800 per person
Single Supplement: $6860
See Terms for payment and cancellation details.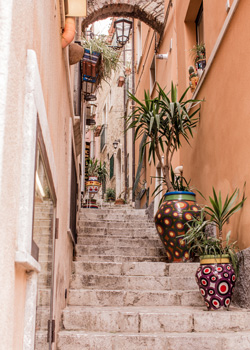 Included:
All guides, tips, and entrance fees
All ground transportations, including boat excursions to a number of islands and hydrofoil ferry ride to the island of Salina
Numerous museums, cultural and historical sites in some of the most spectacular places in Sicily, all fully guided
11 nights' accommodation at stunning, centrally located boutique hotels, with breakfast included
Wine tasting and Caper Tour included
12 hand-picked culinary highlights for lunch or dinner and a slew of delightful tastings and local surprises, including mythical happy hours
A sensational and intellectually stimulating journey through Greek and Sicilian mythology, a unique exploration of modern and ancient culture, language, history, and Sicilian life through its stories and legends, constantly tying each site into historic events, enlightening overviews as well as in-depth explanations by your very own tour professor
Comprehensive trip insurance, which includes coverage for sickness, accidents, emergency evacuation (for trip cancellation insurance, please see a travel agent immediately after booking with Go Learn!)
Not included:
Airfare to and from Sicily
Airport transfers
Cancellation and lost luggage insurance
Any costs outside of the itinerary