ELISABETH DEKOEYER-LAROS / Continuing Education Instructor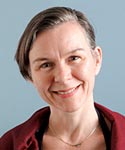 Dr. Ilse DeKoeyer-Laros is an Adjunct Assistant Professor in the Department of Psychology. Originally Dutch, Dr. DeKoeyer-Laros obtained her Ph.D. degree from Utrecht University (The Netherlands) in 2001. Her dissertation focused on links between parent-child relationships, sense of self, and peer acceptance in kindergarteners. She moved to Salt Lake City in 2000 to co-direct Dr. Alan Fogel's research on social and emotional development of infants and young children within the context of mother-child relationships. In March 2006, she became a mother herself so she has had many opportunities to integrate research knowledge with the practice of parenting!

Ilse has been teaching classes on infant, child, and adolescent development since 2001. She loves to teach and convey enthusiasm about child development. She believes communication with students is crucial, even in classes without direct instructor-student contact. So please contact her whenever you have a question or comment!

This instructor is currently teaching the following classes.