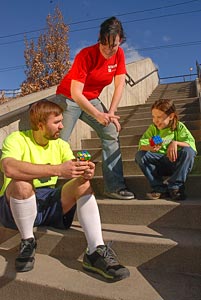 Youth Education at the U would like to extend parents, grandparents, and guardians the opportunity to join the Parents Club. The Parents Club is a scholarship program that provides our students' families a way to donate to Youth Education. These donations help families that need financial assistance so that their kids can attend Club U, the Youth Academy of Excellence or any other Youth Ed program.
For a donation of $120 or more, you will receive a membership to the Parents Club which includes:
Early registration for one participant for Club U camp weeks or the Youth Academy of Excellence classes (early registration opens February 5th, 2018 for parents club members). To qualify other participants for early registration, a $20 donation per participant is required.
Newsletters and updates on Youth Education and new courses and camps, as well as information about what your Parents Club membership is doing for sponsored kids throughout the area!
All donations are tax deductible and 100% of all donations are used for scholarships.
You know how much your child or grandchild has benefited from our summer camps and classes. Help us offer these same enriching experiences to even more children living along the Wasatch Front.
Please take a look at what your generous donation means to others!
My son was provided an opportunity to participate in a summer camp with YouthEd thanks to the generosity of those contributing to the scholarship fund. As a low income college student with a 6 year old, providing summer camp opportunities for our son would be very difficult for our family financially. We cannot afford to pay for summer camp. Our son gained so much from the camp Youth Ed's scholarship fund provided at little to no cost. He started his first day of camp vocalizing his fear that he wouldn't be able to paint a "good" picture, and that he isn't good at painting. By the end of camp, he had gained so much confidence in his own abilities to express himself artistically. I am so proud of him. I know how much he loves to paint and this camp was perfect for him. An opportunity to gain self-confidence, to have fun and gain an entirely new perspective on his own unique self, was made possible because of the scholarship fund. Thank you.
— parent of Scholarship recipient
The scholarship for the Youth program is really important because under my economical reality will be not possible pay the full tuition. And the other aspect is I know the education is really important is a privilege for my daughter have the opportunity to take the classes in the University Campus because is a big motivation. And now my daughter understand better that for be a University student is not just for rich people is for student who have the decision that have good behavior and good grades too. Like a consequence they can applied scholarship for be a college student in the future. Thanks for this opportunity.
— parent of Scholarship recipient
Our family greatly values educational experiences and positive learning environments such as camp, however we are not in a financial position to send our children to experience things like this without scholarships or tuition assistance. Camp at the University has been a very positive experience for our children. We are so fortunate that financial assistance has enabled our kids to experience camp for the first time!
— parent of Scholarship recipient
Youth education provides awesome experiences for kids who would not otherwise have access to this program. My son was blessed enough to get this scholarship and allowed to learn something new and different environment that your wrenches and supports is his desire to continue learning. It's important for kids to be allowed to be on college campuses so they have the exposure to hire education and what it means to be a part of something bigger than themselves.
— parent of Scholarship recipient
The program of Scholarship is very important because my son is first generation and in addition we are a low income family . We know Education is so important for my son's future that's why this program help a lot my family in follow his future goals. — parent of Scholarship recipient