Anna loves camp and tells all her friends that she 'goes to the UofU,' and completely intends to enroll there one day!
— Anna's Mother, Scholarship Recipient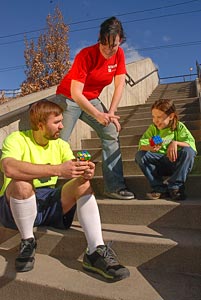 Youth Education at the U would like to extend parents, grandparents, and guardians the opportunity to join the Parents Club. The Parents Club is a scholarship program that provides our students' families a way to donate to Youth Education. These donations help families that need financial assistance so that their kids can attend Club U, the Youth Academy of Excellence or any other Youth Ed program.
For a donation of $100 or more, you will receive a membership to the Parents Club which includes:
Early registration for Club U and the Youth Academy of Excellence Camps (February 9, 2015)
Newsletters and updates on Youth Education and new courses and camps, as well as information about what your Parents Club membership is doing for sponsored kids throughout the area!
All donations are tax deductible and 100% of all donations are used for scholarships.
You know how much your child or grandchild has benefited from our summer camps and classes. Help us offer these same enriching experiences to even more children living along the Wasatch Front.
JOIN TODAY or call 801-581-6984
I wanted to let whoever is responsible and involved in providing assistance to help make these wonderful classes available to all families that it is appreciated and makes a difference. That is not necessary and it is very thoughtful and did make a difference.
— Anonymous Parent, Scholarship Recipient