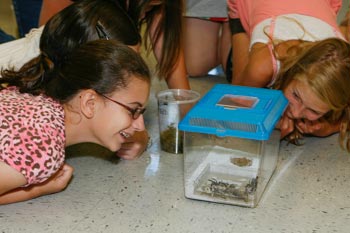 Join us for a summer experience that will give you a preview of college life and a chance to study with other bright and motivated students. Classes are small and curriculum is fast paced. Participate with your peers in small group discussions, multimedia presentations, experiments, and field trips. Choose one or two weeks and study one in-depth topic each week, use campus resources, and establish long-lasting friendships.
Youth Academy of Excellence classes are designed for bright and motivated students; those in gifted and talented programs are especially encouraged to enroll.

YAE: Elementary
For students going into the second, third, and fourth or fifth, sixth, and seventh grade in the fall. Designed for students in gifted and talented programs. Lunch provided daily.
YAE: Writing Magic for the Young Writer (Age 7-9)
Make magic with your words this summer in the perfect course for the young writer. Learn special writing tricks such as how to create sparkling descriptions, memorable characters, and hooks that mystify your reader. Explore different writing genres like poetry and fiction, and find magical writing topics in everyday life. Borrow magic writing secrets from your favorite authors and even learn a real magic trick or two. In this playful course, students are encouraged to develop their writing confidence and 'abracadabra!' leave the week a proud author.
NOTE: Parents/Guardians are invited to a special magic show and authors'celebration at 2:00 PM on the final day of class.
Ultimate Math Mash-up for Age 7-9
Ultimate Math Mash-up for Age 10-12
Get excited about math! Ultimate Math Mash-up will use Zane Math to advance your math skills and teach you how to apply these skills to the real world! Start the camp with an assessment to identify which concepts you already know, and which concepts you can improve on. Zaniac will generate a customized curriculum for the week that will challenge you to creatively solve problems in small groups and work through tough problems on your own. Daily feedback on progress from Zaniac instructors and scanned worksheets are confidentially posted online to keep parents involved in the learning process.
After the academic component, head out onto campus and into the city to put your math skills to work. Follow in the footsteps of architects and engineers as you plan and create a contraption. Discover the math foundation of video games and write your own code. Get hands on experience in science as you explore the mysteries of chemistry and physics. This is the most in depth math program Youth Education has ever offered and it is sure to be a great experience for all!
NOTE: Co-sponsored with Zaniac. Email addresses will be provided to Zaniac, a Youth Education partner, to facilitate the online component of this course.
YAE: Invention Dimension (Age 10-12)
This week will be filled with wonder and imagination as we discover how inventions have changed the way we interact with our world. We'll discover how successful people make their dreams come true, as well as enjoy the magic that comes with creating your very own invention! This class will be an exciting hands-on adventure for all those who love to use their imaginations.
YAE: Writing Wizards (Age 10-12)
Welcome to a week at the YAE school of wizardry and magic, where you'll be trained in the art of writing wizardry! Jump into portraits, turn back time, and wear your invisibility cloaks while practicing magic with your words. Learn from wizard masters how to imagine stories with developed, believable characters from everyday, ordinary moments. Try your hand at poetry, fantasy writing, and personal narratives. Examine your writing through magical writing lenses to discover how to best create powerful story endings. In addition, we'll practice our interpersonal skills by learning how to find the right spell for any situation (in or out of the muggle world), and submitting our work for publication like a professional author. Meet at Platform 9 and 3/4 for the writing wizard's ideal class!
NEW! YAE: Eyes on Egypt (Age 10-12)
Join us for an amazing adventure into an ancient civilization on the Nile as we explore Egypt through hands-on projects. Decipher hieroglyphics and investigate Egyptian myths and legends as well as art and music. Now more than ever, be enchanted and mystified by this fascinating culture that is still reflected in the world today. The instructor traveled to Egypt as a Gifted Delegate with the People to People Ambassador Program.
YAE: Intensive Art Academy (Age 10-12)
Let your imagination run wild in this study-meets-studio class. Discuss the concepts of design and color theory and art techniques. Find inspiration and improve your own techniques as you study works of other artists from across the world and throughout time. In the studio, experiment with charcoal, watercolor, graphite, pastels, and acrylic paint among other mediums to expand your artistic experience. Present your own masterpieces in the YAE Art Academy exhibit on the final day of class.
YAE: Blast off with Solar Energy! (Age 10-12)
Explore and harness the power of Solar Energy! Learn about alternative energy sources, discover photovoltaic cells, build and cook with a solar oven and learn how to use solar energy to power everyday objects. Join us for a sizzling week of fun with the sun!
YAE: Competitive Robot Games: Robo-Soccer (Age 10-12)
You're familiar with FLL, but what about a new spin on robotics competitions? Learn to program a robot to play soccer! Join us this summer for an introduction to the world of Robot Soccer Junior Competition. While you do need to have prior experience with NXT robotics, you will get everything else you need to guide your robot to glory in Robo-Soccer competitions! Using multiple sensors including Infrared and Compass, you'll program your robot to chase an IR electronic ball on a mini-soccer mat. Not only will you learn about state and national robotics competitions while competing in Robo-Soccer, you and your robot will get to train under the guidance of experts in the field of robotics education. Don't miss this week filled with non-stop competitions and excitement! NOTE: Students must have a basic understanding of NXT Mindstorm robots and NXT programming. Co-sponsored with Learning Through Robotics.
YAE: MIDDLE SCHOOL
For students going into eighth, ninth, and tenth grade in the fall. Designed for students in gifted and talented programs. Lunch provided daily.
NEW! YAE: Artists-In-Training (Age 13-15)
Join the Utah Museum of Contemporary Art for a unique opportunity to hone your artistry behind the scenes as an Artist-in-Training. Determine the direction of your own art-making and take advantage of the amazing resources at your disposal, such as individual studio space, a variety of materials, studio visits from working professionals, and individualized attention as you work toward your finished product. At the end of the week you'll showcase your work in a special exhibit at the Museum! This experience will guide you as you dive into the creative process, develop your personal artistic voice, and stay true to your imagination. Co-sponsored with the Utah Museum of Contemporary Art.
NEW! YAE Inventions of Antiquity: Sir Isaac Newton (Age 13-15)
Discover the forces that one of the greatest minds in physics, Sir Isaac Newton, sought to learn about and explain. Find out what a simple apple can teach us about the universe. Explore gravity, motion, and friction through hands-on reconstruction of Newton's models to take these forces faster and higher than ever before.
YAE: Inventions of Antiquity: Leonardo da Vinci (Age 13-15)
Long before computers and cellphones, civilizations accomplished amazing feats in science, architecture, urban planning, medicine, and art. Examine the circumstances and inventions that allowed humans to build incredible civilizations that are still admired today. Films, discussions, and field tests with your own inventions are just a few of the ways we will recreate some of the greatest inventions from antiquity on up to Leonardo da Vinci, and discover that all you need is a little ingenuity and foresight to change the world!
NEW! YAE: Film Intensive: Script to Film (Age 13-15)
Working with real actors, we will take a script from first read to debuting it on the big screen. Everyone is part of the crew, taking turns in different roles: storyboarding, location decisions, set preparation, costuming, media management, sound recordist, DP, 1st AD, director. So much to do and so little time to get it all done. But with a prepared short script and trained actors on call, we will shoot short film from beginning to end that will leave audiences in awe!
NEW! YAE: Film Production: Tools & Techniques (Age 13-15)
With a host of equipment you would usually only find on a film set, this week is packed with hands-on opportunities to play with the gear and figure out how it works. Each day we will take real film scenarios and interpret them as a team. How to light it, where the action is, what's motivating the camera movement, what lens will best capture the scene's intent? These are all the things you want to be tending to as a filmmaker but just haven't had the time or the budget. Let's explore them here. We'll be using professional cameras, a variety of lenses, a full package of grip & lighting, and even a full sized dolly & crane. You will learn to pull focus while the camera is in motion. Don't forget the importance of audio. Getting clean discernible dialog is a must. It's time to turn the technical into art!
YAE: Seize the Story - Intensive Writing for Teen Writers (Age 13-15)
This is it. This is the week where you start (or finally finish) the best story you've written so far. Whether you enjoy writing fiction or nonfiction, in this class you'll join other teen writers in creating a story with moving description, memorable characters, and a 'so what' ending that leaves your readers wanting more. In addition, you'll explore possible writing careers and meet with professional writers. There's a story waiting out there that only you can write. Don't miss your chance to seize the story!
YAE: STEMDu: Advanced Robotics & Programming (Age 13-15)
Move beyond Mindstorm with your understanding of robotics and programming using new robots and a new programming platform. Experiment with Arduino-based robotics and programming using C language software to elevate your skills! Get creative as you come up against increasingly difficult obstacle courses and class competitions. But don't worry, you'll add new tools to your arsenal as you overcome the challenges awaiting you. Explore several programs and projects using micro controllers and multiple sensors while having fun learning in a new robotic environment. Don't miss this chance to join us for this unique opportunity!
Note: Co-sponsored with Learning Through Robotics. Students must have prior experience programming robots and knowledge of Mindstorm programs.
YAE: Marine Biology and Ecology (Age 13-15)
Discover the fascinating world of saltwater systems and how organisms adapt to this unique environment. Examine the intricate relationships between plants, fish, mammals, humans, and the nonliving components of salt water ecosystems. Get hands-on experience dissecting specimen and studying organisms under microscopes as you learn about the anatomy, energy/food needs, and life cycles of salt water inhabitants. Take a behind-the-scenes look at an aquarium, conduct research on the Great Salt Lake, and snorkel with fish and sharks at the Bonneville Seabase.
NEW! YAE: Biochemistry Food Science Lab (Age 13-15)
Come join us for a very fun hands and taste buds-on experience as you explore the biochemistry, physics, genetics, microbiology, technology, and engineering of FOOD. Run chemical tests to identify sugars, starches, proteins, lipids (fats), Vitamin C, and more. Extract and quantify the iron in breakfast cereals. Learn how food is processed by your body using real digestive enzymes to breakdown common foods. Test your ability and genetics to perceive certain tastes and flavors. Learn the science of good cooking. Make cottage cheese, "shake and make" ice cream, and more. Activities will also include films, field trips to U of U medical and/or science labs, opportunities to meet with real food scientists, and of course-EATING! (YUM) NOTE: If you have food allergies, please be aware that Youth Education does not guarantee an allergen-free environment. Recipes may contain nuts, nut oils, shellfish, dairy, produce and/or other food allergens.Contact us with any questions at 801-581-6984.
YAE: Forensic Dissection and Anatomy Lab (Age 13-15)
You could be the next CSI medical expert! Come join us for a unique forensic lab activity. Each student will conduct a detailed dissection of a preserved fetal pig, modeling the protocols used by pathologists for a human autopsy. Investigate all the organs and organ systems, examine slides of tissue types, and learn to suture incisions. Learn and use the techniques of forensic anthropologists to solve a mystery of some "found human bones". Become a forensic botanist by dissecting and observing the anatomy of flowers to solve a murder mystery. Activities will also include films, microscope work, field trips to U of U medical and/or science labs, and opportunities to meet with real pathologists/forensic specialists.