Upcoming Classes
Technology Education leverages the deep resources of the University of Utah, including an experienced staff and cutting-edge equipment. Our noncredit, professional development classes and certificate programs cover a myriad of subjects and provide hands-on learning that is immediately applicable in the real world. Whatever you are searching for, Technology Education will bring you positive results.
AATC logo

Create better videos with Final Cut Pro!
Final Cut Pro X is a revolutionary video editing application that makes it possible for beginners and seasoned professionals to achieve stunning results.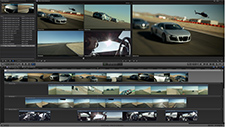 These hands-on courses teach students to perform basic editing functions while becoming familiar with the user interface. Start with basic video editing techniques and work all the way through Final Cut Pro's powerful advanced features.
Final Cut Pro 200 5-day: Monday through Friday, 03/10/14 - 03/14/14, 9:00 am - 5:00 pm
What Our Students Are Saying
"The whole class was great. The instructor, Ed Lukacs, was very professional- he knows how to teach and what to teach."
- Elena W., Excel Level 1
"This class was very well organized and designed for the intro level student looking for SEO knowledge. I believe this is a valuable course and the U should continue it. Thanks for offering it! "
- Colby G., Search Engine Optimization