Details and What to Expect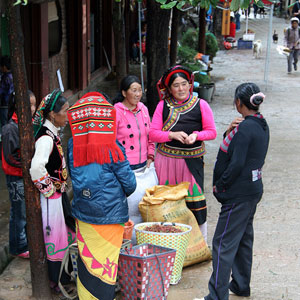 Pre-Departure
We will prepare for the tour with lectures, readings, and film viewings, all here in Salt Lake City before the tour begins. These will make the time in China all the more meaningful and you will feel well prepared when we visit the sites.
Additionally, we'll make sure you have all the information you need before you arrive in China—we'll answer questions about what to pack, how to get around, and our daily itinerary. We want you to arrive on the ground ready to learn!
A trip reunion about a month after returning will be the perfect conclusion to our journey. We will exchange pictures and stories while remembering the highlights of our tour. Go Learn expeditions are designed to be small, boutique experiences where one returns with a group of friends. Good food, drink, and company await us at this reunion.
Activity levels and precautions
This tour requires lots of walking, sometimes on flat paved surfaces, but often on stairs, sometimes very steep stairs, cobblestones and even unpaved paths. We will also spend many days in places that are between 8,000 and 11,000 feet above the sea level. Individual-use small portable oxygen tanks will be provided during these days and we will have plenty of water on the bus. However, it is also recommended that you speak to your doctor regarding this trip if you have any health concerns. Please carefully read the itinerary to better understand each day's physical activities.
Special note on bathrooms
Although all the hotels we will be staying are equipped with modern bathroom fixtures, the public bathroom conditions in Beijing, inside these rural villages, and along the rides varies. In the city, it can be a squat toilet with flush and full partitions. In rural China, however, it might very likely be a ditch in the ground without high, or any, partitions to protect your privacy from other users of the same gender. Toilet paper is usually not equipped in the public bathrooms and, in some places, there might not have water or soap to wash your hands. It is recommended that you carry dry and wet paper towels with you all the time during the trip.
Dates
June 23 - July 6, 2018
Size
Trip is limited to 19 participants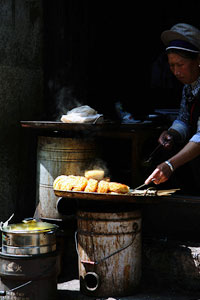 Cost
Double occupancy: $5300 per person
Single Supplement: $700
See Terms for payment and cancellation details.
Included
Small group size to maximize learning, comfort, and flexibility
Local tour guides in Beijing, including their fees and tips
12 nights' accommodation at centrally-located 5-star or boutique hotels
Entrance fees for all scheduled sightseeing
All meals that range from imperial cuisine inside a once imperial park, banquets at high-end restaurants in Beijing, to delicious local food and delicacy prepared by family-run local restaurants in rural Yunnan Province
Two direct flights between Beijing and Yunnan Province
Private charter bus throughout the trip and bottled water on bus
Individually used portable oxygen tank
Comprehensive tour insurance, including sick and/or emergency evacuation insurance
Not Included
Airfare to and from China
Transfers between Beijing Capital Airport and the hotel in Beijing
Dinner at day two
Your choice of alcoholic drinks at meals
Optional activities
Cancellation and lost luggage insurance
Any costs outside of the itinerary

Suggested Reading and Films
Books:
China: Its History and Culture by W. Scott Morton and Charlton M. Lewis
The Cambridge Illustrated History of China by Patricia Buckley Ebrey
A brief understanding of Chinese history will help you appreciate many aspects of this cultural adventure. If you do not have time the read through the entire book, you could start from chapters on religions, philosophy, and Chinese history since the Ming and Qing dynasties.
Films:
Five Golden Flower, 1959
https://www.youtube.com/watch?v=_SsLta3m7F4
This movie was shot in Dali and Xizhou. The online version does not have English subtitle, but you still can enjoy the scenery and the folk music of the local Bai culture.

The Last Emperor, 1987
https://www.youtube.com/watch?v=SY_GFZsmgcA
A Chinese movie with English subtitle. It gives you an idea of the live inside the Forbidden City and a brief history of China in the beginning of the twentieth century.

The Story of Yunnan, 1993
https://www.youtube.com/watch?v=_hnS4L4LRX4
A Chinese movie with English subtitle. It will give you a brief idea of the lifestyle of Yunnan Province after the WWII.

To Live, 1994
https://www.youtube.com/watch?v=ZB7HYhUpDz8
A Chinese move with English subtitle. Centered on the story of a family, it will give you a brief summary of the Chinese history between the 1940s to the late 1970s.

Seven Years in Tibet, 1997
An American Movie that tells the story of an Austrian mountaineer (Brad Pitt)'s experience living in Tibet and his interactions with the young Dalai Lama. It will give you a brief introduction of the Tibetan culture.

Documentaries:
Asian Corridor in Heaven, 2014
https://www.youtube.com/watch?v=LATfGbRORWk
A Korean documentary, with English subtitle, about the Ancient Tea Horse Road. There are many Chinese documentaries on the same subject, with English subtitle, available on YouTube, but they are usually 4 to 6 hours long, such as The Ancient Tea Road Part 1 Portrait of Real Current Life, 2012 at https://www.youtube.com/watch?v=g-1FcNpJcYk.

The Forbidden City of Ming & Qing Dynasties (1368 - 1912 AD), 2014
https://www.youtube.com/watch?v=6QvsCr_xK3c&t=396s
An English documentary about the Forbidden City.

National Geographic: The Great Wall of China, 2015
https://www.youtube.com/watch?v=VjlydnRqcmw

Dynamic Yunnan, 2017
https://www.youtube.com/watch?v=r8Z-eH3jQpE
A Chinese documentary, with English subtitle, focusing on the music and dance of the ethnic minorities in Yunnan.

June 23—July 6, 2018
Double Occupancy: $5300
Single Supplement: $700
Airfare is not included.

Reserve your spot!
Photos courtesy Tauno Tõhk / 陶诺, Luca Casartelli, David Berkowitz, Windy (Wei) Zhao