Greece: Islands of the Gods Overview
An unbelievable amount of information was shared in both an organized and efficient manner, but left time for questions and opportunities for discussion. Truly a once-in-a-lifetime experience. The mythical knowledge of group leaders was a cherry on top of an already delicious cake. — Greece Traveler, 2016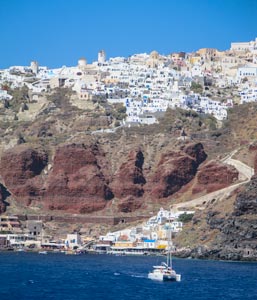 Join us on a Greek odyssey exploring Greece's iconic ruins and islands! From the shadow of the Acropolis to the windmills of whitewashed Mykonos, we'll enjoy pristine scenic beauty, explore world-famous archaeological sites, savor the Mediterranean's rich flavors, and delve deep into the cradle of Western culture. With the expertise of Associate Professor Randall Stewart (Ph.D., Classical Philology), we'll journey through some of the most important areas of Greece: ancient Athens, sacred Delphi, historic Olympia, charming Crete, stunning Santorini and photogenic Mykonos. Our journey will see us marveling at temples of ancient Greek deities, running where the first Olympic athletes competed, singing in Epidauros' acoustically perfect theater, uncovering the mysteries of the Minotaur of Knossos, savoring the vine of both Crete and Santorini, as well as soaking in the crystal waters of the Mediterranean. Through our journey we'll learn why the Greek isles are truly divine.
Tour Highlights Include:
8 hand-picked culinary highlights for lunch or dinner, as well as all breakfasts included
Inter-island transportation, including Athens-Heraklion flight, luxury bus, and ferries
Visit world famous wineries
Guided visits to the iconic Parthenon and Acropolis
Explore the award-winning Acropolis Museum and the ongoing archaeological excavation in its 'basement'
Soak up the multi-tiered culture of Greece—ancient and modern, mythical and historical—in story hours led by a classics expert
Capture photos as the sun sets behind the Temple of Poseidon on Cape Sounion
Have your fortune told at Delphi, the most famous oracle of Apollo
Run in the ancient Olympic stadium
Walk in Mycenae, the city ruled by Agamemnon, leader of the Greeks in the Trojan War
Stroll the wonderfully restored ruins of Nemea (where few tourists go!)
Hear a pin drop in the ancient theater at Epidauros, a structure with incredible acoustics
Discover Knossos, home of the mythological Minotaur, with a local guide
Bask in the sun and crystal clear water of Aegean beaches
Marvel at the stunning beauty of Santorini and its breathtaking caldera
Watch the sun sink over "Little Venice" and its wave-lapped houses on Mykonos
Discover the vast archaeological ruins of Delos, birthplace of Apollo
October 1-14, 2017
Double Occupancy: $4795.
Single Supplement: $665.
Airfare is not included.


Photo courtesy Randall Stewart