Come witness all the color, culture, and beauty of India's grand sights, which can only be matched by the warm welcome and generosity of its people. After all, this is a culture that coined the saying "Athithi Devo Bhava" or "guests are the equivalent to God" more than 2,000 years ago! From the grand cities to the exotic and memorable heritage sights, to the exquisite tropical beaches that line the coastal landscape, India will amaze even the most experienced traveler with its kind people, mouthwatering foods, and 2000-year-old historic sights.
Join the U's Dr. Tabitha Benney on a Go Learn journey of a lifetime to magical places and find yourself immersed in the culture, rituals, food, and sounds of this beautiful country! As a specialist in International Relations, Dr. Benney has lived and worked all over the world, but there is no place she enjoys visiting more than India. Dr. Benney has traveled to 25 of 29 states in India during her research on this rapidly emerging state and she has used this experience to create your tailor-made vacation there. Let her unpack some of the key issues of the ancient and recent past that shaped society and country. Learn how India strikes an amazing balance between secular modernity and deep cultural norms and traditions and be the tourist that gets so much more than a simple vacation in an exotic locale.
Starting in the north of India, this Go Learn journey takes participants on and off the beaten path of Delhi, Agra, Jaipur, Pune, and Mumbai. Aside from visiting must-see places such as the famous Taj Mahal, travelers can expect to get off the beaten path to experience the full range of insights into India from a range of topics spanning its history, archeology, religion, economics and modern politics. We have also arranged for the trip to occur during the Hindu spring festival of Holi. Holi is known as the 'festival of colors' and is celebrated by throwing colored chalk and water amidst loud music and chanting. This festival signifies a victory of good over evil and is wonderful to experience on a local level.
Activity Level: While none of Go Learn's adventures are truly extreme, our journey across India is considered Level 3 out of the three participation levels we offer. This trip may feature hot days, crowded places, hikes to and on top of temples, a lack of public transportation and taxis, and all the busy beauty that makes this country so unique. Level 3 may include days of walking to up to, and if you like in excess, of 10 miles. We encourage you to read our terms and conditions once more HERE. Participants are expected to move and carry their own luggage here and there. We will have guidance on what and how to pack at our pre-departure meeting.
Tour Highlights Include: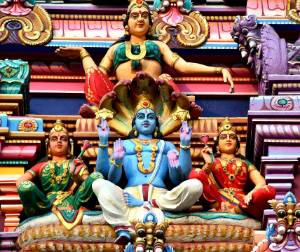 Authentic once in a lifetime experience celebrating the Festival of Colors (Holi) with locals.
Tour expert in International Political Economy, Energy and Environmental Politics and Economic Development - Dr. Tabitha Benney
12 amazing days visiting and learning about places such as the Lotus Temple, the Lahori Gate and Red Fort, Old and New Delhi, the Qutub Minar, the Masjid-i Jahān-Numā, Agra Fort, Tomb of I'timād-ud-Daulah, the Taj Mahal, the Amber Fort and Palace of Jaipur, the Jantar Mantar Observatory, Hawa Mahal Palace, Tiger Fort of Jaipur, Indian wine country, Shanivar Vada and Aga Khan Palace in Pune, and the Elephanta Caves of Mumbai.
All accommodation, guides, entrances, tips, and transportation (as well as one in-country flight) included.
Daily culinary highlights for the foodie in you included.