Come journey with us to an island steeped in ancient story where Dionysus discovered the vine and Hephaestus forged thunderbolts from Etna's molten lava. We'll experience Sicily from its legends and discover the magic still vibrant in this land of myth.
Sicily is a land layered in history, intense in beauty, and rich in culture. The gem of the Mediterranean, it was coveted by the Phoenicians, Greeks, Romans, Arabs, Normans, French, Germans, Spanish, Italians, and even the British. As complex as its past, Sicily today is an island of mystique, where ancient ruins stand in symphony with modern mayhem, snow capped volcanoes paint the skyline, and the spice of life is present in everything from its cuisine to its language. It is Italy intensified, western civilization distilled. As Goethe wrote, "To have seen Italy without having seen Sicily is not to have seen Italy at all, for Sicily is the clue to everything."
With the expertise of Humanities alumna Taunya Dressler (Ed.D. and former Italy tour guide) and Associate Professor Emeritus Randall Stewart (Ph.D. in Classics), we'll explore this striking land through the lens of myth, legend, and storied past, discovering the public dreams that shaped its people, bringing our own private myths to life.
Tour Highlights Include: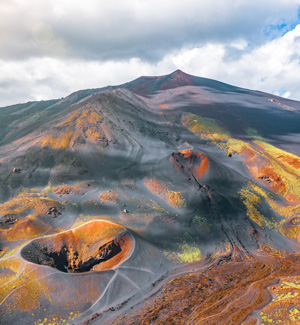 Explore five UNESCO World Heritage sites in 12 days: ancient Ortygia, Villa Romana del Casale, Valley of the Temples, the Aeolian Islands, and Mt. Etna!
Five nights on the "green" island of Salina, exploring the Aeolian Islands of Stromboli, Panarea, Vulcano, and Lipari by private boat.
Guided tours of ancient Ortygia, Taormina, and Agrigento's Valley of the Temples—home to some of the best-preserved Greek temples in the world.
Explore life in the shadow, and on the summit, of Mt. Etna.
Glimpse life in the Roman Empire through Villa Casale's stunning mosaics.
Enjoy sweeping views of the Ionian Sea from elegant Taormina.
Unwind at a wellness beach spa on the Sea of San Leone.
Relish mythological story hours led by a classics expert to enhance our visits and spark our imaginations!