Speaker: Tim Chambless, Ph.D.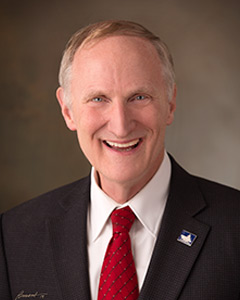 Department of Political Science
Hinckley Institute of Politics
Tim Chambless is an Associate Professor/Lecturer in the Department of Political Science and is the Academic Outreach Coordinator for the Hinckley Institute of Politics at the University of Utah.
He was born and raised in Houston, Texas, and earned his B.A. at the University of California at Santa Barbara, and earned his Master's Degree and Ph.D. at the University of Utah where he wrote his thesis and dissertation on investigative reporter Jack Anderson and the Watergate scandal.
Tim is a strong believer in government service – that government enhances the public good. Prior to university teaching, he worked for Salt Lake City Mayor Ted Wilson and Utah Governor Scott Matheson, Congressman Wayne Owens and U.S. Senator Frank Moss. He has worked in 34 political campaigns for Democrats and Republicans.
Since 1982, Tim estimates he has taught over 30,000 university students, and has written hundreds of letters of recommendation. He has taught classes in American National Government and Political Parties, State and Local Government as well as Law and Politics, Controversial Legal Issues and Constitutional Law. For 15 years he handled The Constitution telecourse seen statewide on KUEN-TV Channel 9.
Each year since 1994, he has led a Hinckley Institute of Politics student seminar to Washington, D.C. where the nation's capital is the students' classroom; this May will be his 24th consecutive "Capital Encounter" week. Also this May, he and his wife Cathy will co-lead a U of U Go Learn class to Washington, D.C.
Since 2007, he has taught Osher Lifelong Learning courses on the U campus (Current Events, Conspiracy Theories, Terrorism Law). For four years, he assisted the late Utah Senator Bob Bennett with a seminar that highlighted U.S. politics and government, history and business and economics.
Tim believes in public service and community engagement as essential for good citizenship. He served over 20 years as a volunteer citizen planner on the Salt Lake City Board of Adjustment and the Salt Lake City Planning Commission, served on the City Policy-Citizen Review Board, and the Salt Lake County Fine Arts Advisory Board. In 2011, he was vice chair of the Salt Lake County Citizen Reapportionment Advisory Commission. He served 10 years on the board of the Utah Chapter of the ACLU. In recent years, he speaks 4-5 times a week to senior citizen groups.
He has observed the Utah State Legislature for four decades – as an intern, city staff member, Channel 7 reporter, Hinckley Institute intern coordinator, U of U political science professor, and as a concerned citizen.
Tim is married to Cathy Chambless who is a senior policy researcher for the Kem C. Gardner Policy Institute at the University of Utah, where she teaches Disability Studies. They have a son Ross (wife Ikue) and daughter Dominique (husband Mike).