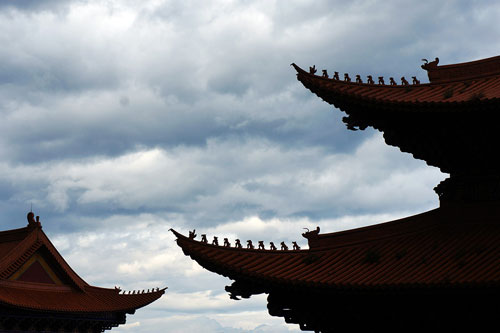 Everyone knows the Forbidden City and the Great Wall in China, but few have experienced the simple beauty and rich culture of rural China where time seems to freeze in the past. Located in the southwest corner of China, the diverse Yunnan Province is home to 25 of the 55 ethnic minority groups in China, each of which has its own language, clothing, customs, art and architecture. After you set your feet on the Great Wall and visit the magnificent imperial and modern architecture of Beijing, immerse yourself in this beautiful rural landscape and stroll along vernacular buildings that are hundreds of years old.
* Vernacular Architecture: "…comprising the dwellings and all other buildings of the people. Related to their environmental contexts and available resources they are customarily owner-or community-built, utilizing traditional technologies. All forms of vernacular architecture are built to meet specific needs, accommodating the values, economies and ways of life of the cultures that produce them." —Paul Oliver, Encyclopedia of Vernacular Architecture of the World
Tour Overview:
Come and join Dr. Wei (Windy) Zhao of the U's School of Architecture on a cultural adventure of a lifetime. This amazing journey differs from commercial trips. Most trips to China focus on historic monuments and museums in large cities like Beijing, Xi'an, or Shanghai. This one, however, will also take you to deep rural Yunnan Province in China, where distinct ethnic minority groups have preserved their cultural practices and cherish their own unique cultural traditions. It is an educational tour focusing on Chinese history, architecture and other aspects of culture. It has been meticulously prepared, the sites have been carefully selected, and in-depth onsite guidance has been arranged, all for you to enjoy.
During this 14-day adventure, Dr. Zhao will take you dashing through modern, imperial and rural China. We will not only visit some great examples of imperial monument and modern architecture, but also experience the living rural China by staying at traditional courtyard houses that have been converted into boutique hotels, shopping at the historic market square, strolling along old vernacular houses, interacting with local ethnic minorities, participating in cultural events, and tasting delicious local cuisine. After this trip, you will have a more profound understanding of Chinese history and culture based on your own personal experiences traveling across not only one of the largest and most developed cities in China − Beijing – but also the vast, beautiful and tranquil landscape of rural Yunnan Province.
Tour Highlights Include:
Experience modern, imperial and rural China in one trip!
See great architecture of Imperial China, including the Forbidden City, the Temple of Heaven, and the Summer Palace.
Walk on the top of the Great Wall.
Tour the oldest section of Beijing and see how regular people live their lives on a hired three-wheel bicycle tour.
Dine like the emperors of China; taste Imperial Cuisine inside a once imperial park and the famous Peking duck in one of the oldest restaurants in Beijing.
Stay at one of the newest 5-star hotels located within walking distance to the Forbidden City in Beijing.
Visit the 2008 Olympic Complex and the new airport terminal designed by internationally renowned architects.
Guided tour to six historic towns and villages in rural Yunnan Province that are home for four distinct minority groups in China and experience different aspects of ethnic culture, including art, architecture, craft, food, music, religion and ritual.
Visit a historic town on the Tibetan Plateau and one of the largest Tibetan Monasteries in China.
See the best preserved market square along the Ancient Tea Horse Road.
Visit different forms of vernacular built environment, including temples, houses, palaces, theaters, gates and squares.
See the best preserved market square along the Ancient Tea Horse Road.
Wonder around beautiful and tranquil rural China where time freezes in the past.
Stay inside different kinds of traditional courtyard houses that have been converted to boutique hotels in rural Yunnan Province.
Visit eight World Heritage Sites during this trip.
Watch a theatrical performance by local ethic people in a natural setting that is directed by the most famous Chinese director, ZHANG Yimou.
All meals are included, ranging from banquet dinners in high-end restaurants in Beijing to local family-run restaurants in rural China that cook delicious local dishes using freshly picked ingredients from the field every day.
Lots of free time to stroll around historic towns on your own pace.
Two direct flights included between Beijing and two historic towns in Yunnan Province.
Private charter bus throughout the trip.
Qualified for AIA continuing education credits.