Tour Leader: Randall Stewart, Ph.D.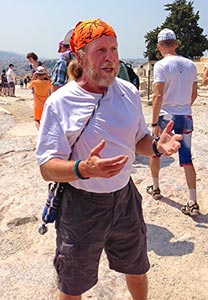 Associate Professor Emeritus of Classics, Department of World Languages and Cultures, University of Utah
Randy Stewart, now retired, taught classical mythology and the ancient Greek language for more than 35 years (33 of which were at the University of Utah). He is a renowned storyteller, who believes that stories—ancient or modern—are the best way to explain our experience of the world. Randy would rather be on the site of ancient ruins than almost anywhere else on the planet.
Having led numerous tours in Greece—including Go Learn trips, student study abroad excursions, and independent learning trips—Randy knows his way around the country's major archaeological sites and museums, on both the mainland and the islands. He also knows where to get a good meal and where to shop!
Photo courtesy Randall Stewart