London on Stage: Overview
This trip far exceed our expectations! The variety of theater experiences; the presentations educating us on genres, writers, and actors; and the seats obtained truly put this trip in a category of its own. Incredible! — Go Learn London Traveler, 2016
Travel with us to the world's most exciting and prolific theatre city, London. We'll see remarkable plays from great seats and talk about them before and afterwards. We'll also visit great sights together – Westminster Abbey, the Tower of London, the Tate Art Gallery, and the Royal Botanic Gardens Kew, to name but a few. And we'll take a day trip to the ancient university town of Oxford. You'll be able to shop the wares of Portobello Road, sample the gourmet food at Borough Market and gaze at the mercantile splendors of Harrods. What a jolly good time!
What will we see?
The Ferryman
at the Royal Court Theatre. Playwright: Jez Butterworth. It's the fastest-selling play in Royal Court history.
King Lear
at the Globe Theatre: this will be a roller-coaster ride of theatricality and deep emotions.
Girl from the North Country
at the Old Vic Theatre. Playwright: Conor McPherson. Music and lyrics by Bob Dylan. Yep, that Bob Dylan.
Wings
at the Young Vic Theatre. Playwright: Arthur Kopit. Star: Juliet Stevenson. There aren't many actors who can pull off what's required by this role: show us what it's like to have and recover from a stroke—from the inside.
Oslo
at the National Theatre. Playwright: JT Rogers. This just won Best Play at the Tony Awards. It's 100% sold out, but we have tickets.
Labour of Love
at the Noel Coward Theatre. Playwright: James Graham. Star: Martin Freeman (who played Bilbo Baggins in The Hobbit, and Dr. Watson in Sherlock.)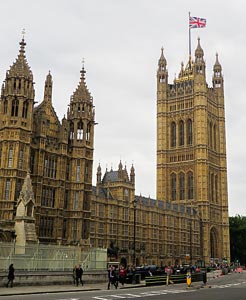 Tour Overview
Experience ten days in London that you will cherish for the rest of your life. London is not just the capital of the United Kingdom; it is the beating heart of world culture. The most cosmopolitan city on earth, London offers dazzling displays of art, theatre, cuisine, and commerce from all over the globe, and you will sample it all. But London is also steeped in its own fascinating history, its own unique charm and glorious pageantry, and you'll dive headfirst into that, too. From the gastronomic glories of high tea in Oxford to the gothic splendor of Westminster Abbey, from a privately arranged tour of Middle Temple Hall by day to the sophistication of cutting edge British theatre by night, you will have a truly unforgettable time.
Your guides are Professor Tim Slover (PhD, Modern British Drama) and Jane England (MSc, London School of Economics), both of the University of Utah Dept. of Theatre. They have been opening people's minds to London for twenty years and are thrilled to team up with Go Learn to create this trip which will focus on the crown jewel of London: its world class theatre. Drama is Jane's and Tim's area of professional expertise, but this dynamic duo also knows both the greatest hits of London and its hidden secrets. So whether it will be your first time in the city they call their second home or your fiftieth, get ready to discover afresh major attractions—and some special, out-of-the-way places, too.
Your London on Stage experience begins before you pack your bags. Tim and Jane will present specially prepared pre-trip sessions on the history and culture of England, British Theatre, and Shakespeare. Don't worry: they know how to make it fun (sometimes maybe even a little silly!).
Tour Highlights Include:
6 plays at the epicenter of great performances: the Royal National Theatre and West End and off-West End theatres
Personally guided backstage tour of the National Theatre
Highlight tours of the National Gallery and other art museums
Personally guided tours of Westminster Abbey; the Tower of London; and World Heritage site Royal Botanic Gardens, Kew
A discovery walk through London's historic East End—believe us, it's not what you think...
Markets, markets, markets!: Portobello Road (trash and treasures), Borough (a foodie's dream), and Spitalfields (one of England's oldest)
A daytrip to Oxford's most famous sights, including Christ Church and Christ Church Cathedral, Radcliff Camera, Bodleian Library, The Sheldonian Theatre, Covered Market and more
Free time, with plenty of suggestions, to find your own remarkable London
October 5-14, 2017
Double Occupancy: $4,495
Single Supplement: $670
Airfare is not included.

Reserve your spot!
Photos courtesy Christoph Dressler, Tim/Jane