Welcome to GoLearn's London on Stage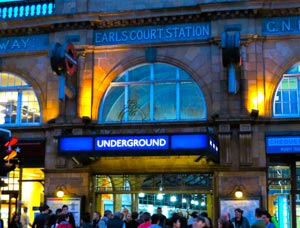 You have signed up for a treat that starts even before we board any airplanes! Travel with Go Learn means you'll receive pre-journey support and information, and a tour reunion when your travels are over.
Before your tour, Go Learn will be in touch with information about London, its theater scene, packing lists, and detailed transit instructions from Heathrow right to our hotel's doorstep. Tim and Jane will keep you apprised of each play we'll see and its significance, and will let you know the play schedule so that you can plan your free time accordingly.
Feel free to contact us with questions. We're happy to point you to a travel agent who can help you find a flight, or put you in touch with Tim and Jane in case you need the trip leaders' expert opinions. At Go Learn, we want you to hit the ground running, and will provide you with the right information to do just that!
Our faculty trip leaders, Professor Tim Slover and Jane England, have been taking travelers to London for fifteen years—and can't wait to share this magnificent city with you in 2018.
Walking: Please be advised that the London on Stage trip takes full advantage of the city's excellent public transportation—the Tube (subway), trains, and buses. Getting to and from transportation and program venues adds up to 3-5 miles of walking per day. Participants who find walking difficult should budget extra expenses for taxis.
Important note: The London autumn theatre season is still under wraps, which is why you will not see any plays listed at present. Jane and Tim pride themselves on finding new, fresh, and totally enthralling theatre for you, and this year will be no exception. We'll update you with specific plays as soon as we can. Also, we guarantee the activities below, but we may change their schedule as we add plays in the months to come.
Daily Itinerary
Thursday, October 4: Arrive in London
We'll meet you at Heathrow Airport and take you to our charming boutique hotel in South Kensington, The Rockwell—where complimentary breakfast is served every morning. After you're settled in, we'll go on a walking tour of Westminster and pay homage to Big Ben, Westminster Abbey, Buckingham Palace, and St. James's Park—capped by a delicious Welcome Dinner. Bed by 10 pm—to slay the Jetlag Monster in one night!
Meals: B,D
Friday, October 5: Westminster Abbey
The Abbey is a thousand years of English history in one building. Site of coronations, royal weddings, and the burial of the great and the good (and the not so good), it is crucial to understanding just who the English are. Tim will don his tour-guide badge and lead you through. Afterwards we'll have a well-deserved and scrumptious lunch. The rest of the day is free, but we'll have plenty of suggestions.
Meals: B,L
The Four Touchstones of London on Stage
The play's the thing. The heart of our trip is seeing plays specially chosen for maximum mental stimulation. We'll pick six plays guaranteed to delight and inspire. These will all be new on the London theater scene, putting you on the cutting edge!
Let's talk. We love best what we understand, and understanding comes through learning and discussion. So we'll have Theatre Chats about the plays we're seeing.
Relax. We'll plan and take care of all logistics so you can spend every minute experiencing the cultural and historical riches of London.
Be together, be free. We'll take you personally to places where having your own tour guide enhances the experience, and we'll also give you plenty of suggestions for how to spend your free time.
Saturday, October 6: Portobello Road Market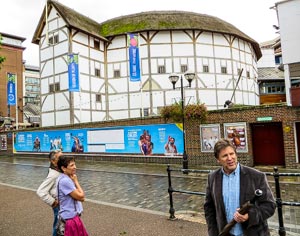 Looking for a silver tea pot? How about some Belgian lace or West African jewelry? An authentic 18th Century print? We'll spend the morning at the world famous Portobello Road Market, open only on Saturdays. Saturdays are good days for matinees, too, and the National Theatre will have a great one—followed by the best backstage tour in Theatreland. Dinner at the superb House Restaurant right there at the NT.
Meals: B,D
Sunday, October 7: The Tower of London and Sunday Roast
We'll go to a morning Anglican church service right inside the medieval Tower of London at a chapel where the executed were buried. You get to sing along, so brush up your "God Save the Queen"! Then we'll see the famed Crown Jewels and explore the rest of the Tower. Sunday afternoons in England are made for dining on Sunday Roast. We'll go to a great one. This evening is free for concerts, plays, ballet—or just sleeping off the Yorkshire Pudding.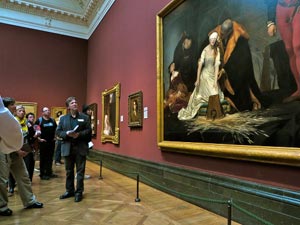 Meals: B,L
Monday, October 8: Shakespeare sites in London and Borough Market
It's all about Shakespeare today—at least until lunch. We'll explore the stunning 16th Century Middle Temple Hall, where Shakespeare's Twelfth Night was first performed; then see where the Globe Theatre originally stood and visit Southwark Cathedral, where Shakespeare's brother is buried, with its much-admired Shakespeare stained glass window. Lunch will be at nearby Borough Market, London's most gourmet street food: scallops, curries, paella, ostrich burgers, mammoth brownies, etc., etc. The Tate Modern, Europe's most important gallery of modern and contemporary art is right next door—and might be a perfect place to while away your free afternoon. Or grab one of us if you'd like a guide!
Meals: B,L
Tuesday, October 9: National Gallery Highlights
We'll spend the morning on a highlights tour of the National Gallery, home to one of the finest collections of European Masters in the world. Free day after that. (We don't want you to get sick of us.)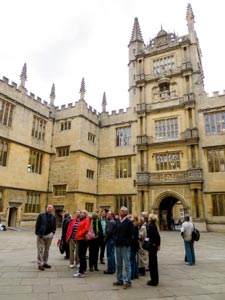 Meals: B
Wednesday, October 10: Magical England
England has a rich heritage of myths, legends and fantasy literature—from King Arthur and Beowulf to Frodo Baggins and Harry Potter—and today we'll tap into it. We'll visit the British Library to see original manuscripts—including the only one in existence of Beowulf. This is all going to work up an appetite, so we'll have an appropriately magical dinner together this evening.
Meals: B,D
Thursday, October 11: Oxford Day Tour
Time for a change of scenery. We'll travel by rail the short journey up to the dreaming spires of magnificent Oxford University, where we'll explore Christ Church College, home of Alice in Wonderland and Harry Potter; the splendidly baroque Sheldonian Theatre, where degrees are conferred (in Latin, of course), Blackwell's Bookshop, which is bigger on the inside than the outside; and other splendid sites. Lunch will be a fabulous and calorie-rich High Tea at the Old Parsonage—close by the pub where CS Lewis and JRR Tolkien met regularly.
Meals: B,L
Friday, October 12: Kew Gardens
Some of the trees (known as the "Old Lions") at this 300-acre World Heritage Site are older than our Constitution. And the glass houses are the largest in the world—and filled with botanical wonders from all over the globe—steamy jungles and alpine mountains and desert landscapes. Kew is Mother Nature at her most exuberant. Lunch will be at Orangery right in the gardens. This evening we'll reminisce over a cake and tea at a Farewell Party at the Rockwell Hotel.
Meals: B,L
Saturday, October 13: A Fond Farewell
Flights home. It's sad to leave, but trust me, you'll be back—because as Samuel Johnson famously said,
When a man is tired of London, he's tired of living.
Photos courtesy Christoph Dressler, Tim Slover/Jane England