Details and What to Expect
Pre-Departure

Like all Go Learn journeys, the adventure begins at home. We'll make sure you have all the information you need before you arrive in Mexico—we'll answer questions about what to pack, how to get around, and our daily itinerary. We want you to arrive in Oaxaca ready to learn!
A trip reunion about a month after returning from Oaxaca will be the perfect conclusion to our journey. We will exchange pictures and stories while remembering the highlights of our tour. Go Learn expeditions are designed to be small, boutique experiences where one returns with a group of friends. Good food, drink, and company await us at this reunion.
About Oaxaca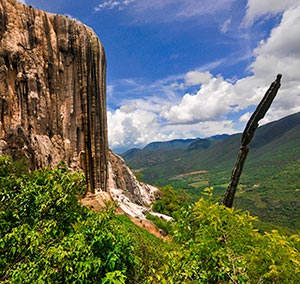 This tour is as comprehensive as it is relaxing. Be prepared for historical, cultural, and culinary discoveries, as well as relaxing evenings and laid back strolls through town.
The average daily temperature in January in Oaxaca is 79 degrees Fahrenheit, with lows in the high 40's. This is a perfect destination for those in cold climates looking for a little escape!
Activity levels and restrictions
In order to fully explore the sights on our itinerary, we will be walking every day. Most city walking is flat on paved surfaces. When visiting sites, we may be walking long distances or standing on our feet for prolonged times. Be sure to bring comfortable walking shoes. We often will start our days early and continue until sundown. Our exciting itinerary and daily learning adventures will keep you happily exhausted.
Dates
December 27, 2017–January 2, 2018
Size
Tour is limited to 20 participants
Cost
Double Occupancy: $2749 per person
Single Supplement: $150
See Terms for payment and cancellation details.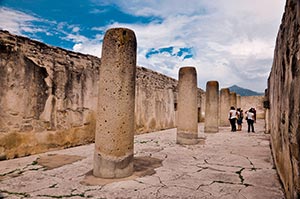 Included:
Rick Paine's expertise for the entire tour
Day trips to various archaeological sites, where Rick will be our guide
Day trips to local villages to explore ceramics, textiles, and visual art
Day trip to several Mezcalerias to learn the art of this ancient beverage
All ground transportation for day trips, with local driver and English-speaking guide
Six nights' accommodation in old town Oaxaca
Five hand-picked lunches or dinners, as well as daily breakfast
Comprehensive tour insurance, which includes coverage for sickness, accidents, and emergency evacuation
Not included:
Airfare to and from Oaxaca
Meals that are not specifically noted in the itinerary
Cancellation and lost luggage insurance
Any costs outside of the itinerary
Double Occupancy: $2749
Single Supplement: $150
Airfare is not included.

Reserve your spot!
Photos courtesy Eduardo Robles Pacheco