Daily Itinerary
Wednesday, December 27: Arrival Day
Welcome to Oaxaca! Arrive early in the evening, and enjoy a cerveza and welcome dinner in the Zócalo, Oaxaca's main plaza.
Hotel: Xtilu Hotel will be our base for the duration of the tour.
Meals: D
Thursday, December 28: Explore Zapotec Culture
Spend the morning exploring Monte Albán, a spectacular archaeological site overlooking the valley. Monte Albán, a UNESCO World Heritage site, was the Zapotec capital from about 500 BC to AD 750, and is famous for its carved monuments and fantastic tombs. After lunch together, we'll visit San Bartolo Coyotepec, a village best known for its Barro negro pottery.
Meals: B,L
Friday, December 29: The Land of the Seven Moles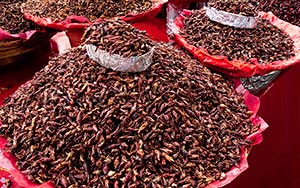 Today we dedicate ourselves to food! We'll meet our local chef in the morning, who will guide us through the marketplace as we shop for ingredients (and maybe pick up some chapulinas to snack on while we're at it). In the afternoon, we'll learn how to prepare local specialties like mole and tamales. We'll work up an appetite, so be ready to feast on our sumptuous meal this evening.
Meals: B,D
Saturday, December 30: Spirit of Oaxaca—Mezcal!
Mezcal is the traditional spirit of Oaxaca. It is made in small, often family-run, distilleries called palenques, mostly for local consumption. Today we'll visit several palenques to see all the steps involved in making mezcal, and of course sample the product. You'll be able to see the amazing local variation in style and taste.
Meals: B,L

Sunday, December 31: Open Air Markets, and Ancient Zapotec Religion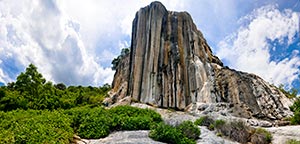 This morning we'll visit the central valley of Oaxaca to see the Tlacolula Market. This weekly open-air market is one of the oldest continuous markets in Mesoamerica. We'll then travel to Mitla, which was the religious center of the Zapotec people. In the afternoon, we'll stop by the beautiful "cascadas petrificadas" (petrified waterfalls) of Hierve el Agua, before ending the day in Teotitlan de Valle, a weaving village.
Meals: B,L
Happy New Year! Ring in the New Year in Teotitlan de Valle. This area is surrounded by small caves which locals fill with candles, coins, and wishes for the new year. We'll watch the sunset, hang out at bonfires, light sparklers, and welcome in 2018 with the locals.
Monday, January 1: Welcome, 2018!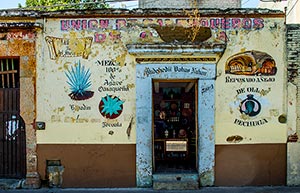 Sleep in this morning, and spend the day in town taking pictures, drinking hot chocolate, people-watching in the Zócalo, visiting a cathedral, and doing a little last-minute shopping. We'll reconvene this evening for a farewell dinner.
Meals: B,D
Tuesday, January 2: Adios, México!
Goodbye, Oaxaca! Our trip concludes after breakfast this morning. We'll get together in a few weeks to share photos and memories at our Oaxaca reunion!
Meals: B
Double Occupancy: $2749
Single Supplement: $150
Airfare is not included.

Reserve your spot!
Photos courtesy Oaxaca Profundo, William Neuheisel, Eduardo Robles Pacheco, Rey Perezoso