Day 1: Friday, June 16 - Arrive in Sicily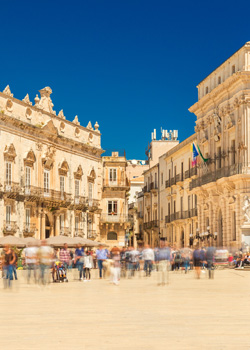 Our odyssey begins on the ancient isle of Ortygia--the historic heart of Syracuse—where we'll gather around 5 p.m. at our hotel for a welcome reception, followed by a passegiatta (stroll) through the island to enjoy a dinner of exotic Sicilian delights.
From Catania's Fontanarossa Airport, it is a quick, 60-minute bus or taxi ride to reach Syracuse. We'll meet at the hotel at 5 p.m.
Hotel: Antica Roma, Siracusa
Activity level: Moderate
Meals: B,D
Day 2: Saturday, June 17 - Greeks, Romans, Italians—oh my!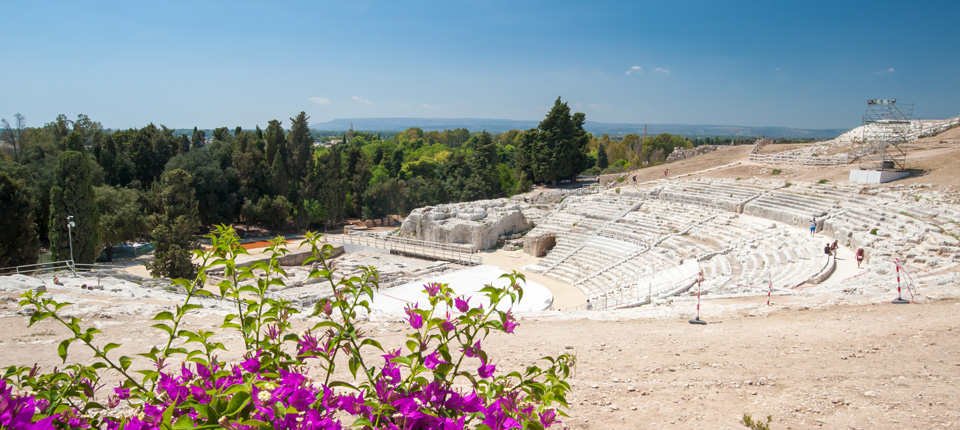 Strap on your walking boots because today we'll wade through layers of history on a guided tour of the Archeological Park of Neapolis. We'll compare the Greek theatre to the Roman amphitheater, whisper in the Ear of Dionysus, and conclude our morning with a stroll through the market and historic center. The afternoon is yours to ponder the presence of the ancients while enjoying the modern pulse of Ortygia. We'll gather this evening for the first of many mythological happy hours before enjoying dinner on our own.
Hotel: Antica Roma, Siracusa Activity level: Strenuous
Meals: B, HH (Happy Hour)
Day 3: Sunday, June 18 - 3-Roman Mosaics, Greek Seas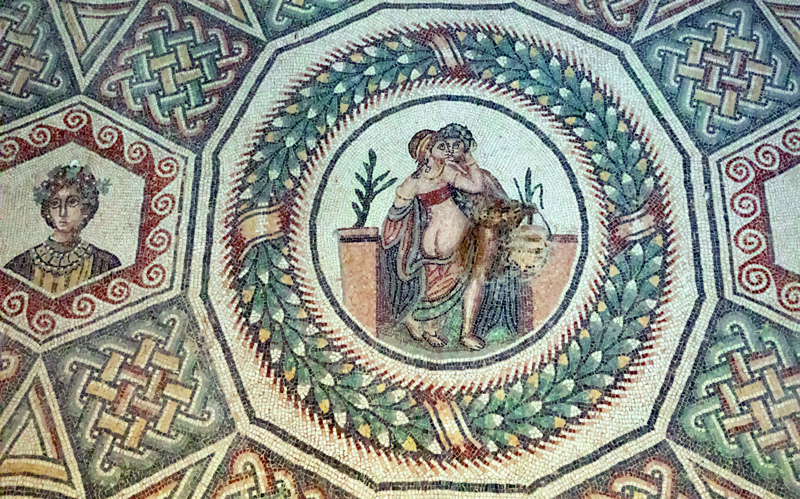 Today we head west to the ancient Greek Arkagas, or Agrigento, one of the leading cities in the ancient Mediterranean. En route we'll visit the ancient Roman hunting lodge of Villa Romana del Casale, home to the largest and most complex collections of Roman mosaics in the world, followed by a farm fresh lunch together at a nearby agriturismo. This evening we'll settle into our seaside retreat where we'll enjoy dinner al fresco together against the backdrop of the Mediterranean Sea.
Hotel: Baia di Ulisse
Activity level: Moderate
Meals: B, L, D
Day 4: Monday, June 19 - Valley 0f the Temples & Seaside Serenity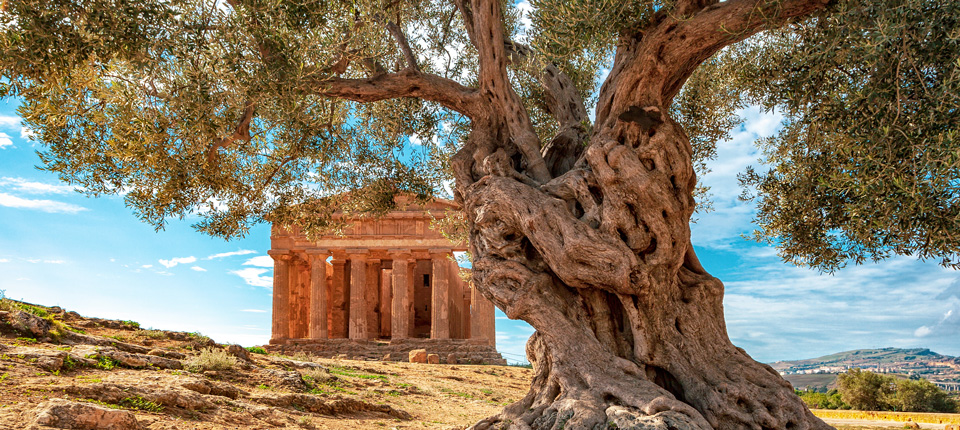 This morning we set out for a guided tour of the UNESCO World Heritage site of Agrigento's Valley of the Temples—some of the best-preserved Greek ruins in the world. The afternoon is yours to soak up the sun and sea. Agrigento boasts some of the most beautiful beaches in Sicily and we'll have the lovely private lido of Le Dune on the stunning Sea of Sane Leone at our disposal. Catch up on some reading, splash in the surf, or pamper yourself with a spa treatment before we gather for another mythological happy hour watching the sun sink into the sea.
Hotel: Baia di Ulisse
Activity level: Strenuous
Meals: B, HH

Day 5: Tuesday, June 20 - Aeolian Island Odyssey
Traversing the island north, we will stop in the charming fishing village of Cefalù to explore its medieval streets and Norman cathedral. After lunch, we'll follow in Odysseus' wake as we set sail (or rather, hydrofoil) for the mythical Aeolian Islands. Named for the Greek god of wind Aeolus, the seven volcanic islands are the stuff of myth, movies, and modern-day Malvasia. From Stromboli's active eruptions to Vulcano's thermal mud baths, from our base on the green gem of Salina, we island hop across the archipelago over the next five days. Tucking into our hotel in Malfa's historic center, we will enjoy views of chic Panarea and smoky Stromboli as we toast to Aeolus from our panoramic patio before enjoying dinner together.
Hotel: Hotel Ravesi
Activity level: Moderate
Meals: B, D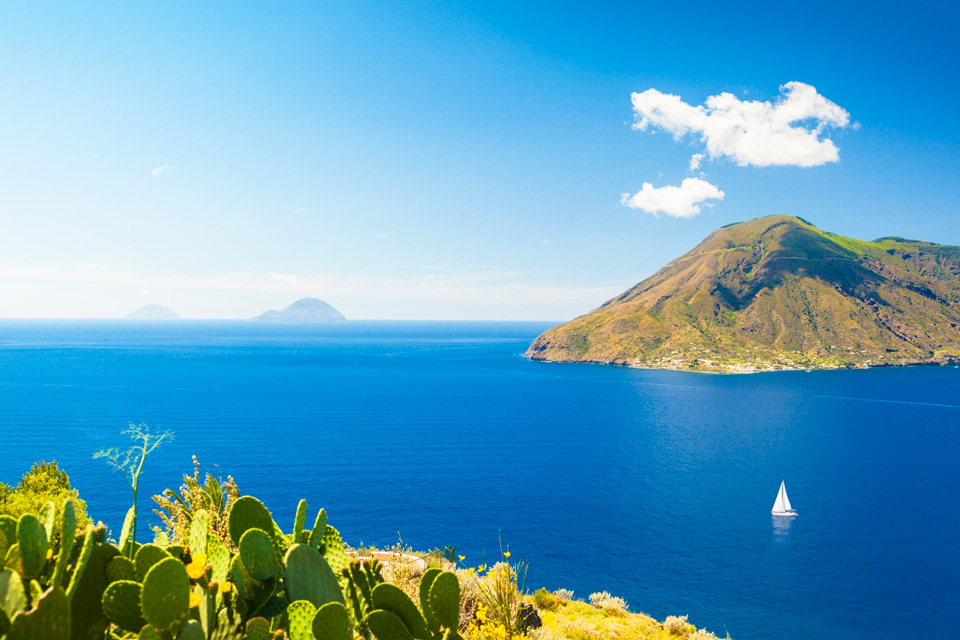 Day 6: Wednesday, June 21 - Fruits of the Flower and the Vine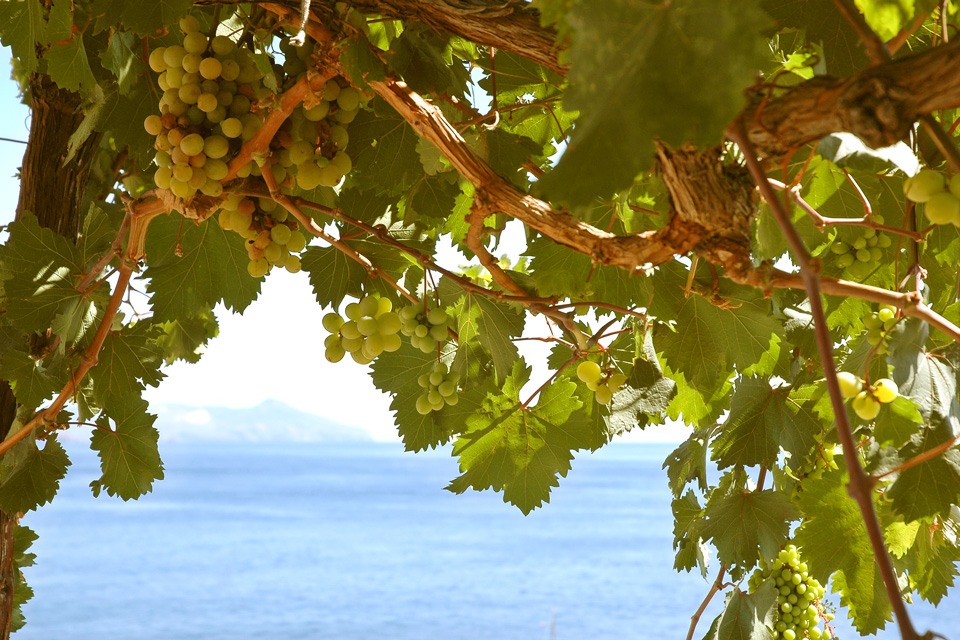 Salina is beloved for its green hills, its white wine, and its briny capers—said to be the best in the world. Today we will enjoy all three, starting with a visit to a caper farm in the stunning promontory of Pollara, and ending with a Malvasia wine tasting and lunch. After a siesta, we'll gather for a happy hour overlooking the Aeolian Sea. The evening is yours to explore the many gastronomic delights of Malfa.
Hotel: Hotel Ravesi
Activity level: Moderate
Meals: B, L, HH
Day 7: Thursday, June 22 - Chic Panarea & Smokin' Stromboli
Today we discover the explosive energy of the Aeolian Islands. We start our day with a boat journey to the archipelago's smallest and most enchanting island, Panarea, where we will enjoy whitewashed houses, exclusive boutiques, and prehistoric villages. En route to Stromboli, we admire submerged volcanoes and swim in the crystalline waters before arriving at the "black giant in the sea." This car-free island of 400 residents invites us to explore its craters and black sand beaches before we admire the explosive show of the Sciara del Fuoco (live eruption) of Stromboli's volcano at sunset.
Hotel: Hotel Ravesi
Activity level: Moderate to Strenuous
Meals: B, D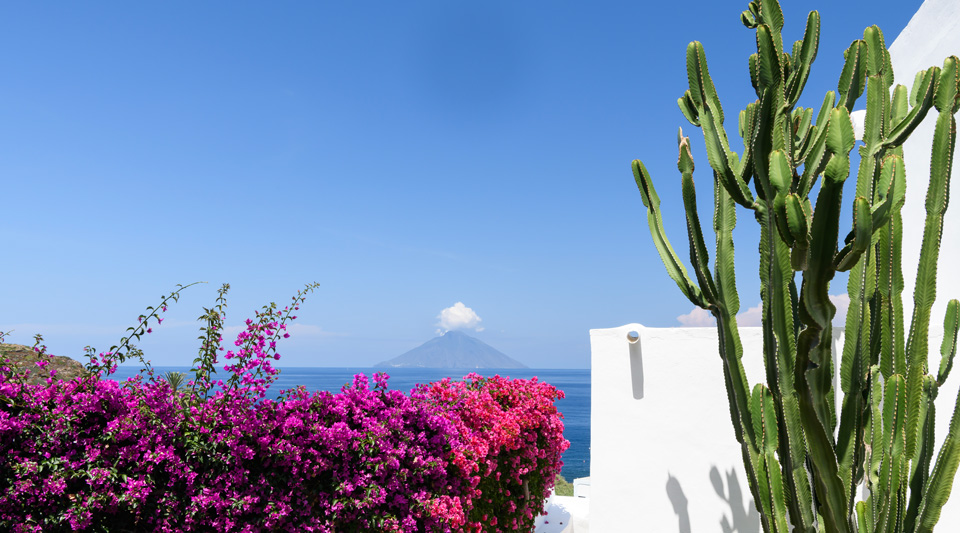 Day 8: Friday, June 23 - Historic Lipari & Dramatic Vulcano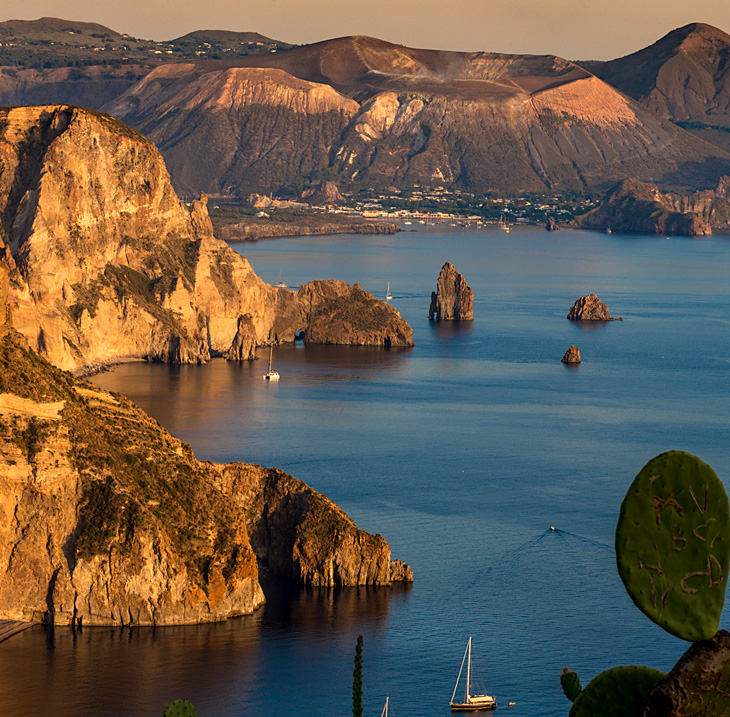 Our nautical odyssey continues today with a visit to the archipelago's largest, liveliest, and smelliest islands. The biggest and most developed of the Aeolian Islands, Lipari was the first to be settled by humans and thus has a long and rich cultural heritage. We will visit Marina Corta, filled with shops, restaurants, castle ruins, and cultural attractions. After lunch we will continue to the sulphuric island of Vulcano where we can climb the crater, take a therapeutic mud bath, or simply enjoy the unique landscape and panoramic views on a nature walk. We return to Salina with a swim in the Piscina di Venere, where according to legend, the Goddess of Beauty came to swim before joining her husband and fire god, Vulcan.
Hotel: Hotel Ravesi
Activity level: Moderate to Strenuous
Meals: B
Day 9: Saturday, June 24 - Savoring Salina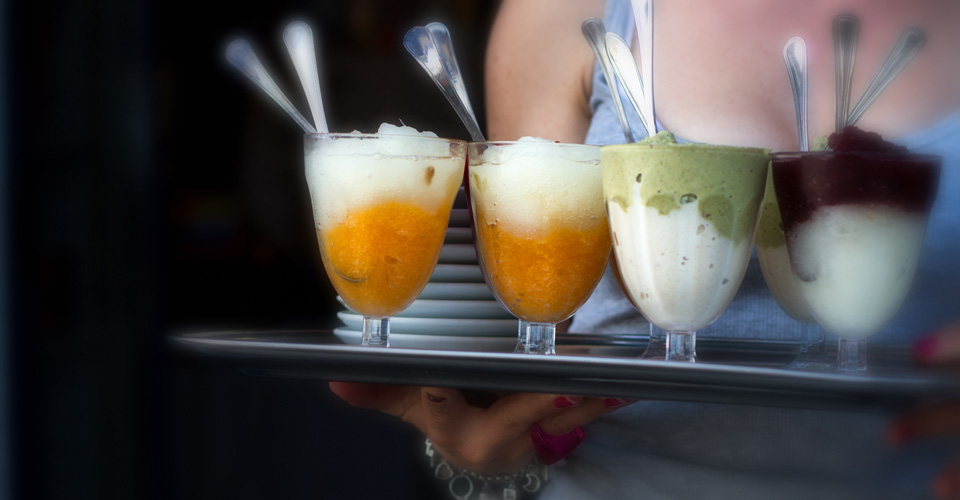 The day is yours to savor Salina in whatever way you choose. Explore the island's winding roads on e-bike or scooter, catch the sunset at Il Postino's Pollara, summit Salina's highest peak of Monte Fossa delle Felici, or enjoy la dolce far niente poolside. Want to top off all seven islands? Join an excursion to the Aeolian's most remote islands of Filicudi and Alicudi.
Activity level: Light to Strenuous, your choicebr> Meals: B
Day 10: Sunday, June 25 - Etna: in the Shadow of the Gods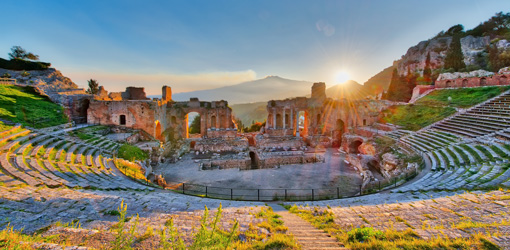 Today we bid our beloved archipelago assabinirica (until we meet again) and direct our attention to one of the world's most storied mountains, A' Mutagna (the mountain). We will wind our way among fertile vineyards, through lava moonscapes, arriving at one of Etna's largest and most photogenic craters where you can exercise your legs or simply your camera lens taking it all in. We end our day in elegant Taormina, where gardens, villas, and vistas seduce travel-weary adventurers.
Hotel: Hotel Diodoro, Taormina
Activity level: Moderate to Strenuous
Meals: B
Day 11: Monday, June 26 - Tempting Taormina
Taormina's perch above the Ionian Sea has made it a perfect locale for everyone from today's view-seeking visitors to drama-loving Greeks who built their iconic theatre overlooking Mt. Etna and the sea. This morning we'll explore the town and its Greek theater with a local guide and discover why it was a favorite sojourn of Goethe, Wagner, Greta Garbo, and even Woody Allen. The afternoon is free for last minute shopping, a hike to Castelmola overlooking Taormina, or a cable-car ride to the beach. Tonight, we will enjoy a final mythological happy hour before savoring our last dinner together.
Hotel: Hotel Diodoro, Taormina
Activity level: Moderate
Meals: B, HH, D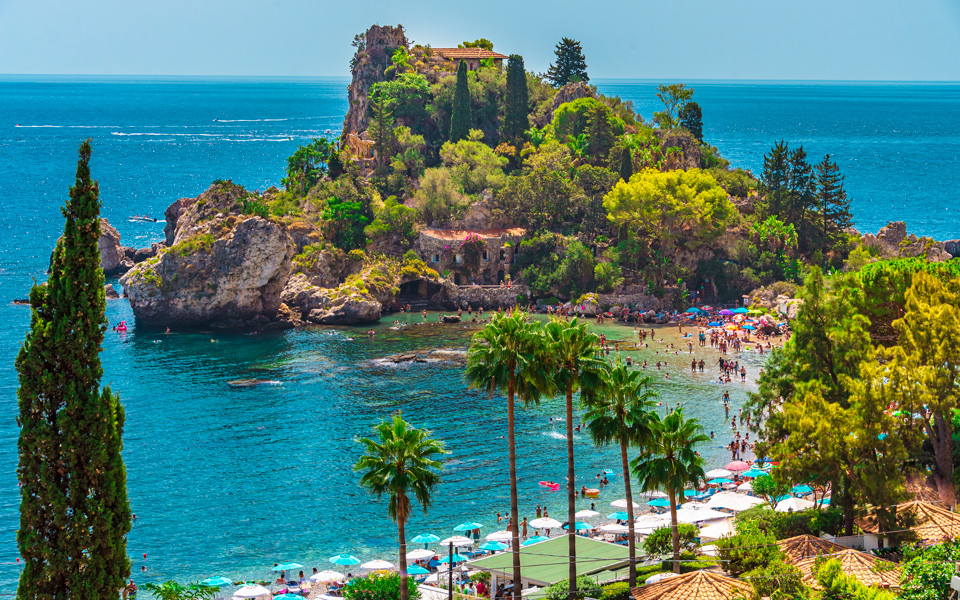 Tuesday, June 27 - Assabinirica Sicilia! (Goodbye Sicily!)
Our journey together ends after breakfast. Catania's Fontanarossa Airport is a 45-minute shuttle or taxi ride away and we will help organize the transfer. Whether you decide to add a few more days to your stay, or to continue your odyssey elsewhere in Europe, we will say "ni viremu prestu" (see you soon), for we'll reunite to share photos and relive stories of our adventure in a few weeks!