Required Courses – there are 6 required courses. Courses meet with for-credit sections over a traditional 15 week, 3 credit format.
Format – online courses. The program is designed for working professionals in a convenient online format, allowing students to study when and where they want. Each course is held over one semester.
Program Start Options – fall, spring or summer semesters. Course availability varies each semester. Please check with the program advisor or the University of Utah course catalog to explore your individual program of study options.
Course Sequencing – there are recommended guidelines for course sequencing.
It is recommended that LING 1200 be taken early in the program of study.
It is recommended that LING 5810 L2 Methodology, be taken with or immediately following LING 1200.
It is recommended that LING 5813 Practicum, be taken as the final class in the certificate.
Students varying from the sequence should consult recommended programs-of-study and work with their academic advisor to determine options for taking courses.
Class Schedule – online courses are conveniently available to students at any time.
Average Time to Complete – the certificate can be completed in as little as 2 semesters. Students must complete the program within five years. There is no minimum or maximum number of credits a student must or can take per semester.
Prerequisites – proof of writing proficiency coursework is required for all non-credit certificate students. At the University of Utah, this is commonly satisfied by WRTG 2010 or EAS 1060 or an approved equivalent. This requirement is normally part of general education requirements for undergraduate students.
While it is recommended that students take this course in advance of the program, it can be completed as a co-requisite.
Application and Completion Requirements
Application
A bachelor's degree is required for all applicants.
International applicants who did not receive their bachelor's or graduate degree from a college or university that teaches entirely in English must show English proficiency with a minimum TOEFL score of 80 or IELTS score of 6.5.
Completion
A certificate is awarded upon satisfactory completion of six required courses. After completing all requirements, students may request to receive their official certificate by completing the Request for Certificate form. All requirements must be completed within five years after the student starts his/her first course. Upon verified completion, the Professional TESOL Certificate will appear on official University of Utah transcripts.
Digital Badges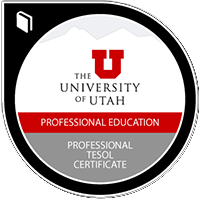 Upon completion, students will receive a digital badge that can be added to their social media accounts like Facebook and LinkedIn, and shared with their professional networks.
Follow the link on the badge to the left to find out what metadata is behind the Professional TESOL certificate badge.
Find out more about Digital Badges at the University of Utah »
Courses
The online Professional TESOL Certificate is a non-credit 18-credit program with six required courses that are offered in a time frame comparable to a traditional semester schedule with fixed start and end dates. Courses meet with for-credit sections.
PEPEC 120 Introduction to the Study of Language
The Foundation Course is an introduction to the nature of human language from the perspective of modern linguistics. Focuses on sounds, words, and sentences through analysis of data from various languages. Additional topics may include: social and geographic variation, language change through time, first- and second-language acquisition, language and culture.
PEPEC 322 World Englishes
The purpose of this course is to investigate the spread of English as an international language: its historical development, socio-cultural diversity and linguistics variation. In addition to numerous readings on native and non-narrative varieties of English, which can be found throughout the world (e.g., Indian English, Singaporean English, Chicano English, etc.), topics related to educational linguistics within a World Englishes paradigm will also be addressed in order to better understand common pedagogical problems and concerns related to the English language teaching in international contexts.
PEPEC 350 Introduction to English Grammar
A descriptive overview of the forms and function of English grammar structures with guidance in standard usage.
PEPEC 360 Cross Cultural Communication
Brings together native and non-native speakers of English to explore the theory and practice of communication across languages and cultures.
PEPEC 581 L2 Methodology (practical experience)
An examination of approaches and methods in second-language teaching, as well as the theories of language and language acquisition on which they are based. Discussion and practice of current assessment procedures. Also a focus on educators' implicit theories of L2 learning and teaching. Includes critiqued peer teaching.
PEPEC 582 Practicum
Observation and teaching of L2 classes.