Started in 2004 with a generous four-year grant from the Bernard Osher Foundation, the Osher Lifelong Learning Institute at the University of Utah provides opportunities for intellectually stimulating, affordable, non-credit learning and meaningful social engagement to people age 50 and better. The Osher Institute at the U is part of a network of 125 Osher Lifelong Learning Institutes at colleges and universities across the country. Beginning with less than 50 members, our Osher Institute has grown steadily over the years to over 1500 members, recognized by the Bernard Osher Foundation with endowment gifts in 2008 and 2015. Today the Institute is supported by earnings from the endowments, gifts from members and other donors, Continuing Education at the University of Utah, and member dues and tuition.
The Institute is managed by a small staff and supported by numerous member volunteers. Standing volunteer roles include curriculum, lunch and learn, and special events planning, and classroom assistants. The member committees determine the program content based on input from the general membership and with the support of staff.
Our instructors are distinguished emeritus faculty, scholars, and experts from the community who share a passion for teaching and appreciation for all that mature students bring to the classroom.
Thanks to the generosity of The Bernard Osher Foundation and The University of Utah, our Osher Institute is meeting the needs of seasoned adults who want to learn simply for the joy of learning and personal fulfillment.
Meet Our Staff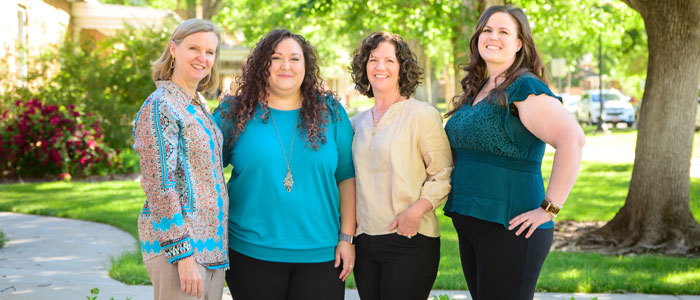 Pictured Left to Right: Jill E. Meyer, Sheila Jacobsen, Sandy Richards, and Emily Q. Miller
Jill E. Meyer
Director
Jill first joined the wonderful world of Osher as a newly minted-50-year-old new member in 2016. She relished returning to the classroom, simply for the joy of learning. She became staff in 2017 to help plan our Osher Institute's 15th-anniversary celebrations in 2018. She then took on coordinating special events. Next, she served as curriculum coordinator, before becoming Director in November 2020.
Before Osher, Jill worked at The Metropolitan Museum of Art, The IBM Gallery, the Winterthur Museum and Gardens, and the Cooper-Hewitt National Design Museum. She also worked in two family businesses, selling ceramic tile in Salt Lake City and owning a restaurant in McCall, Idaho. She holds two degrees in art history, a Master's from the University of Delaware and a Bachelor's from the University of Utah. In addition to serving as director, Jill really enjoys teaching art history courses for Osher. In her spare time, she serves as a volunteer docent at the Utah Museum of Fine Arts. Her hobbies include Nordic and Alpine skiing, kayaking, walking, hiking, biking, cooking, gardening, and yoga.
Sheila Jacobsen
Program Coordinator - Special Events
Sheila has been a valuable part of the University of Utah's Osher Lifelong Learning Institute since December 2019. She has worked in the field of education since 2004 and has loved every minute of it. Sheila has a BS in Psychology and an Applied Positive Psychology Certificate from the University of Utah.
Emily Q. Miller
Administrative Program Coordinator
Emily joined the Osher team in March 2020 as an Office Assistant before becoming an Administrative Program Coordinator. She previously worked in an Early Childhood Education Learning Center for several years as a teacher and then as the Administrative Specialist for several years. Emily enjoys reading, drawing, paddle boarding, and spending time with her family.
Sandy Richards
Program Coordinator
Sandy joined the Osher team in January 2022 as a Program Coordinator, transferring from Continuing Education's Registration and Information department. Her excellent customer service skills and love of the Osher program will be an asset to our staff. She is the mother of three adult children: one graduate of the University of Utah and two who are still attending. Outside of the office, Sandy enjoys spending time with her husband while mountain biking, gravel biking, hiking, doing yoga, and reading.