If you're 50 or better you are invited!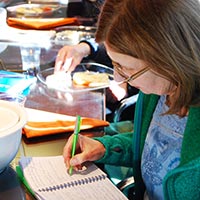 Lunch and Learn lectures are wonderful opportunities to meet Osher members and experience a bit of the program first hand. Bring a friend and a brown bag lunch and join us for these informative, interesting lectures. They are free!
Come early to visit and enjoy your lunch before the speaker starts. Speakers start promptly at noon. All lectures are held at the Commander's House, Ft. Douglas and run from noon-1pm.
Upcoming Lectures
U.S. Foreign Policy in 2020: The Trump Effect
Wednesday, January 15th, 2020, 12:00 – 1:00 pm
Commander's House, Fort Douglas
J.Kael Weston, author and professor
J. Kael Weston represented the United States for more than a decade as a State Department official. Washington acknowledged his multi-year work in Fallujah with Marines by awarding him one of its highest honors, the Secretary of State's Medal for Heroism. He is the author of The Mirror Test: America at War in Iraq and Afghanistan, appears frequently on NPR to discuss U.S. foreign policy and a professor at Westminster College. He will share his experience with the State Department and his perspective on war, diplomacy and conflict.
The Chinese Contribution to the Transcontinental Railroad
Wednesday, January 22, 2020, 12:00 – 1:00 pm
Commander's House, Fort Douglas
By Dr. Chris Merritt, Director of Archaeology for the State of Utah

Dr. Chris Merritt will present on the Chinese RailroadWorker experience in Utah through history and archaeology. In 1869, thousands of Chinese workers came to Utah during the waning days of construction for the Central Pacific Railroad. Many stayed on in Utah until the early 1890s, leaving behind a historical and archaeological legacy across Northern Utah. Over the past few years State History and the BLM have worked to discover more of this history and to build towards the 150th Anniversary of the Transcontinental Railroad in 2019. Merritt received his Ph.D. from the University of Montana in Anthropology in 2010, focusing on the archaeological and historical investigations of the Overseas Chinese. Before that, he received a Master's of Science in Industrial Archaeology from Michigan Technological University where he studied the trade and consumption of Mormon-produced pottery in Utah. Since 2004, Merritt has worked in a variety of professional archaeological settings including the United States Forest Service in Utah and Nevada, private archaeological contracting in Salt Lake City and finally as the Deputy State Historic Preservation Officer for the Utah Division of State History for Antiquities. At the Utah Division of State History In addition to the full-time employment with the State of Utah, he is Adjunct Faculty in Anthropology at both Weber State University and Salt Lake Community College where he teaches one course per semester at each institution.
Red Butte Garden
Wednesday, January 29, 2020, 12:00 – 1:00 pm
Commander's House, Fort Douglas
By Gregory Lee, Executive Director of Red Butte Garden

From an unlikely beginning on an Army dumpsite to its current status as one of the most popular and highly rated attractions in Salt Lake City, Red Butte Garden has charted an unlikely path. Gregory Lee, the Garden's Executive Director, will discuss the Garden's origins and early year struggles, the organization, operations, and status today as an operating auxiliary of the University of Utah, and its hopeful future. Dr. Lee will provide insight into everything from how Red Butte concerts are chosen to how new project and budgetary decisions are made and plans for the future.
Alaska from Land, Sea and Air
Wednesday, February 5, 2020, 12:00 – 1:00 pm
Commander's House, Fort Douglas
by Simon Hook, naturalist and oceanographer

Simon Hook discovered the natural world early on in his childhood, adventuring in the redwood forests of California. The adventure of Alaska brought Simon to Sitka 14 years ago and has captured his curiosity and continues to inspire. From the tiniest plankton to the tectonic plates that make mountains, Simon's drive for understanding has sought out scientists and leading-edge researchers at symposiums and lectures to further understanding of the natural world. Humpback whales are often a subject of wonder and Simon has been watching the whales of Alaska for years with the question "What are they doing down there?" Simon's interest in the landscape and wildlife of Alaska presents a wonder for exploration.
Curiosity has driven Simon to capture behavior and portraits of animals in the wild with his camera. Simon's passion for wildlife and earth science has given him inspiration for his photography, winning several awards for photos of Alaska's wildlife and landscapes. Capturing animal portraits peaked Simon's interest, leading him to a passion to understand what makes them tick. Digging deep into the subject of animal behavior studying the likes of Robert Sapolsky and Bernd Heinrich provided great insight.
Simon enjoys escaping to wild places and spending time watching, listening, and soaking in the wilderness. In Southeast Alaska most of his exploring is done by boat, from 12ft kayak to 500ft ship. The ocean provides an almost endless wilderness to explore. Simon enjoys spending time educating about these wild places, in the hope that understanding fosters appreciation of the natural world.
Air Pollution's Effect on Populations
Wednesday, February 12, 2020, 12:00 – 1:00 pm
Commander's House, Fort Douglas
by Dr. Wayne Samuelson, Medical Director of Pulmonary Rehabilitation Program at the University of Utah
Residents of Salt Lake City face a number of challenges when it comes to air quality. Because of its mountain valley topography, the Salt Lake Valley is subject to a number of factors that lead to poor air quality. Air quality and health are closely linked. We will discuss some of the potential immediate and long-term consequences of air pollution, with emphasis on lung health.
Dr. Samuelson is a native of Utah. He earned both BA (in Sociology) and MD degrees from the University of Utah. He did a residency in Internal Medicine at Duke University Hospitals and Clinics followed by a fellowship in Pulmonary Medicine, also at Duke. He was a member of the faculty of Duke University School of Medicine for ten years prior to joining the faculty of the University of Utah School of Medicine. In addition to his practice of Pulmonary Medicine at the University he also serves as Vice Dean for Education in the School of Medicine. He and his wife Marianne are the parents of five children and seven grandchildren
UtahTax Reform: Who Wins? Who Loses?
Wednesday, February 19, 2020, 12:00 – 1:00 pm
Commander's House, Fort Douglas
by Dixie Huefner, Utah Citizens' Counsel and Matthew Weinstein, Voices for Utah Children
Key representatives of the Utah Citizens' Counsel and Voices for Utah Children will present a brief overview of the state tax system of income tax, property tax, and sales & use taxes, and why the Legislature decided that those systems were out of balance and that the sales tax revenue needed bulking up. We'll then cover key issues with the way the Tax Force approached its job, the values that were embodied in its efforts, its partial steps toward its goal to achieve an improved long-term tax structure, and why it met with so much public opposition.
Important questions: What's happening with the income tax earmark for education? Why restore the state sales tax on food? Why were so few services identified for sales taxes? Why were so few sales tax exemptions repealed? What's happening with earmarks for roads? We'll address the various options that were considered or embodied in the new tax reform law, and what was good, what was missing, and what's at stake. We'll review what happened with respect to the tax referendum, what is happening (or not happening) with respect to tax reform in the 2020 Legislature, and what are the possibilities for citizen input in ongoing and future tax reform efforts.