If you're 50 or better you are invited!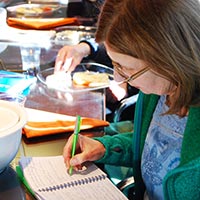 Lunch and Learn lectures are wonderful opportunities to experience a bit of the program first hand. Invite a friend and join us for these informative, interesting lectures. They are free!
Speakers start promptly at noon. All lectures are streamed online on zoom and run from noon-1pm.
Did you miss a lecture or hope to watch one again? View our archives on YouTube.
Upcoming Lectures
Saving Birds One Window at a Time
March 24, 2021, 12:00 – 1:00 pm
Rewatch Here and Download the Handout Here. By Jeanne Le Ber, Osher Bird Watching Instructor, Board Member of the Great Salt Lake Audubon | Linda Johnson, Board Member of the Great Salt Lake Audubon Society | Cooper Farr, Director of Conservation at Tracy Aviary
Birds are important to us. They provide a sense of place, a connection to the wild. They delight us, enrich our lives, and bring hope, beauty, music, and wonder to our world. We invite them into our yards, feed them, and spend money on plants, shrubs, and water features to support them. Birds are environmental indicators, pollinators, carrion eaters, and provide pest control and seed dispersal.
Birds cannot see windows and so they often collide with them. Even birds that appear to only be injured eventually die. Research has shown it is day-to-day collisions that occur year-round at residential and low-rise commercial buildings that account for the majority of bird-window collisions. We will show you how you can prevent bird-window collisions, recommend products that are available to "fix" your windows, and tell you about local projects aimed at preventing collisions.
Integrating Affordable Housing and Urban Agriculture
March 31, 2021, 12:00-1:00 pm
Rewatch Here
By Ashley Patterson, Executive Director, Wasatch Community Gardens

Since 2012, Ashley Patterson has served as the Executive Director of Wasatch Community Gardens (WCG). Prior to joining WCG, Ashley was with the University of Utah serving as Outreach & Education Coordinator in the Office of Sustainability. While in that capacity, Ashley helped educate thousands of students about recycling, organic, urban agriculture, green building, energy and water conservation. She is also the founder of The Green Building Center, a wholesale and retail environmentally friendly building supplier. Ashley holds a Master's degree in Environmental Health from the University of Washington and a Bachelor's degree in English from Yale University.
Ashley will talk about the Wasatch Community Gardens' Campus project on 800 S. and 600 E. where the organization has operated an urban teaching and community garden since the late 1980's. In 2017, WCG bought three parcels adjacent to the garden to locate the organization's administrative headquarters on that site and expand the garden and teaching spaces. They were required to build housing as a condition of Salt Lake City and have embarked on a journey to learn about sustainable urban design.
Utah COVID-19 Economic Insights
April 7, 2021, 12:00-1:00 pm
Rewatch here
By Natalie Gochnour, Director of Kem C. Gardner Policy Institute and Associate Dean, David Eccles School of Business, University of Utah
Natalie Gochnour serves as an associate dean in the David Eccles School of Business at the University of Utah, and as director of the Kem C. Gardner Policy Institute. She served in the administrations of three Utah governors – Bangerter, Leavitt and Walker – and was a political appointee in the George W. Bush administration. She authors regular columns in Utah Business magazine and the Deseret News and co-hosts the weekly radio program Both Sides of the Aisle on KCPW.
Natalie will be discussing economic impact and insights, both positive and negative, regarding the COVID-19 pandemic.
What does the Utah Division of State History do?
April 14, 2021, 12:00 – 1:00 pm
Rewatch here
By Chris Merritt, Utah State Historic Preservation Officer
Chris is the State Historic Preservation Officer for Utah, and is part of the Utah Division of State History. He has spent the last 16 years as a professional archaeologist in the Intermountain West, with the last 8 years at the State of Utah. Finally, he teaches evening courses in archaeology at Salt Lake Community College.
Few people know that the State of Utah employs a bunch of historians, archivists, and archaeologists, but they do! The Utah Division of State History has a number of programs that help Utahns connect to, learn more, and protect their collective history. This talk will highlight the various programs within the Division, share online resources that we provide, and overall offer an invitation to learn more about us and history.
Efforts to Reform Utah's Homeless Services System
April 21, 2021, 12:00 – 1:00 pm
Rewatch here
By David Litvack, Senior Policy Advisor to Salt Lake City Mayor Erin Mendenhall
David served in the Utah State House of Representatives from 2000-2012 and is passionate about working on issues that advance social justice, equity, and inclusiveness. He currently serves as a Senior Policy Advisor in the Salt Lake City Mayor's Office. He will address the homeless problem in Salt Lake, what the city is doing to help the homeless, and recent efforts to reform Utah's Homeless Services System.
Sliced Bread, Betty White, and Oldsmobiles
April 28, 2021, 12:00 – 1:00 pm
Rewatch here
By Deborah Keyek-Franssen, Associate Vice President and Dean of Continuing Education, The University of Utah

What do sliced bread, Betty White, and Oldsmobiles have in common? Find out during an interactive presentation by Associate Vice President and Dean of Online and Continuing Education (OCE), Deborah Keyek-Franssen, Ph.D. Deb will inspire you to think about the evolution and future of higher education, highlighting dramatic shifts in methods and modalities that have accelerated in the past year, and situating the U and OCE in this historic moment.