If you're 50 or better you are invited!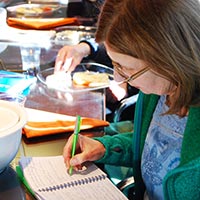 Lunch and Learn lectures are wonderful opportunities to meet Osher members and experience a bit of the program first hand. Bring a friend and a brown bag lunch and join us for these informative, interesting lectures. They are free!
Come early to visit and enjoy your lunch before the speaker starts. Speakers start promptly at noon. All lectures are held at the Commander's House, Ft. Douglas and run from noon-1pm.
Upcoming Lectures
Albert Einstein
Wednesday, 2/27/2019, 12:00pm – 1:00pm
Commander's House, Fort Douglas
Larry Campbell, Ph.Dh
This will be fun, and not too technical (you will not need a slide rule!). Born 1879 Germany – Died 1955 Princeton, New Jersey, Einstein is viewed as the most influential physicist of the 20th century and received the Nobel Prize for Physics in 1921. We will explore special and general theory of relativity, Space Time, E = mc2, gravity and acceleration, plus the photoelectric effect. Also, comments regarding one of his peers, Nikola Tesla, will be given.
The New Normal of Recycling
Wednesday, March 27, 2019, 12:00pm – 1:00pm
Commander's House, Fort Douglas
by Jennifer Farrell, Education and Outreach Lead, Department of Sustainability, Waste and Recycling Division, Salt Lake City

The world of recycling has changed! Come find out what has changed and how it affects us all. Learn why recycling and waste diversion remains such an integral part of our sustainable future and discover what can be done to make a positive and local impact. This presentation will help you understand the changes in the global recycling industry, know exactly what is accepted in single-stream recycling containers throughout the Salt Lake valley areas, and to learn how to reduce waste by recycling outside of single-stream recycling collections.
Localscapes and Plantings 101
Wednesday, April 3, 2019, 12:00pm – 1:00pm
Commander's House, Fort Douglas
by Cynthia Bee, Outreach Coordinator, Jordan Valley Water Conservancy District

Landscaping in Utah is hard. Whether your landscape takes too much time to manage while providing too little payoff for the effort, lacks curb appeal or simply provides no enjoyable reason to spend time outdoors, the way we've been landscaping doesn't work for Utah. In this class, we'll learn about the new five-step Localscapes method for creating gorgeous landscapes that look great and function well – in the climate we actually have. Localscapes provides solutions for the ten most common landscape challenges while creating lush-looking spaces that actually conserve water too. If you have wanted to make changes to your yard but felt overwhelmed about getting started or worried about making mistakes, this is one class you won't want to miss.
UMFA – An Overview of What's Happening
Wednesday, April 10, 2019, 12:00pm – 1:00pm
Commander's House, Fort Douglas
by Gretchen Dietrich, Executive Director, Utah Museum of Fine Arts

The Utah Museum of Fine Arts (UMFA) at the University of Utah is your destination for global visual arts. From ancient objects to the latest contemporary works, the UMFA galleries—reimagined and remodeled in 2017—showcase the breadth and depth of human history and creativity. The Museum's collection of nearly 20,000 original works of art is the most dynamic in the region. As the fine arts museum for both the state and the University, the UMFA is a vibrant hub for cultural exchange among campus and community audiences.
The Opioid Crisis
Wednesday, April 17, 2019, 12:00pm – 1:00pm
Commander's House, Fort Douglas
by Jennifer Plumb, MD, MPH, Associate Professor of Pediatrics, Pediatric Emergency Medicine, Medical Director Utah Naloxone, Department of Pediatrics, University of Utah
Dr. Plumb's academic interests include the impact of naloxone rescue kit availability on opioid overdose deaths, community-based interventions to decrease opioid overdose death and disease transmission, observation medicine, the impact of point of care ultrasound in PEM, and toxicology. She will see all patients presenting to the Emergency Department. Other specific clinical interests include adolescent substance use and abuse, the usage of ultrasound in the setting of Pediatric Emergency Medicine (PEM), and toxicology. She is the Medical Director of Utah Naloxone.
Saving the Monarch: One Milkweed at a Time
Wednesday, April 24, 2019, 12:00pm – 1:00pm
Commander's House, Fort Douglas
by Rachel Taylor, Research Associate for Southwest Monarch Study
The iconic monarch butterfly, known for its incredible migration story, is in peril - especially west of the Rocky Mountains. When was the last time you saw a monarch butterfly? How about a milkweed plant? Join us as we discuss the symbiotic relationship of these two species and learn how we can help the threatened monarch butterfly population survive and reproduce. In this session, you will learn from Rachel Taylor, Research Associate for Southwest Monarch Study, how to propagate and grow drought-tolerant, native milkweed to attract monarch butterflies. You will also find out about opportunities to become a citizen scientist, participating in an official migration study learning how monarchs from our area are tagged and tracked in order to record their epic journey south to Mexico or California.
Sustainability at the U
Wednesday, May 1, 2019, 12:00pm – 1:00pm
Commander's House, Fort Douglas
by Myron Willson, Deputy Chief Sustainability Officer, Sustainability Office, University of Utah
The Sustainability Office works is to integrate sustainability as a core principle throughout operations, research, and education at the University of Utah and to support initiatives that cultivate the campus as a living laboratory. We work to create a culture of responsibility by integrating the values of sustainability in all facets of the University of Utah and to serve as a model for what is possible by: Collecting data and best practices to track progress and implement change; connecting campus sustainability practices, programs, and people; creating a living, learning laboratory on campus; catalyzing and leading the campus community toward action; communicating campus sustainability initiatives and successes.
Resources beyond Earth – Mining Asteroids and the Moon
Wednesday, May 8, 2019, 12:00pm – 1:00pm
Commander's House, Fort Douglas
by Angel Abbud-Madrid, Ph.D., Director of the Center for Space Resources at the Colorado School of Mines
Angel Abbud- Madrid leads a multidisciplinary research program on the human and robotic exploration of space and the utilization of its resources. He is also the Director of the Colorado School of Mines Space Resources Program, the first academic program in the world focused on educating scientists, engineers, economists, entrepreneurs and policymakers in the developing field of space resources. Join fellow Osher members as Dr. Abbud-Madrid explains the natural resources that exist on the moon and how NASA missions have discovered silicon and water on the moon. He will also discuss mining for resources on the asteroids between Mars and Jupiter. Learn how science is making something you might have only imagined a reality.