If you're 50 or better you are invited!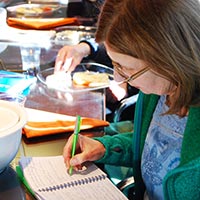 Lunch and Learn lectures are wonderful opportunities to experience a bit of the program first hand. Invite a friend and join us for these informative, interesting lectures. They are free!
Speakers start promptly at noon. All lectures are streamed online on zoom and run from noon-1pm.
Did you miss a lecture or hope to watch one again? View our archives on YouTube.
Upcoming Lectures
Light Pollution and the Dark Skies Effort
Sept. 16, 2020, 12:00 – 1:00 pm
Watch it again Here
By Alan Eastman, Retired Research Chemist and Osher Instructor
Most Americans cannot see the Milky Way from their homes. Even worse, nocturnal animals are affected by the light pollution we put into the sky. Over the last 10 years, the world's bird population has gone down by nearly a third. One major cause is that artificial light in the night sky disrupts their migration, feeding, and mating behavior. Artificial light at night even affects human beings, having responsibility for increased incidence of sleeping disruptions (surprise!) and a number of other health problems. Yet, of all the pollution problems we face, this one alone can be completely solved, if we are willing. This presentation will discuss the problem, sketch out the solutions, and introduce the International Dark Skies Association, its efforts to designate International Dark Sky places, and how it can help individuals, neighborhoods, and cities to help end light pollution.
Utah's Architectural Landscape - Modernism
Sept. 23, 2020, 12:00 – 1:00 pm
Watch it again Here
By Bim Oliver, Writer and Researcher, Osher Instructor

During the middle decades of the 20th century, a new style of architecture appeared in Utah. Called "Modernism," its visual ideas represented a dramatic departure from the more conservative, traditionalist ones that had defined Utah architecture. Though Modernism was not widely embraced at the time, it left a lasting impact—not only in the buildings of that period but in the buildings of today. In this lecture, we will discuss the origins of Modernism, trace its development in Utah, and assess its significance in shaping the Utah architectural landscape, then and now.
Salt Lake County Sheriff
Sept. 30, 2020, 12:00-1:00 pm
Watch it again Here
By Rosie Rivera, Salt Lake County Sheriff

Salt Lake County Sheriff Rosie Rivera became the first female County Sheriff when she was sworn in on August 15th, 2017. Sheriff Rivera brings over twenty-five years of law enforcement experience, having served as United Police Department's Deputy Chief, Chief of Police Services for Riverton City, Campus Security at Weber State College, and Taylorsville Police Department. The Sheriff has directed her efforts into community policing and diversity within law enforcement. Sheriff Rivera believes in transparency and engaging with the community. "Know the issues we are dealing with and they become a part of our solutions. It's all about problem solving to keep everyone safe."
Overview of the Division of Investigations, Utah Attorney General's Office
October 14, 2020, 12:00 – 1:00 pm
Watch it again Here
by Leo Lucey, Chief of Investigations for the Attorney General's Office

The five units of this office conduct investigations on a wide variety of crimes including Internet Crimes Against Children, human trafficking, human smuggling, public corruption, fraud involving elections, Medicaid, Workers Comp and Social Security, identify theft, embezzlement, internet scams, crimes by and against undocumented communities, as well as other areas. Mr. Lucey can answer questions on those areas of most concern to Osher members.
Utah's Archeology and Problems of Vandalism
Oct. 21, 2020 12:00-1:00 pm
Zoom - Join Here
by Elizabeth Hora Public Archeologist for the State of Utah and Head of State Department to Combat Vandalism to Archaeological sites
Utah's Inland Port
Oct. 28, 2020, 12:00 – 1:00 pm
Zoom - Join Here
by Deeda Seed, Senior Utah Field Campaigner for the Center for Biological Diversity
Learn about the controversial proposed Utah Inland Port and the problems associated with the Port's development. The Port is slated to be built covering property within Salt Lake City for 25% along with a slice of Magna and West Valley City. What is being proposed? What are the concerns and solutions? How concerned should we be as residents?
Utah Inland Port Authority
Nov. 4, 2020, 12:00 – 1:00 pm
Zoom - Join Here
By Jack Hedge, Executive Director of the Utah Inland Port Authority
You've heard of Utah's Inland Port – but what does the Utah Inland Port Authority (UIPA) actually do and why should Utah have one to begin with? We'll discuss the statewide role the organization plays to facilitate smart, sustainable logistics now and into the future. Economic benefit and environmental sustainability are not mutually exclusive. Learn the vision UIPA has set for Utah and the factors that sets it apart based on data-driven strategies.