If you're 50 or better you are invited!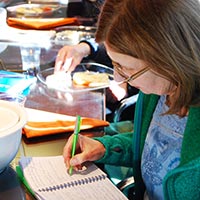 Lunch and Learn lectures are wonderful opportunities to meet Osher members and experience a bit of the program first hand. Bring a friend and a brown bag lunch and join us for these informative, interesting lectures. They are free!
Come early to visit and enjoy your lunch before the speaker starts. Speakers start promptly at noon. All lectures are held at the Commander's House, Ft. Douglas and run from noon-1pm.
Upcoming Lectures
Artificial Intelligence
3/28/2018, 12:00 – 1:00 PM
Commander's House, Fort Douglas
Larry Campbell, Ph.D.

In this presentation, Larry L. Campbell. Ph.D. in Electrical Engineering from the University of Utah, will present the facts on artificial intelligence. We will learn what it is, whether it is dangerous, and who in the world is developing it. This lecture will also discuss how artificial intelligence can keep us safe and could be used for climate change solutions and in elderly care, taking stock of both the progress and the challenges for current research. We'll look at the potential benefits and dangers of this research, and consider the political implications of what may come of successfully developing increasingly capable systems and programs.
Wild Utah: America's Redrock Wilderness
4/4/18, 12:00 – 1:00 PM
Commander's House, Fort Douglas
Dave Pacheco, Utah Grassroots Organizer

The Southern Utah Wilderness Alliance's mission is the preservation of the outstanding wilderness at the heart of the Colorado Plateau, and the management of these lands in their natural state for the benefit of all Americans. SUWA promotes local and national recognition of the region's unique character through research and public education; supports initiatives to permanently protect the Colorado Plateau wild places; builds support for such initiatives on both the local and national level; and provides leadership within the conservation movement through uncompromising advocacy for wilderness preservation. Recent campaigns include advocacy for National Monuments, protecting wild lands from the threat of off-road vehicles and oil & gas development, among many others. SUWA currently is challenging President Trump's orders to repeal & replace Bear Ears and Grand Staircase-Escalante National Monuments.
Legal Review of End of Life Decisions
4/11/2018, 12:00 – 1:00 PM
Commander's House, Fort Douglas
Laura Milligan Gray, JD, LL.M.

Having a proper plan for the disposition of your assets when you pass away is essential. Additionally, planning for potential disability has never been more important. In this interactive luncheon with seasoned estate planning attorney Laura Milliken Gray, we will discuss proper planning with wills and revocable living trusts, and also cover how to proeperly protect yourself and your assets in the event of a temporary or permanent disability.
Monitoring Arctic Snowfalls from Mountain Tops and Space
4/18/2018, 12:00 – 1:00 PM
Commander's House, Fort Douglas
Steve Cooper, Associate Research Professor in Physics/Atmospherics

Global snowfall distributions play an important role in climate change scenarios through their impact on the surface energy budget. These feedbacks are particularly critical for high-latitude regions, where model predictions suggest the most dramatic temperature increase in response to the release of greenhouse gases into the atmosphere. In this talk, we discuss research at the University of Utah focused on better understanding arctic snowfall properties and distributions. Specifically, we will discuss how we monitor and quantify changes in snowfall for these often remote and rugged polar regions. Results from both a NSF field campaign in Scandinavia and the NASA CloudSat satellite mission will be used to explore this complex topic.
Advances in Healthcare: Dry Needling for Musculoskeletal Pain, Headaches, and Nerve Painstrong>
4/25/2018, 12:00 – 1:00 PM
Commander's House, Fort Douglas
Todd Schwartz, PT, DPT, OCS, Cert., DN
Trigger point dry needling has grown in popularity nationally and has become increasingly popular for treatment of numerous conditions including musculoskeletal pain, headaches and migraines, and nerve pain. The practice was introduced in Utah after passing legislation for physical terapists to perform in August 2014. Still, many people have little knowledge of this treatment modality and why it is so powerful. Todd will address the origins of the treatment, how it is different from acupuncture, who it can help, and why it is so effective when applied in conjunction with other treatments.
Active Shooter and Police Response
5/2/2018, 12:00 – 1:00 PM
Commander's House, Fort Douglas
Ryan Speers, BSS
Sergeant Ryan Speers of the University of Utah Police Department will present information about the phenomena of active shooters and mass casualty events. After getting a brief history of active shooter situations, he will offer timely strategies for responding to them, discussing situational awareness, preparation, practicing for them, and having a survival mindset. He will also give an overview of how the police and other government services react to active shooters and other emergency events.