If you're 50 or better you are invited!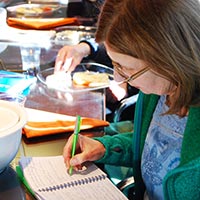 Lunch and Learn lectures are wonderful opportunities to experience a bit of the program first hand. Invite a friend and join us for these informative, interesting lectures. They are free!
Speakers start promptly at noon. All lectures are streamed online on zoom and run from noon-1pm.
Did you miss a lecture or hope to watch one again? View our archives.
Register Here
Upcoming Lectures
Little Cottonwood Canyon Environmental Impact Statement
March 30, 2022, 12:00 – 1:00 pm
By Josh Van Jura, PE, Project Manager, Little Cottonwood Canyon Environmental Impact Statement Project, Utah Department of Transportation
Learn more about the problems Little Cottonwood Canyon currently faces regarding traffic management: mobility, travel time reliability, and safety. We will examine how these problems are projected to increase. We will outline the five transportation alternatives that the Utah Department of Transportation is proposing to solve these challenges.
---
What's Changing in Climate Change - An Update
April 6, 2022, 12:00-1:00 pm
By Alan Eastman, PhD, Retired Research Chemist, Osher Instructor

The world's climate seems to be changing faster than ever before, and information about climate change is also flowing faster than ever. In the last year, we have seen a major new report on the changes, plus a high-profile international meeting on what to do about it all. This presentation will be a quick update and summary of what is happening now and some likely implications of the latest scientific information.
---
Cancer Care -- Recent Developments and Future Treatment Strategies
April 13, 2022, 12:00-1:00 pm
By Jonathan Whisenant, MD, Oncologist at Utah Cancer Specialists
Cancer management has changed rapidly over the past two decades. Dr Whisenant will present a broad overview of evolving cancer treatments, including a general movement away from traditional chemotherapy and toward new and often highly effective treatments. These treatments include: "targeted therapies" based on specific gene alterations found in cancers, strategies designed to harness the immune system in cancer treatment, smart "antibody-drug conjugates," and other emerging novel treatments.
---
Aerial Mapping and Earthquakes in Utah
April 20, 2022, 12:00 – 1:00 pm
By Steve Bowman, Geologic Hazards Program Manager, Utah Geologic Survey
The Utah Geological Survey recently released the Utah Aerial Imagery Database (https://imagery.geology.utah.gov) that contains over 277,000 images covering portions of Utah, 4370 index sheets, and 1820 documents related to these images. The images range in age from 1935 to the present and consist of a variety of types (black and white, color, color infrared, etc.). These images are useful for a variety of activities, including land-use management, tracking environmental and ground surface change, assisting with property boundary disputes, in geologic and geologic hazard mapping, for land development, and for recreational and personal interest by a variety of professionals and the public.
---
Women's Suffrage
April 27, 2022, 12:00 – 1:00 pm
By Eileen Hallet Stone, Writer and Former Salt Lake Tribune Columnist
Nearly a year after the Utah Territory first enfranchised women – the issue of polygamy aside—one can easily imagine the July 2, 1871 dedication of the new Liberal Institute in Salt Lake City when suffragist Susan B. Anthony addressed a full audience and made the floorboards shake in an electrifying speech. "There can be no salvation for womanhood but in the possession of power over her own subsistence." The right for Utah women to vote was granted in 1870, revoked by Congress in 1877, and restored in 1895. While closed doors and revoked voting rights may have stymied a more timid population, how did Utah's leading and diverse suffragists show their might, and in 1896 when Utah achieved statehood, see their policies rewritten into law? Let's talk.
---
The Great Salt Lake!
May 4, 2022, 12:00 – 1:00 pm
By Jaimi Butler, Coordinator of the Great Salt Lake Institute, Westminster College

The Great Salt Lake is d(r)ying. The largest saltwater lake in the Western Hemisphere and eighth-largest terminal lake in the world is at a crossroads due to water diversion, drought and climate changes. Self-proclaimed "lake nerd" Jaimi Butler will present the current status of our important local inland sea and strategies to help keep it great. This talk will include a recap of the 2021 legislative session and how we can work together to advocate for the lake in the future.
---
The Current and Future State of Water in Utah
January 19, 2022, 12:00 – 1:00 pm
By Todd Stonely, Assistant Director, Division of Water Resources and John Mackey, Assistant Director, Utah Division of Water Quality
Todd Stonely will look at our water supply in Utah and the challenges we will face in the future. He will examine where Salt Lake Valley's water comes from and how the growing needs of the valley will be satisfied. He will also discuss water councils and programs that are being developed throughout the state to address water-use planning and water conservation. Revisit Todd Stonely's Presentation Slides
John Mackey will review how Utah implements the Clean Water Act to preserve and protect our waters for their many uses. He will discuss the many challenges the state faces in pursuit of clean water and some of emerging water quality concerns as our needs continue to expand. The presentation will conclude by outlining the tools the State of Utah will be using to ensure that we will continue to have clean water in the coming decades for a healthy and prosperous Utah. Revisit John Mackey's Presentation Slides
---
Telling Diverse Stories: Examples from Our National Parks
January 26, 2022, 12:00-1:00 pm
By Ephriam D. Dickson III, Chief of Interpretaion, Yosemite National Park and Osher Instructor

At national parks and monuments across the country, interpretive staff are striving to diversify the stories presented to the public in an effort to become more inclusive of all people. Ephriam Dixon will explore examples from the Little Bighorn Battlefield in Montana, Yosemite National Park in California, and the Attu Island Battlefield in Alaska. His presentation will highlight struggles and successes as the National Park Service broadens its interpretive narratives and interweaves multiple perspectives.
Suggested Reading:
---
Utah Politics, Religion, and Morals
February 2, 2022, 12:00-1:00 pm
By Rod Decker, Author and Former Reporter for KUTV and the Deseret News
Utah votes Republican. The majority of Latter-day Saints vote Republican. Most other religious groups vote Democratic. Why do so many members of the Church of Jesus Christ of Latter-day Saints vote Republican? How do these various groups define the American family, moral values, and what social scientists call "social issues"? The disagreement over families and morals can explain Utah demography, Utah politics, and a few other things about the state.
---
Scientific Research and Discoveries from University of Utah Health That Are Making a Difference
February 9, 2022, 12:00 – 1:00 pm
By Julie Kiefer, Associate Director, Science Communications at University of Utah Health
University of Utah Health is home to world-class scientists who seek to better understand health and disease in order to improve lives. In this talk, you will learn about the types of research being done at U of U Health and recent discoveries that have made an impact. This includes a number of projects aimed at mitigating the COVID-19 pandemic and its wide-ranging effects.
---
Wills and Trusts 101: What You Need to Know
Febraruy 16, 2022, 12:00 – 1:00 pm
By Alan Ormsby, State Director, AARP Utah
The coronavirus pandemic caused people to panic and rush to plan their wills, trusts, and other estate planning documents. Sales of online wills and legal documents have absolutely exploded. Such panic can cause us to make uninformed decisions against our best interests. It is important to have your estate planning affairs in order in any stage of life. Most people have property that they want to pass on to their family or others. This presentation will help inform you of your options and provide clarity around your most pressing issues.
Download the Lecture Handout
---
The Most Significant Building in the History of the University of Utah
February 23, 2022, 12:00 – 1:00 pm
By Bim Oliver, Architectural Historian, Writer, Consultant, and Osher Instructor

Since it moved to its present location in the 1890s, the University of Utah has designed and constructed dozens of buildings to house its diverse activities—learning, research, athletics, etc. From the stately Park Building to the monumental Marriott Library to the abstracted Student Life Center, each of the buildings on campus serves an important function in the life of the U while displaying a distinct architectural identity. Ironically, though, the most nondescript of all the buildings has at the same time arguably played the most significant role in the history of the university. In this discussion, we'll reveal which building it is and delve into why such a modest structure became so important.
Additional Reading:
---
Bernard Osher set up the Osher Lifelong Learning Institute to be member-led and volunteer-driven. We would appreciate any suggestions for future topics of interest to you for Lunch and Learn Lectures. We especially appreciate recommendations of speakers who could present topics for us in future terms. Thank you for your participation and support!