If you're 50 or better you are invited!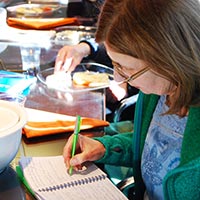 Lunch and Learn lectures are wonderful opportunities to experience a bit of the program first hand. Invite a friend and join us for these informative, interesting lectures. They are free!
Speakers start promptly at noon. All lectures are streamed online on zoom and run from noon-1pm.
In Salt Lake City We will be be broadcasting the lecture at the 540 Arapeen Drive from 12 PM until 1 PM, for those who would like the option to gather in person to watch the Zoom Event.
For our St. George Learners We will be be broadcasting the lecture at the St. George Graduate Center in Room 101 from 12 PM until 1 PM. The Graduate Center is located at 1071 E 100 S, St. George, UT
Did you miss a lecture or hope to watch one again? View our archives.
Register Here
Upcoming Lectures
The Age Friendly University Network and the University of Utah
September 21, 2022, 12:00 – 1:00 pm
By Ken Jameson, Emeritus Professor of Economics, the University of Utah and President of the Professors Emeriti Club
- and -
Katarina Friberg Felsted, Associate Professor in the Gerontology Interdisciplinary Program in the College of Nursing and Adjunct Assistant Professor in the Department of Health and Kinesiology in the College of Health, the University of Utah
The Age-Friendly University (AFU) network consists of institutions of higher education around the globe that have committed themselves to becoming more age-friendly in their programs and policies. The AFU endorses 10 principles to identify distinctive contributions such institutions can make in response to the interests and needs of an aging population. This presentation will describe the 10 principles and draw on the experience of other universities that have joined. We will summarize the current efforts to encourage the University of Utah to join the AFU through an official endorsement and what that commitment entails. We will examine where the initiative stands, and what remains to be done, along with a timeline for joining the Network. This will lead us to a group discussion of how we can see ourselves benefiting from the AFU and contributing to its realization at the University of Utah.
---
The Disease Everyone Has but Nobody is Talking About
September 28, 2022, 12:00-1:00 pm
By Ryan Carver, Owner of Leverage Fitness Solutions

As the owner of a private personal training studio and former professional athlete, Ryan specializes in helping older adults defy the status quo around aging and discover their own fountain of youth. He will discuss the deadliest disease that is affecting every single adult in the world: the loss of muscle mass as we age. He will describe its symptoms, related diseases, and most importantly how to prevent and reverse it.
---
Extreme Doctor Doolittle - Zoo Veterinary Medicine
October 5, 2022, 12:00-1:00 pm
By Dr. Erika Crook, Director of Animal Health, Hogle Zoo
Dr. Erika will share what it's like to be a zoo veterinarian at Utah's Hogle Zoo. Her job is basically an extreme form of Dr. Doolittle! She provides medical care for hundreds of animals of different species, ranging from 1-gram dart frogs to 4000-pound rhinoceroses. It often takes research and ingenuity to treat even mild ailments.
---
Utah's Watersheds in a Climate Future
October 12, 2022, 12:00 – 1:00 pm
By Zachary Frankel, Executive Director and Founder, Utah Rivers Council
Utah is home to some of the most important watersheds in the American West, yet much of our political culture refuses to embrace the permanency of climate change. We will explore the future of Utah's two largest watersheds and the cultural and political challenges to embracing this future with courage and vision.
---
Influencing Change: Save Lives by Changing Behaviors
October 19, 2022, 12:00 – 1:00 pm
By Dave Durocher, Executive Director, The Other Side Academy
Dave Durocher says he spent the first half of his life helping people die; he intends to spend the rest of it helping people live. He will take a dive into his past and share how he clawed his way from the depths of hell to a place of redemption. He will discuss the intersection between his life and The Other Side Academy, an innovative program for recovery from drug addiction and time spent in prison or living on the streets. He will talk about who they are, and more importantly, who they are not, and what makes them different than everyone else. The Academy requires a two-year commitment and results in a 90%+ success rate for the individuals they serve. Dave will examine the principles of change and how they implement those principles. He will then gladly take any questions from the audience.
---
Why is Utah so Republican?
October 26, 2022, 12:00 – 1:00 pm
By Rod Decker, Author and Former Reporter for KUTV and the Deseret News

Rod Decker will review Utah's political history and demography. Members of the Church of Jesus Christ of Latter-day Saints influence Utah's largely Republican and conservative climate. Rod will show how changes in American sex-and-family morality likely influenced the majority of Latter-day Saints to become Republican and conservative.
---
Bernard Osher set up the Osher Lifelong Learning Institute to be member-led and volunteer-driven. We would appreciate any suggestions for future topics of interest to you for Lunch and Learn Lectures. We especially appreciate recommendations of speakers who could present topics for us in future terms. Thank you for your participation and support!