If you're 50 or better you are invited!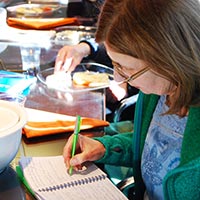 Lunch and Learn lectures are wonderful opportunities to experience a bit of the program first hand. Invite a friend and join us for these informative, interesting lectures. They are free!
Speakers start promptly at noon. All lectures are streamed online on zoom and run from noon-1pm.
Did you miss a lecture or hope to watch one again? View our archives.
Register Here
Upcoming Lectures
The American Electrical Grid: What It Is, Why It Matters to You, and Aren't You Glad You Don't Live in Texas!
September 22, 2021, 12:00 – 1:00 pm
By Alan Eastman, PhD, Retired Research Chemist, Osher Instructor
We will discuss what the power grid is, why it is important to everyone, why it is in trouble, and what can be done about it. During the big freeze in Texas, the state came within four minutes of a months-long power outage. We will discuss what happened, why it happened, and how it could happen again unless some changes are made. Then we will discuss how to fix those problems.
---
Mental Health and Aging
September 29, 2021, 12:00-1:00 pm
By Kristina Purganan, DO, Medical Director, Geriatric Psychiatry Clinic, University of Utah

Mental health and well-being are as important in older age as at any other time of life. This talk will cover the more common mental health issues in older adults, including depression and cognitive impairment, as well as strategies for optimizing mental health as we age.
---
The Economic Climate and Changing Skyline of Downtown Salt Lake City
October 6, 2021, 12:00-1:00 pm
By Dee Brewer, Executive Director, The Downtown Alliance
Hustle and bustle are returning to the streets of Salt Lake City. Success here ripples out through the valley. Cranes are popping up everywhere during this time of unprecedented development. Come hear the latest updates from Dee Brewer of the Downtown Alliance, a nonprofit organization dedicated to building a dynamic and diverse community that is the regional center for culture, commerce, and entertainment.
---
Utah Holocaust Survivors: Etched in Memory
October 13, 2021, 12:00 – 1:00 pm
By Eileen Hallet Stone, Writer and Former Salt Lake Tribune Columnist
In 1933, Hitler became the chancellor of the German Government and leader of the Nazi Party. And in a state-sponsored, wide-ranging scourge fueled by "sadistic and pathological hatred," Nazi Germany and its collaborators incited the Holocaust, the extermination, brutal experimentation, and murder of 5-6 million Jewish men, women, and children and millions of others. For those who survived, the Holocaust, the "systematic degradation, persecution, and annihilation," remains an indelible memory of man's inhumanity to man and the challenges these survivors faced. This presentation will include excepts from interviews about Holocaust survivors' stories, told so we will remember.
---
Magna Earthquake Lessons Learned and Where to Go from Here
October 20, 2021, 12:00 – 1:00 pm
By Chris Merritt, PhD, State Historic Preservation Officer, Utah State History & Steve Bowman, Geologic Hazards Program Manager, Utah Geologic Survey
In March 2020, the City of Magna and the Salt Lake Valley at large were rocked by an earthquake of historic magnitude. We were fortunate that nobody was seriously hurt. But some historic buildings suffered damage, threatening the character of several of our most beloved Utah places. The Utah State Historic Preservation Office wants to know: What lessons have we learned? How can we better prepare for future earthquakes? What resources are available for homeowners and other property owners? We invite you to join us as Steve Bowman, Geologic Hazards Program Manager, Utah Geologic Survey, and Chris Merritt, Utah State Historic Preservation Officer, Utah Division of State History, share pictures taken during last year's earthquake and discuss steps taken to protect buildings and what we can do to protect ourselves in a bad quake.
---
Wonderland in the Desert: How Utah Created a National Parks Empire
October 27, 2021, 12:00 – 1:00 pm
By Fredrick Swanson, Freelance Writer and Author on National Parks

From Delicate Arch to the Zion Narrows, Utah's five national parks and nine national monuments display some of America's most amazing scenic treasures. Author and historian Frederick Swanson will delve into the human stories behind the creation of this mini-empire of national park lands, showing how geologic marvels such as Natural Bridges, Zion, Bryce Canyon, Arches, and Capitol Reef emerged from obscurity to become destinations for travelers worldwide. Drawing from his book, Wonders of Sand and Stone: A History of Utah's National Parks and Monuments (University of Utah Press, 2020), Swanson will introduce the explorers, scientists, artists, writers, and travelers who brought these and other masterpieces of sculptured rock to the attention of the outside world in the early twentieth century. Competing visions of what our national parks represent led to controversy over the establishment of landscape-scale reservations such as Canyonlands National Park in 1964 and the recent designation of Grand Staircase-Escalante and Bears Ears National Monuments.