If you're 50 or better you are invited!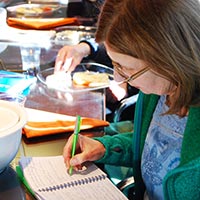 Lunch and Learn lectures are wonderful opportunities to meet Osher members and experience a bit of the program first hand. Bring a friend and a brown bag lunch and join us for these informative, interesting lectures. They are free!
Come early to visit and enjoy your lunch before the speaker starts. Speakers start promptly at noon. All lectures are held at the Commander's House, Ft. Douglas and run from noon-1pm.
Upcoming Lectures
Understanding Autism: Ontology, Classification, and Ethics
Wednesday, January 16, 2019, 12:00pm – 1:00pm
Commander's House, Fort Douglas
Ryan Nelson, Graduate Research Fellow, Tanner Humanities Center, Department of Philosophy, University of Utah
Nelson's dissertation, "Understanding Autism: Ontology, Classification, and Ethics," lies at the intersection of the philosophy of medicine and disability studies, with a particular focus on autism. His project seeks to understand how views about what autism is influences views about how individuals with autism ought to be treated. Specifically, Nelson is interested in the distinction between difference and disorder, and the role this distinction plays in judgments about clinical ethics and public policy. As he will argue, clarity on this matter informs a range of debates, including those surrounding the DSM-5, the neurodiversity movement, and the social model of disability.
Why Literacy Rates in Prison Matter
Wednesday, 1/23/2019, 12:00pm – 1:00pm
Commander's House, Fort Douglas
Brenden Cody, CEO, Roots Literacy

Brenden Cody's new startup company, Roots Literacy, aims to raise literacy rates in prisons and decrease recidivism rates. This work is ongoing and primarily focuses on literacy. Roots, a student startup that wants to teach literacy to inmates by using music, won first place at the fall ENTP 1020 Bootcamp hosted by the Department of Entrepreneurship & Strategy at the University of Utah's David Eccles School of Business. "Reading is such an important skill to have in the modern world, and more than 60 percent of inmates cannot read above a fourth grade reading level," said Brendan Cody, a student and founder of Roots. "Roots is trying to change that number and believe that people in incarceration will be less likely to go back with this new skill."
Hope, Heart, and the Humanities: How a Free College Course is Changing Lives
Wednesday, 1/30/2019, 12:00pm – 1:00pm
Commander's House, Fort Douglas
L. Jackson Newell, Associate Instructor, Honors College, University of Utah

Hope, Heart, and the Humanities tells the story of how Venture, a free, interdisciplinary college humanities course inspired by the national Clemente Course, has helped open doors to improve the lives of Utah people with low incomes. Created and taught by Jack Newell and four colleagues from the UofU, Westminster College, and Utah Humanities, the inspiring program this book describes has given hundreds of adults, many of them immigrants and refugees, the knowledge, confidence, and power to rechart their lives. Newell will lead speak and lead a discussion about his experiences teaching and learning from his Venture students, as well as those at unique Deep Springs College in California. He is professor emeritus at the University of Utah and president emeritus of Deep Springs College.
Albert Einstein
Wednesday, 2/6/2019, 12:00pm – 1:00pm
Commander's House, Fort Douglas
Larry Campbell, Ph.D.

This will be fun, and not too technical (you will not need a slide rule!). Born 1879 Germany – Died 1955 Princeton, New Jersey, Einstein is viewed as the most influential physicist of the 20th century and received the Nobel Prize for Physics in 1921. We will explore special and general theory of relativity, Space Time, E = mc2, gravity and acceleration, plus the photoelectric effect. Also, comments regarding one of his peers, Nikola Tesla, will be given.
Celiac Disease, What is the truth?
Wednesday, 2/13/2019, 12:00pm – 1:00pm
Commander's House, Fort Douglas
Janet Harnsberger, M.D. Pediatric Gastroenterologist, emeritus
"Gluten-free" is one of the popular diets recommended to improve digestion, well-being, and a host of other symptoms. In this presentation, Dr. Janet Harnsberger, recently retired specialist in Celiac Disease, will present the medical science of Celiac. We will learn the autoimmune basis of the condition, appropriate diagnostic testing, the specifics of gluten-containing grains, the necessary life-long diet, and healing. This lecture will also discuss the difference between Celiac Disease and non-Celiac gluten intolerance, and why this distinction is important. Resources for gluten-free living will be reviewed.
After the Departure of Outdoor Retailer: Running an Outdoor Products Company in Utah
Wednesday, February 20, 2019, 12:00pm – 1:00pm
Commander's House, Fort Douglas
Bart Miller, Vice President of Sales at Klymit (outdoor gear company in Kaysville, Utah)
Utah is a hot bed for outdoor industry consumer products companies. Having successfully built two such businesses, Bart will discuss what it takes to create a winning brand in outdoors. Together, we will talk through ideas for active lifestyles in the outdoors and the benefits that come from such a lifestyle. Finally, we will discuss the state of the Outdoor Industry and the reasons the major trade show was pushed out of Utah.