If you're 50 or better you are invited!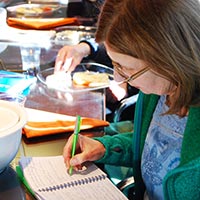 Lunch and Learn lectures are wonderful opportunities to experience a bit of the program first hand. Invite a friend and join us for these informative, interesting lectures. They are free!
Speakers start promptly at noon. All lectures are streamed online on zoom and run from noon-1pm.
Did you miss a lecture or hope to watch one again? View our archives on YouTube.
Upcoming Lectures
It's 3 A.M. Is anyone sleeping?
Jan. 13, 2021, 12:00 – 1:00 pm
Watch the Recording Here | Download the lecture handout Here
By Dr. Howard Leaman, Retired Preventive Medicine and Sleep Medicine Specialist
Current events have resulted in widespread distress and sleeplessness so that we begin to wonder, is ANYONE able to sleep these days? Dr. Howard Leaman invites you to join him for a tour of pandemic sleep difficulties and proven behavioral sleep improvement interventions. This one-hour lecture is for education and is not intended to take the place of your medical or psychological care or treatment.
The previously scheduled event for January 20, 2021 has been moved to February 24, 2021 to accomodate the presidential innauguration. (see below for more event information)
Utah County Vision for 2050
January 27, 2021, 12:00-1:00 pm
Join the Lecture Here
By Ryan Beck, Vice President of Planning, Envision Utah

Utah County residents enjoy a high quality of life and a strong economy. As the county adds more than a million people over the next fifty years, however, growth pressures could lead to increased traffic congestion and air pollution, loss of farmland and open space, and the need to grow a strong economic base so that future generations can find good jobs in Utah County. A process that brings the people of Utah County together to form a vision can address questions like: How can travel in and through Utah County remain convenient? How can we grow jobs that pay competitive wages and that ensure people can live and work in the same area? How can we prepare our kids and recruit talent to fuel economic and job growth? How can housing be kept affordable so that future generations can live near where they grew up?
Balancing Preservation & Public Access: A Historical Perspective from Yosemite National Park
February 3, 2021, 12:00-1:00 pm
Join the Lecture Here
by Ephriam Dickson, Chief Curator of Yosemite National Park, Former Director of Education at the Natural History Museum of Utah and Former Curator of the Fort Douglas Museum
Since its establishment in 1864, the leadership of Yosemite National Park has struggled to maintain a balance between ensuring that everyone can safely enjoy the natural wonders of this iconic park while simultaneously preserving the natural areas in the Sierra Nevada Mountains. Ephriam will provide a historical perspective from the first wilderness travelers to the over four million visitors each year, exploring how the development of business operations, infrastructure, tours, and trails have created management challenges for NPS leaders striving to also protect and better understand its natural ecosystems.
Impact of Social Isolation on Mental Health and Well-being of Older Adults
February 10, 2021, 12:00 – 1:00 pm
Join the Lecture Here
Dr. Joseph Kim, Neuropsychologist, Clinician-researcher, and Instructor, Department of Psychiatry, University of Utah School of Medicine
We are living an unprecedented reality that is the global pandemic of the COVID19. Due to its high transmisibility, long incubation period, and asymmtomatic features, health officials recommend individuals to follow "social-distancing" measures. Such social isolation will disproportionately impact older adults whose social contact are often outside the home (e.g., community centers and places of worship). You will learn about preliminary findings from the current study which utilizes remote data collection tools such as Zoom, and smartphone-based surveys that measure the mental health consequences of social isolation in older adults. You will also learn about how prolonged social isolation may have a detrimental effect on your mental health and well-being, and also what protective factors may help protect your mental health and well-being.
Water Rights in Utah and the West: Great Basin Water Network
February 17, 2021, 12:00 – 1:00 pm
Join the Lecture Here
By Steve Erickson, Board Member, Great Basin Water Network; Denys Koyle, Volunteer,Great Basin Water Network
Steve Erickson and Denys Koyle will discuss their quest to fight with southern Nevada to keep water in White Pine, Millard county rather than allow the water to go to Nevada. Steve is currently working on negotiations with the water pipe line between Lake Powell and St. George. Our speakers will outline the efforts of Washington county to drill wells in Pine Valley and Wah Wah Valley in Beaver county. Other western water rights will also be addressed and questions from the audience will follow.
The Two "Rs:" Redistricting and Ranked Choice Voting
January 20, 2021, New Date: February 24, 2021, 12:00 – 1:00 pm
Join the Lecture Here
By Katharine Biele, Reporter at City Weekly and Communications Director for the Utah League of Women Voters

What are the implications for voters in the State of Utah as the Legislature grapples with a new anti-gerrymandering law and the majoritarian promise of RCV, ranked choice (instant runoff) voting? An independent redistricting commission for the state's dicennial population count is soon to be appointed. The 2021 Legislature also is likely to consider whether to implement RCV after several pilot programs showed promise. We may also try out a mock RCV voting session. Come learn more from a freelance journalist with 50 years of experience in daily and alternative newspapers.