If you're 50 or better you are invited!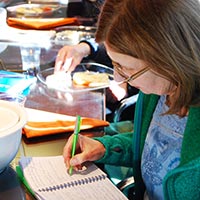 Lunch and Learn lectures are wonderful opportunities to meet Osher members and experience a bit of the program first hand. Bring a friend and a brown bag lunch and join us for these informative, interesting lectures. They are free!
Come early to visit and enjoy your lunch before the speaker starts. Speakers start promptly at noon. All lectures are held at the Commander's House, Ft. Douglas and run from noon-1pm.
Upcoming Lectures
9/20: Women of the World: Empowering Women From All Nations
Samira Harnish, Founder and Director, Woman of the World
Women of the World (WoW) is a nonprofit organization that was created in 2009. WoW seeks to empower refugee and other women in Utah so that these women become powerful and established members of their communities. Some of the services WoW provides include assisting women and their families with English proficiency, educational advancement and employment opportunities. Over the years, WoW has served hundreds of refugee women fleeing violence in countries such as Iraq, Afghanistan, Congo, Somalia, Syria and Burma. These women have gotten advanced education, continued to be promoted within their companies, formed their own small businesses, and have even returned back to their home countries to teach some of the lessons that this organization has taught them.
9/27: The Cloud People: Exploring the Archaeology and History of the Zapotecs of Oaxaca, Mexico
Richard Paine, Associate Professor of Anthropology, University of Utah
The Zapotecs, along with the Maya and the Aztecs, are generally considered one of the three greatest cultures of Mesoamerica. From their great hilltop capital of Monte Alban they ruled the Oaxaca Valley and beyond for a thousand years, creating one of the New World's earliest writing systems, massive architecture and fantastic art. In this presentation, Rick will share the archaeology and history of the "Cloud People."
10/4: Saving The Salt Lake Tribune – The Real Story
Joan O'Brien, Founder, Utah Newspaper Project dba Citizens for Two Voices and Karra Porter, Attorney, Chistensen & Jensen
The Salt Lake Tribune recently won the Pulitzer Prize for local reporting. This honor was amazing not just because of The Tribune's excellent coverage, but because The Tribune exists at all. Three years ago, The Tribune's fate was very much in peril. To save the only daily investigative newspaper in this valley, a citizen's group launched a David versus Goliath antitrust battle against the owners of The Tribune and the Deseret News. A representative of the citizen's group and its lawyer spoke to this group last year, but were unable to tell the whole story due to restrictions at the time. Much has happened since then, or can be made public now. Our proposal is to discuss these important events.
10/18: What's Next at the Natural History Museum of Utah?
Sarah George, Executive Director, Natural History Museum of Utah
The Natural History Museum of Utah opened its new home, the Rio Tinto Center, in November 2011 and since then has welcomed 1.7 million people through its doors. Since then, we've expanded our international exhibits, statewide outreach, and scientific research. We also partner with many departments and programs at the University as well as across the state. But what's next? How does the Museum respond to younger generations' digital expectations? How should our research and STEM education programs respond to the attacks on good science? How should our programs and exhibits respond to the rapid demographic shifts in Utah's population? Come hear about the upcoming initiatives at the Museum!
10/25: What Is Chamber Music?
Zach Buie, Professional Trumpet Performer
Zach Buie will discuss the origins of chamber music and how it developed through the centuries to what we enjoy today. We will break stereotypes and explore how relevant chamber music is in our modern age. Video examples of performances will be be enjoyed to experience the variety and depth of the music. We will talk about the influence it has in music education, and I will discuss ways to engage with local performances and organizations that offer chamber music.
11/1: How to Navigate a Democracy
Katharine Biele, Co-president, Utah League of Women Voters
Katharine Biele explains the purpose and scope of the League of Women Voters, a nonpartisan political organization, that encourages informed and active participation in government, works to increase understanding of major public policy issues, and influences public policy through education and advocacy. We will discuss how to be a 10-minute activist and then talk about some of our most recent and critical studies. These include Redistricting (which is a function of the Legislature in Utah) and our attempts to create an advisory commission. Other studies include Sexual Violence, Death with Dignity and Public Defense in Utah.