If you're 50 or better you are invited!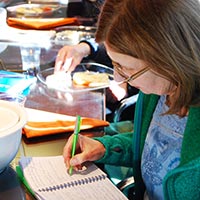 Lunch and Learn lectures are wonderful opportunities to meet Osher members and experience a bit of the program first hand. Bring a friend and a brown bag lunch and join us for these informative, interesting lectures. They are free!
Come early to visit and enjoy your lunch before the speaker starts. Speakers start promptly at noon. All lectures are held at the Commander's House, Ft. Douglas and run from noon-1pm.
Upcoming Lectures
Artificial Intelligence, Part 2: Even More on What's Happening in the World of AI
Wednesday, 9/19/18, 12:00 - 1:00 PM
Commander's House, Fort Douglas
Larry Campbell, Ph.D.

In this presentation, Larry L. Campbell. Ph.D. in Electrical Engineering from the University of Utah, will present more facts on artificial intelligence. We will learn what it is, whether it is dangerous, and who in the world is developing it. This lecture will also discuss how artificial intelligence can keep us safe and could be used for climate change solutions and in elderly care, taking stock of both the progress and the challenges for current research. We'll look at the potential benefits and dangers of this research, and consider the political implications of what may come of successfully developing increasingly capable systems and programs.
Criminal Recidivism Prevention and Early Resolution Programs
Wednesday, 9/26/18, 12:00 - 1:00 PM
Commander's House, Fort Douglas
Sim Gill, Salt Lake County Attorney and District Attorney

Salt Lake County District Attorney, and University of Utah alumni, will discuss new programs for decreasing criminal recidivism in Salt Lake County. He will go over the successes and challenges of programs like Mental Health Court and treatment programs. Come with questions.
What Makes us "Red Rocks"- University of Utah Women's Gymnastics
Wednesday, 10/3/18, 12:00 - 1:00 PM
Commander's House, Fort Douglas
Megan Marsden, Head Coach

By the end of the 2016 season, Utah's Red Rocks had won 10 national championships, including nine NCAA Gymnastics championships. They are the only team to have qualified for every NCAA championships. Find out how the Red Rocks are recruited, train, compete and still make time to study and volunteer. This session will also share what's on the horizon for the team, including new gymnasts and post-season training.
Legal Estate and Disability Planning, Part 2
Wednesday, 10/17/18, 12 - 1:00 PM
Commander's House, Fort Douglas
Laura Milliken Gray, Attorney at Law

Having a proper plan for the disposition of your assets when you pass away is essential. Additionally, planning for potential disability has never been more important. In this interactive luncheon with seasoned estate planning attorney Laura Milliken Gray, we will discuss proper planning with wills and revocable living trusts, and also cover how to properly protect yourself and your assets in the event of a temporary or permanent disability.
Treating Severe Burns in the Intermountain Regionstrong>
Wednesday, 10/24/18, 12:00 - 1:00 PM
Commander's House, Fort Douglas
Brad Wiggins, Nurse Manager of the University of Utah Health Burn Center
All of our lives have been impacted by some type of traumatic event but very few have had a life changing moment caused by a burn injury. Join us for this lunch and learn as we hear about burn treatment from our local University of Utah Health Burn Center Nurse Manager, Brad Wiggins, BSN, RN. Learn about 1st, 2nd, 3rd degree burns, the challenging complications that each patient faces, and the amazing outcomes that help to make each patient a survivor and not a victim of a catastrophic burn injury.
Behind the Scenes of the Salt Lake Acting Company
Wednesday, 10/31/18, 12:00 - 1:00 PM
Commander's House, Fort Douglas
Cynthia Fleming, Executive Artistic Director, Salt Lake Acting Company
The goal of this Lunch and Learn "Behind the Scenes of the Salt Lake Acting Company is to get a look into what it takes to run a theatre company from the perspective of an Executive Artistic Director. One of the aspects that sets a night at the theatre apart from a night at the movies, is the connection between the live audience and the actors; during a performance, it can seem that the actors and the audience are all that exist. However, off stage and behind the scenes is an extensive crew of talented people who the actors rely upon to make the production possible. And, both the crew and the actors rely on an administrative team to make sure that the audience, actors, and crew are all taken care of, and all the productions run smoothly.