If you're 50 or better you are invited!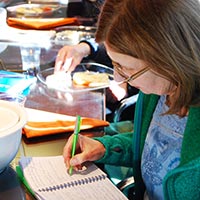 Lunch and Learn lectures are wonderful opportunities to experience a sampling of the Osher program firsthand. All six lectures will be held via Zoom Webinar. We will be broadcasting the lectures at 540 Arapeen Drive from 12 PM until 1 PM, for those who would like the option to gather in person to watch the Zoom Event. Grab your brown bag lunch, invite a friend, and join us for these informative, interesting, free lectures!  
In Salt Lake City We will bebroadcasting the lecture at 540 Arapeen Drive from 12 PM until 1 PM, for those who would like the option to gather in person to watch the Zoom Event.
For our St. George Learners We will be broadcasting the lecture at the St. George Graduate Center in Room 101 from 12 PM until 1 PM. The Graduate Center is located at 1071 E 100 S, St. George, UT
Did you miss a lecture or hope to watch one again? View our archives.
Upcoming Lectures - Winter 2024
Geothermal - The Forgotten Renewable
January 17, 2024, 12:00-1:00 pm
By Alan D Eastman, PhD, Retired Research Chemist
As the world and the country transition away from fossil fuels, it is becoming increasingly important to find sources of renewable energy that are "baseload," meaning that they produce energy even when the wind doesn't blow and the sun doesn't shine. It is possible to pair wind or solar power with VERY large batteries--but there is one energy source that runs 24/7, has no emissions, takes up very little land, and is right below our feet. Even better, Utah could be a leading source of this power. This presentation will bring you up to date on geothermal energy: what it is, how it works, the advantages and disadvantages, and Utah's place in the geothermal world.
---
Wrongful Convictions - Causes and Cases
January 24, 2024, 12:00-1:00 pm
By Kristy Columbia, Executive Director - Rocky Mountain Innocence Center

Our speaker will give a presentation addressing the causes of wrongful conviction. She will describe how the Rocky Mountain Innocence Center works to prevent and correct wrongful convictions. She will also discuss the cases of some of the Center's clients.
---
Vision and Color Change with Macular Degeneration
January 31, 2024, 12:00-1:00 pm
By Dr. Gregory S. Hageman. PhD, John A. Moran Presidential Professor of Ophthalmology and Visual Sciences at the University of Utah John A. Moran Eye Center

TBA
---
Libraries – They Are A-Changin'
February 7, 2024, 12:00-1:00 pm
By Dan Compton, Library Director, Summit County and Utah Librarian of the Year

Your library card is more powerful than you may know. Your local public or academic library may not look quite the same as it did when you were growing up. Libraries still have their core mission of providing information to their communities, but they are doing it in more ways than ever before. Summit County Library Director Dan Compton will speak about how libraries have evolved and the wealth of resources available to you by simply owning a library card. Learn how the Summit County Library has implemented some innovative programs during the past couple of years to provide more access to library resources. Dan will also speak about some of the main issues libraries are currently facing.
---
The Benefits of Strength Training as We Age
February 14, 2024, 12:00-1:00 pm
By Eric Levitan, Founder and CEO of Vivo Fitness, and Dr. Kathryn Nicole Starr, PhD, RD, Associate Professor and Senior Fellow of the Center for the Study of Aging and Human Development at the Duke University School of Medicine and Chief Scientific Officer at Vivo Fitness

Did you know that we lose muscle mass starting at age 30 and that loss accelerates after age 60? This loss of muscle and strength is what leads to falls, diseases of aging (such as type 2 diabetes and osteoporosis), a reduced quality of life, and ultimately a loss of independence. But there is something that we can do about it! Engaging in strength training will improve your balance, your mobility, and your bone density, help ward off those diseases of aging, and even improve mood, sleep, and brain health. Strength training has been shown to be one of the most significant factors in maintaining a high quality of life and independence as we age. How can we safely and effectively incorporate this into our lives and routines and stick with it? Learn how Vivo Fitness helps support older adults by bringing an accessible, effective, and fun program focused on building strength through live, online, interactive classes. Vivo is the recipient of a National Institutes of Health (NIH) grant to study the benefits of its science-based training strategy and personalized online small-group format especially created for older adults.
---
Weather and the Television Industry
February 21, 2024, 12:00-1:00 pm
By Sterling Poulson, KUTV 2 Head Meteorologist
TBA
---
Bernard Osher set up the Osher Lifelong Learning Institute to be member-led and volunteer-driven. We would appreciate any suggestions for future topics of interest to you for Lunch and Learn Lectures. We especially appreciate recommendations of speakers who could present topics for us in future terms. Thank you for your participation and support!