If you're 50 or better you are invited!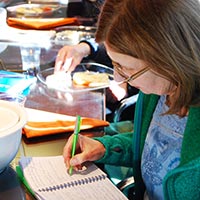 Lunch and Learn lectures are wonderful opportunities to meet Osher members and experience a bit of the program first hand. Bring a friend and a brown bag lunch and join us for these informative, interesting lectures. They are free!
Come early to visit and enjoy your lunch before the speaker starts. Speakers start promptly at noon. All lectures are held at the Commander's House, Ft. Douglas and run from noon-1pm.
Upcoming Lectures
Social Security Maximization
Wednesday, January 17, 2018, 12:00-1:00 PM
Commander's House, Fort Douglas
Derek Overstreet, President, New Millenium Group

This is your opportunity to learn little-known Social Security strategies that could help maximize your lifetime benefits and key factors you need to know before applying for social security. Discussion highlights include: Strategies to maximize your social security benefits, how benefits are calculated and simple strategies to increase them, coordinating benefits with your spouse and why married couples could miss out on substantial benefits, when should you apply for social security and what you don't know could cost you, and special strategies that could greatly increase your benefits.
The Benefits of Self-Doubt
Wednesday, January 24, 2018, 12:00-1:00 PM
Commander's House, Fort Douglas
Debra Payne, ADHD & College Success Coach

If you have ever let self-doubt derail you from achieving your goals, however big or small, come to this presentation. We'll discuss how to make self-doubt work in your favor. You'll explore the sources of self-doubt, and more importantly, how to learn from it and stop it from derailing you. You'll walk away from this session with a list of "Powerful Questions for DIY Coaching," a model on the Benefits of Self-Doubt, and a one-step action plan to begin using what you've learned.
Kent Davis and DatAsia Press: Fine Press Books on early 20th Century Indochina
Wednesday, January 31, 2018, 12:00-1:00 PM
Commander's House, Fort Douglas
Walter Jones, Librarian, retired

Walter Jones will present information on Kent Davis, who republishes out-of-print, early 20th century books on Indochina. His press, DatAsia Press focuses mainly on Cambodia, and the books he reproduces are excellent examples of a type of book known as "Fine Press" publications. Describing himself as a "literary archeologist," Davis enhances the value and quality of his works through the inclusion of scholarly articles, photographs, maps and other illustrations to make each book a gold mine of fascinating reading material. In addition to these features, he has top-rated authorities write intellectually stimulating introductions, and, in the case of the original book's being published in French, he provides an English translation by a world-class translator, Pedro Roderiquez. There will be samples of Davis' books to show to attendees.
Head Over Heels Fall Prevention
Wednesday, February 7, 2018, 12:00-1:00 PM
Commander's House, Fort Douglas
Ryan Carver, Leverage Fitness Solutions

Falling is the most threatening event for adults 65+ years of age. Falling is a multi-factorial problem and a comprehensive fall prevention program should include aspects such as reaction, strength, flexibility, visual training, vestibular (inner ear) training and agility. Learn some easy-to-do drills to improve your balance and make sure you don't fall.
South Temple Street: A Study In Architectural Evolutionstrong>
Wednesday, February 14, 2018, 12:00-1:00 PM
Commander's House, Fort Douglas
Bim Oliver, Architectural Writer and Researcher
South Temple is arguably Utah's most architecturally significant street. That significance derives, in great part, from the diversity of styles it displays--from some of Salt Lake City's earliest adobe homes to the elaborate stone mansions of the early 20th century to the Modernist office buildings of the 1950s and 1960s. This lecture will survey South Temple's varied architecture, exploring what its buildings tell us about how styles and designs evolve. In doing so, the discussion will also address the factors--economic, social, technological, etc.--behind that evolution as a way of understanding how and why buildings and places change.
Sexual Fluidity
Wednesday, February 21, 2018, 12:00-1:00 PM
Commander's House, Fort Douglas
Lisa Diamond, Professor of Psychology and Gender Studies
What is it and how does it change our understanding of sexual orientation? Most individuals think that sexual orientation is a rigid trait that develops early in life and undergoes little or no change. And yet research has found that many individuals undergo unexpected shifts in their attractions over the lifespan (heterosexual individuals developing unexpected same-sex attractions and gay/lesbian individuals developing unexpected other-sex attractions). What do these experiences mean, and how do they occur? This presentation will answer these questions and introduce participants to fascinating new research findings on the development and expression of sexual orientation over the life course.