If you're 50 or better you are invited!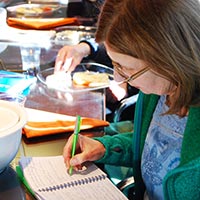 Lunch and Learn lectures are wonderful opportunities to experience a bit of the program first hand. Grab your brown bag lunch, invite a friend and join us for these informative, interesting lectures. They are free!
Speakers start promptly at noon. All lectures are streamed online on zoom and run from noon-1pm.
In Salt Lake City We will be be broadcasting the lecture at the 540 Arapeen Drive from 12 PM until 1 PM, for those who would like the option to gather in person to watch the Zoom Event.
For our St. George Learners We will be be broadcasting the lecture at the St. George Graduate Center in Room 101 from 12 PM until 1 PM. The Graduate Center is located at 1071 E 100 S, St. George, UT
Did you miss a lecture or hope to watch one again? View our archives.
Upcoming Lectures
Only Hope: My Mother and the Holocaust Brought to Light
January 18, 2023, 12:00 – 1:00 pm
By Irv Lubliner, Professor Emeritus, Southern Oregon University
Before she passed away in 1974, Felicia Bornstein Lubliner wrote about her life in Nazi-occupied Poland during the Holocaust, including her internment in ghettos and two concentration camps, Auschwitz and Gross-Rosen. Her powerful stories have been published by her son, Irv Lubliner, who also contributed the foreword and afterword to Only Hope: A Survivor's Stories of the Holocaust. Irv will share excerpts from the book, shedding light on his mother's experiences and indomitable spirit, as well as his own experience as a child of Holocaust survivors and his process in bringing the book to fruition.
---
Making Medicare Sustainable for the Future
January 25, 2023, 12:00-1:00 pm
By Greg Poulsen, Senior Vice President for Intermountain Healthcare

Medicare is deeply challenged by both demographics and economics; longer lives and the large baby boom generation mean more Medicare beneficiaries, while smaller family sizes since then mean fewer workers today are paying into the program. The growing capability and cost of healthcare make this problem much more challenging, and if nothing changes, the primary Medicare Trust Fund is expected to become insolvent later in this decade. However, there is hope in improving value and refocusing how Medicare pays for care.
---
Recycling in Utah Download the Lecture Handout
February 1, 2023, 12:00-1:00 pm
By Alan Eastman, PhD, Retired Research Chemist, Osher Instructor
Many people in Utah are interested in learning more about recycling but do not know quite how to go about it. In this presentation, we will briefly discuss some of the reasons for recycling, then we will concentrate on what can be recycled, what can't be recycled, and how to know which is which (and you might be surprised a bit here!). We will also talk about exactly how and where to recycle things in the Salt Lake Valley and around the state. You may never have suspected that garbage could be so interesting!
---
Informal STEM Education for Incarcerated Youth and Adults in Utah
February 8, 2023, 12:00 – 1:00 pm
By Laura George, Associate Director, STEMCAP
Laura George will describe her work with incarcerated youth and adults at the STEM Community Alliance Program and the INSPIRE program. She will talk about their programming as well as their evaluation and the multiple workshop types they offer. Her presentation will focus on the methods for and benefits of bringing scientists and stem-engaged community members into adult and youth detention facilities.
---
Comedy, Economics, and Clean-Air-and-Climate Ballot Measures in Utah and Beyond
February 15, 2023, 12:00 – 1:00 pm
By Yoram Bauman, Co-founder, Clean the Darn Air
Yoram will tell some economics jokes, share lessons from his work in Washington State on the first-ever carbon tax ballot measure in the United States (Initiative 732), and describe the current grassroots effort by Clean The Darn Air to put a clean-air-and-climate measure on the ballot in Utah. This proposal would put $100 million a year into local air quality programs and $50 million a year into rural economies. It would eliminate the state sales tax on grocery store food and expand the state's Earned Income Tax Credit match for low-income working families, and pay for it all with a modest carbon tax on the fossil fuels that are the main source of both local air pollution and global climate change.
---
Infectious Disease Threats in Salt Lake County: What Are Epidemiologists Doing to Protect You?
February 22, 2023, 12:00 – 1:00 pm
By Mary Hill, Epidemiology Bureau Manager, Salt Lake County Health Department

Have you ever wondered what the most common infectious disease threats are in Salt Lake County? How common are infectious diseases and what does the county do to protect its citizens against them? The director of the Salt Lake County epidemiology program will describe which infectious diseases plague our community the most. She will describe how these diseases are transmitted, who is most at risk, and how each disease can be prevented. We also will learn how epidemiologists in Salt Lake County work to rid the community of disease.
---
Bernard Osher set up the Osher Lifelong Learning Institute to be member-led and volunteer-driven. We would appreciate any suggestions for future topics of interest to you for Lunch and Learn Lectures. We especially appreciate recommendations of speakers who could present topics for us in future terms. Thank you for your participation and support!