If you're 50 or better you are invited!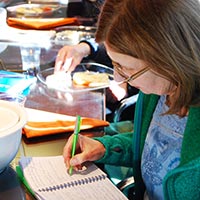 Lunch and Learn lectures are wonderful opportunities to experience a sampling of the Osher program first hand. We will be broadcasting the lectures at 540 Arapeen Drive from 12 PM until 1 PM, for those who would like the option to gather in person to watch the Zoom Event. Grab your brown bag lunch, invite a friend and join us for these informative, interesting, free lectures! 
In Salt Lake City We will bebroadcasting the lecture at 540 Arapeen Drive from 12 PM until 1 PM, for those who would like the option to gather in person to watch the Zoom Event.
For our St. George Learners We will be broadcasting the lecture at the St. George Graduate Center in Room 101 from 12 PM until 1 PM. The Graduate Center is located at 1071 E 100 S, St. George, UT
Did you miss a lecture or hope to watch one again? View our archives.
Upcoming Lectures - Spring 2023
What Does It Mean to Be a US Diplomat? PLEASE NOTE: THIS LECTURE WILL NOT BE RECORDED
March 29, 2023, 12:00 – 1:00 pm
By Susan Niblock, Retired Senior U.S. Diplomat with the Department of State, Rank of Minister-Counselor; Retired Senior Foreign Service Officer, U.S. Department of State; and Osher Member

Ever wonder what exactly diplomats do? Are the depictions you see in movies and TV shows accurate? I am a retired Foreign Service Officer with over three decades of service with the Department of State. My talk will focus on how diplomacy works at our Embassies and Consulates abroad and what it means to represent the United States in foreign countries. Drawing on my own personal experience, I will touch on the lengthy and rigorous entrance process, the different career tracks one can take, how assignments are done, the difference between political appointees and career Ambassadors, and the impact on families of moving to a different country every few years.
---
The Architecture of the University of Utah: A Virtual Tour
April 5, 2023, 12:00-1:00 pm
By Bim Oliver, Architectural Historian, Author, and Osher Instructor

From the oldest buildings to the newest, the architecture of the University of Utah displays a remarkable diversity of styles. Join us for a virtual tour of university architecture. We will explore these various styles and examine how they reflect the changing identity of the school as it has grown and matured.
---
Vertigo: Common Causes and Treatments
April 12, 2023, 12:00-1:00 pm
By D. James Ballard, Assistant Professor, University of Utah, Department of Physical Therapy and Athletic Training, Board-Certified Clinical Specialist in Geriatric Physical Therapy

Dizziness is one of the most common complaints of older people. Although there are many causes of dizziness, benign paroxysmal positional vertigo (BPPV) is the most common cause among older Americans. Falls are a serious concern for older adults. Individuals experiencing dizziness are at increased risk of falling. BPPV occurs when microscopic crystals, which are an important part of our balance system, move from where they belong and get trapped in the semicircular canals. The good news is BPPV responds to treatment. This presentation will focus on the causes, examination, and treatment of BPPV.
---
What's Normal?
April 19, 2023, 12:00 – 1:00 pm
By Don Strassberg, Emeritus Professor, University of Utah
We are constantly hearing about people who are labeled "crazy" or "abnormal," whether depicted or described, in TV shows, in movies, in the news, or even in gatherings of friends or family. But what do we really mean by "abnormal?" While defining abnormality might seem pretty easy or straightforward, it turns out that it can really be quite complicated and not intuitively obvious. In fact, there are many ways by which all of us, even mental health professionals, can define what thoughts, feelings, or behaviors would qualify someone as being labeled as "abnormal." Interestingly, these many ways of defining psychopathology (psychology's fancy name for abnormal) don't always agree with each other. In this talk, we will examine and evaluate these many ways and learn the strengths and weaknesses of each and what the definition(s) we choose tells us about how we see ourselves and each other.
---
Selling Sex in Utah: A History of Vice
April 26, 2023, 12:00 – 1:00 pm
By Eileen Hallet Stone, Writer and Former Salt Lake Tribune "Living History" Columnist
In the late 1840s, when the new frontier west of the Missouri River opened its floodgates to opportunity and adventure in the vast Territory of Utah, scores of prospectors, miners, railway workers, and young men followed the promise emanating from the wild and uncharted outland. In this 'foreign' environment, men were many, women were scarce, and prostitutes rushed in to ply their trade in wagons, under trees and blankets, and in crudely-built shanties and bars. Within decades, prostitution established a foothold in Utah towns and cities. Eileen Hallet Stone culled newspapers, archives, museums, and old court cases to uncover sin, scandal, and the sensual underbelly of prostitution in 19th and 20th-century Utah. Telling their rural and urban tales, she will explore the reasons women "chose" to be involved.
---
Dyspnea 101: Pulmonary and Cardiology
May 3, 2023, 12:00 – 1:00 pm
By Dr. Jennalyn Mayeux, DNP, and Christy Ma, PA-C, The University of Utah Pulmonary Hypertension (PH) and Dyspnea Program
Representing the intersection of the cardiology and pulmonary worlds, Christy and Jennalyn will walk through basic anatomy and physiology to introduce the audience to the causes of shortness of breath, diagnostic approaches, and potential therapies. A short question and answer session will follow. Participants will learn how heart and lung problems seem to go together and how we can best deal with them.
---
Bernard Osher set up the Osher Lifelong Learning Institute to be member-led and volunteer-driven. We would appreciate any suggestions for future topics of interest to you for Lunch and Learn Lectures. We especially appreciate recommendations of speakers who could present topics for us in future terms. Thank you for your participation and support!