If you're 50 or better you are invited!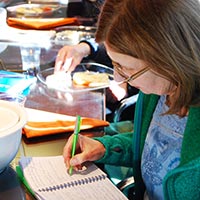 Lunch and Learn lectures are wonderful opportunities to meet Osher members and experience a bit of the program first hand. Bring a friend and a brown bag lunch and join us for these informative, interesting lectures. They are free!
Come early to visit and enjoy your lunch before the speaker starts. Speakers start promptly at noon. All lectures are held at the Commander's House, Ft. Douglas and run from noon-1pm.
Upcoming Lectures
The Third District Juvenile Court System: Working Within to Reform Juveniles and Reduce Recidivism
Wednesday, September 18, 2019, 12:00pm – 1:00pm
Commander's House, Fort Douglas
by Judge Kimberly K. Hornak, Third District Juvenile Court serving Salt Lake, Summit, and Tooele Counties
A discussion of the Judicial System and the jurisdictions of the separate court levels and our system of governance. We will cover the types and nature of court cases seen each day and the orders handed down. Judge Hornak will give a summary of some of the current laws and how they have changed since her appointment to the bench in 1994. We will discuss current issues and programs and how they affect the courts and the community. Finally, we will explore ways the juvenile court system is working to stop juveniles at the juvenile court level before they become criminals in the adult court system.
Pac-12 Influence on the University of Utah and Surrounding Community
Wednesday, September 25, 12:00pm – 1:00pm
Commander's House, Fort Douglas
by Dr. Chris Hill, Athletics Director Emeritus, University of Utah

The first part of Dr. Hill's lecture will describe the history of our invitation and acceptance into the Pac-12 Conference and processes to implement. The second part of this lecture discusses the influence of the Pac-12 on various parts of the University of Utah, and Dr. Hill will conclude with the community and economic development impacts resulting from the U's Pac-12 membership. This could also be a time to answer any questions about college athletics at the U specifically, and throughout the country.
The Last Laugh: Nuclear Humor
Wednesday, October 2, 12:00pm – 1:00pm
Commander's House, Fort Douglas
by Lou Borgenicht, MD

This talk was developed in the 80s at the height of Cold War nuclear arms race, and was inspired by the words of Woody Allen: "More than any time in history mankind faces a crossroads. One road leads to despair and utter hopelessness the other total extinction. Pray we have the wisdom to choose correctly." Borgenicht will present a slideshow of cartoons from the nuclear arms race era, bringing a lighter side to one of the most serious of humanity's considerations.
Melanoma in Utah: How We Diagnose, Treat, and Try to Prevent
Wednesday, October 16, 12:00pm – 1:00pm
Commander's House, Fort Douglas
by by Dr. Douglas Grossmans

The talk will include discussion of how melanoma develops in the skin, risk factors for melanoma, why it is prevalent in Utah, how it is detected and treated, and how patients at increased risk are monitored.
The Emergence of New Technologies Including Artificial Intelligence (AI)
Wednesday, October 23, 2019, 12:00pm – 1:00pm
Commander's House, Fort Douglas
by Larry Campbell, PhD
Join Dr. Campbell for an exciting presentation on the following topics: AI and Machine Learning, Facial Recognition, Neuromorphic Computing, Big Data, Internet of Things (IoT) and Smart Cities, Driverless Cars, Robots, Eyes in the Sky, Restoring lost memory, Mind uploading, The Rise of Robots and its implications, Building robots and robot reproduction, Nanotechnology, and Foglets. Oh my!
"One In A Million" Film on DNA Research Plus Information About the Penelope Project
Wednesday, Wednesday, October 30, 2019, 12:00pm – 1:00pm
Commander's House, Fort Douglas
by r. Lorenzo D. Botto, Professor, Department of Pediatrics, School of Medicine, University of Utah
The University of Utah Health's Penelope Program for rare and undiagnosed disease is dedicated to solving some of the country's most complex medical cases. Finding answers opens opportunities for better care, improved health, and an ability to connect and learn from others facing similar circumstances. The Penelope Program leverages U of U Health's strengths in medical genetics, many subspecialties, and state-of-the-art DNA analysis. Our experts collaborate to arrive at an in-depth understanding of each patient's condition with the goal of finding an underlying cause and improving care. The Penelope program will soon expand to adults, as it has recently become one of a dozen clinical sites in the National Institutes of Health-supported Undiagnosed Diseases Network (UDN). The UDN is a national consortium of medical and research centers working together to improve diagnosis and care of patients with undiagnosed diseases.
Dr. Botto will discuss this exciting new program, started at the University of Utah, and show the short film which premiered at Sundance, "One In A Million" which follows the story of Tyler, a 10-year old boy wholost his ability to walk, see, and hear, but the cause remained a mystery. His family eventually turned to University of Utah Health, where scientists searched Tyler's DNA for clues to his condition. What they discovered led to a life-changing treatment.